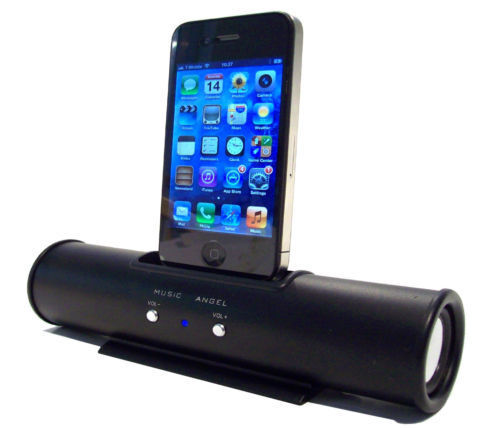 The makers of the iPod are one of the few to have designed their media players and other devices with a docking port, allowing the device to be securely placed on a cradle, charger, or audio device for both playback and charging purposes. To a large extent, this style of docking interface has become the de facto standard for the audio world. iPod docks come in a number of forms, from basic charging cradles with no playback capability to fully-featured audio systems where the dock is combined with amplification and speaker components and possibly also combined with other source components such as radio tuners.
Condition
In the main, iPod docks have no moving parts, and there's little that can be damaged by the misuse or carelessness of previous owners. Essentially, the dock should be outwardly inspected, if possible, for it to be free of external marks, wear and tear, or signs of damage. If it's free from all of these, it's likely to be in good working condition. Since iPods come in a variety of sizes, it is standard practice to supply an iPod dock with a variety of adaptors to enable the various sizes of iPod to be supported physically without applying strain on the electrical plug and socket assembly.
Types of iPod Dock
Docks come in a variety of forms.
| | |
| --- | --- |
| Charging Cradle | The most basic type of iPod dock is that designed to merely charge the iPod, with no audio output or ability to sync the iPod to other devices. While these have their uses, it's clear that those with much more flexible capabilities can be purchased for slightly more outlay. Predictably enough, there's little to choose in facilities or features that set any one of this type of dock apart from any other. When audio docks will also charge the iPod, it's difficult to argue against the extra functionality. |
| Audio Docks | Audio docks are iPod docks intended for use within a system of HiFi separates. They have no speakers or amplification and have either a line-level or digital output to be fed to a matching input on the amplifier component of the HiFi. |
| Mini Speakers | Mini speaker docks are those with the smallest and most rudimentary of amplifier and speaker components - typically with a fairly low output. Often, the mini speaker styles are designed for portability. Many of these smaller docks are designed as bedside clock radio/alarms with iPod docking capability. |
| Audio Systems | iPod docks can be integrated into full HiFi systems, along with other components such as CD players, radio tuners, and cassette decks. Often these are in the form of mini or midi HiFi systems, consisting of a central source and control unit and a pair of speakers. |
Portability or Permanence
The buyer should consider whether the iPod dock is to be regarded as a portable item or if it will be a semi-permanent installation in the home. Portables should be selected on the basis of weight, flexibility, and whether or not they can be run from battery power where no mains outlet is available. Many are designed to fold flat when not in use, and a number of models offer rechargeable battery options. Unfortunately, with a small amplifier and speaker combination, sound quality tends to suffer, and it's down to the individual buyer to assess the value of this trade-off against size. Since weight is less of an issue for audio in the home, iPod docks intended for this use can be built larger, with sturdier amplification, speakers, and cabinetry to match. Generally speaking, the larger the better, but again, the buyer has to decide at what point the iPod dock will outgrow the available shelf or desk space, and what trade-off should be made between size and sound. The availability of mains power may influence the choice between a separate dock and audio system, or a complete audio system including a dock. As the number of devices increases, so does the requirement for mains socketry, and those with limited numbers of sockets or room for expansion may choose the option to minimise their number.
Home Theatre and Audio Visual
A limited number of iPods have video and photo capability, and the buyer should consider whether there's any need for video playback from their iPod dock. Often this will be available from a dedicated video output, either as an HDMI socket or as a composite video type.
Appearance
Some iPod docks can be quite utilitarian in appearance, others quite radical and cutting edge. It's impossible to offer any specific advice on whether one is right or wrong, and the buyer will choose this based on personal preference.
Retro
Valve amplification is favoured by many musicians for its unique tonal quality and also finds favour with many high-end audio enthusiasts. A number of iPod dock systems are available with valve amplification, and this yields the best of both worlds - the convenience of digital capacity and selection, along with the warmth and tonal richness of valves.
Change of docking connector style
In 2012/13, the style of docking connector was changed for the latest models of iPad and iPhone, and although adaptors are already available, the use of an adaptor spaces the iPod away from the dock itself and away from the docking cradle insert which is designed to support it. This change was widely derided by the general public, as there was no indication of any demand for it. Therefore, it is worthwhile to ensure that the style of docking connector matches between the iPod dock and the iPods with which it is to be used, or be prepared for some less-than-ideal adaptation. Buying a used dock, of course, makes it more likely that the dock will be fitted with the older style of connector.
Remote Control
Remote controls come in a variety of styles, and while they are often the listener's main point of contact between them and the dock, the manufacturers frequently supply only those with the most basic functionality, offering the basic transport controls - play, stop, pause, etc. - but lacking the ability to navigate menus so that artist, playlists and albums can be accessed in a way that mirrors the navigation on the iPod itself. It will often be clear from sight of the remote control whether or not this applies - those which do mirror iPod navigation have a control layout similar to the scroll wheel, with left/right and up/down controls arranged around a central 'confirm' button.
Conclusion
The iPod offers an ideal combination of portability and flexibility for use in the home and when travelling. iPod docks come in a variety of form factors and sizes to suit all budgets and uses. With the aid of the guidelines above, the buyer should be able to find a dock that suits their requirements, fits in with their decor, and falls within their budget.