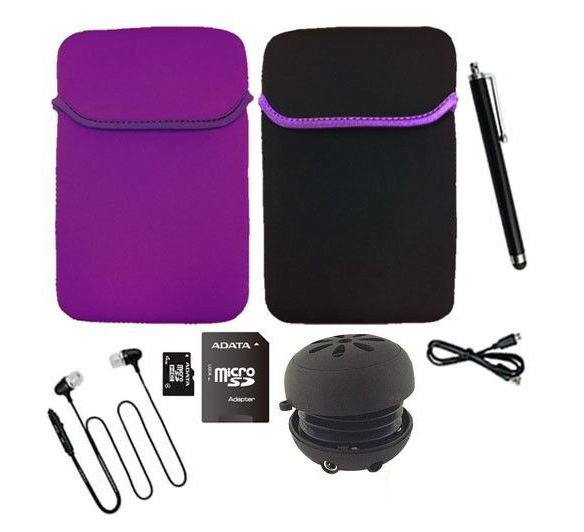 No longer do eBook fans have to stay glued to their stationary desktops or lug around heavy laptops to read the latest best sellers. Apple was the first company to produce eBook readers in the form of the iPad. The user-friendly eBook reader allows users to carry their eBooks on commercial flights, as well as to the beach or alongside a gushing brook deep within the forest. After seeing how the iPad captured consumer enthusiasm, Google created a rival eBook reader that many electronics experts believe possesses more attributes than the iPad. Regardless of which type of eBook reader a consumers chooses, he or she must consider accessories that enhance performance and extend the device's longevity.
eBook fans can find iPad, tablet and eBook accessories at big box electronics shops or online at manufacturer ecommerce outlets. The best place to shop for affordable accessories is online at eBay, where many sellers bundle iPad and tablet accessories with iPads or tablets. Before making a purchasing decision, consumers should first learn the difference between an iPad and tablet, which helps decide which of the five most important accessories for each device they should buy. Consumers should also not ignore secondhand models, and place price over quality as a shopping factor.
Do Know the Differences Between an iPad and Tablet
The introduction of the Android tablet has prompted speculation that the eBook viewing device may possibly replace iPads as the eBook reading platform. However, many consumers believe the two eBook reading devices are similar products, and that the names can be interchanged to describe eBook viewing platforms. Don't fall into either trap, since iPads and tablets should continue to thrive because of their several differences. The differences account for the different accessories that consumers should consider buying for each device.
The greatest difference between the iPad and Android concerns the operating systems. iPads run on an iOS operating system, while Google's Android operates Androids. Androids include Flash software for displaying online videos, while iPads do not have that capability. iPads do not possess the multitasking of applications, while Android tablets can place an application in the background and run another application simultaneously. This is an important difference for people who need to compile research from multiple sources. Android tablets also do not require any special coding to multitask. iPad does have one advantage over tablets: the devices run many more apps.
Do Know Which Tablet Accessories to Buy
There is the perception that because of its numerous capabilities, Android tablets do not require any accessories to enhance performance. As the following chart depicts, knowing which tablet accessories to buy ensures consumers receive superior, long-term performance.
Accessory

Description

Eliminates hauling heavier laptops to and from meetings

Connects to tablet via Bluetooth

Numerous options in both style and functionality

Protects tablet from costly dents and scratches

Waterproof and corrosion-resistant

Come in many decorative designs

Headphones

Wireless earbuds

Tangle-free cables and earbuds

Some models include the noise cancellation feature

Desktop dock

Recharges battery

Universal or tablet-specific designs

Portable power

External battery

A must-have when there is no access to electrical outlets
After the iPad's release, Google spent a significant amount of time and money to create a device that provides more user benefits. That drive for perfection also includes Google devising accessories to enhance the user experience. Expect more must-have tablet accessories to enter the market as Google continues to introduce one or two tablet accessories each year.
Do Know the Must-Have iPad Accessories
Online forums and review sites include myriad consumer feedback that extols the stunning visuals produced by Apple iPads. Nonetheless, iPad accessories not only make iPads more functional, but they also provide protection for a costly investment. The following chart lists the five must-have iPad accessories.
Accessory

Description

Ziploc bag

Protects iPad from moisture

Use to safely read eBooks while enjoying a long bath

One-gallon bags work best

Multi touch works through the plastic

eBook software

Supports EPUB format

Converts PDF files into EPUB files

Download EPUB supported eBooks from Project Gutenberg

Calibre and Stanza also work with the iPad operating system

Small hollow tube that has a foamy metallic tip

Necessary for drawing and painting

Lack of pressure sensitivity

Case

Prevents damage due to falls off of tables

Waterproof and corrosion-resistant

Extends life of iPad

Consider a slip cover for easy access

Camera connection kit

Possesses SD card reader and USB connection cable

Allows for direct loading of photographs

Supports JPEG and RAW photo formats

Shoot photos, and then edit later
The best part about iPad accessories is that Apple offers most of the accessories free of charge. Moreover, many eBay sellers bundle accessories with iPads at prices that are much lower than if each accessory was sold separately. Make sure to ask a prospective seller, whether the seller works at an electronics shop or runs an eBay Store, which iPad accessories are included with an iPad purchase.
Don't Ignore Used iPad and Tablet Accessories
Consumers tend to be wary of sellers who offer used electronics, such as accessories for iPads, tablets, and eBooks. They purchase used automobiles, furniture, and clothes, but do not consider the merits of buying used iPad and tablet accessories. Consumers can save money and help the environment by purchasing accessories. They just need to follow a few steps to ensure both quality and durability.
Research the accessory to determine if it typically has a long product life. Some accessories for eBook devices do not last long, regardless of the manufacturer. Online reviews and manufacturer websites provide accessory information. Consumers should also familiarise themselves with industry lingo. A refurbished accessory does not necessarily equate with a used accessory. Refurbished means an accessory was returned to the manufacturer before it was used for cosmetic changes. Ask to use the accessory for a short trial period to determine its performance. This pertains to electronics shops and eBay sellers. Make sure any used accessory includes a warranty that clearly states the return and exchange policies. Remember to save all of the receipts and paperwork in case the seller requires proof of purchase. When buying on eBay, consumers should search for sellers who offer iPad and tablet accessories that have only been removed from the original packaging, but never used. While still considered new, the accessories sell at used prices.
Don't Limit Buying Options to Electronics Shops
Another consumer misperception is that electronics shops offer higher quality iPad and tablet accessories than online sellers. While electronics shops employ professionals who provide valuable accessory information, the accessories they offer do not differ in quality from the accessories sold on reputable ecommerce sites, such as eBay. Moreover, consumers can obtain the valuable information in person and then armed with the information, negotiate prices with online sellers.
Identify the websites that offer the desired iPad or tablet accessory. Utilise a search engine to find the websites, and then make sure to visit online retail shops and not review sites that may present biased accessory reviews and descriptions. Compare all of the online quoted prices for the accessory and list all of the features and specifications of the accessory. Rank the list of buying criteria in order of importance, and then start eliminating seller prospects that do not match the shopping criteria. The best way to shop online is going to the number one auction site, eBay.
Don't Sacrifice Quality for Price
While many accessories, especially those offered by Apple, are free or bundled with iPads, tablets, and eBook readers, there are still a few accessories that can be pricey. The temptation may be to do whatever it takes to stay within a predetermined budget, but for some accessories, such as headphones or protective cases, sacrificing quality to buy a lower priced accessory can cause iPad or tablet performance problems. The primary goal for buying iPad and tablet accessories is to enhance performance and extend longevity, both results that allow users to hang onto their eBook readers a little longer.
Conclusion
As with virtually everything in life, technology has changed the way people read books, magazine articles, and newspaper stories. Electronic books, the tomes that users read on electronic devices, have advanced from strictly desktop platforms to more user-friendly devices, such as iPads and tablets. eBook fans can now carry their favourite books with them anywhere they go, and that is one of significant similarities between iPads and tablets. Another similarity is that accessories boost the performance of both devices. However, many consumers do not know which accessories to consider, much less that iPads and tablets have many differences that influence the types of accessories chosen for each device.
iPad owners should consider a stylus, eBook software, and a digital camera connection kit to augment performance. Tablet owners should consider headphones, wireless keyboards, and desktop docks to improve the device's functionality. The one common accessory that makes the must-have list for both devices is some type of protective case to prevent physical and water damage. After selecting the right accessories, consumers then should consider buying used iPad, tablet, and eBook accessories online for convenience and to save a few pounds. While saving a few pounds helps the bank account, never sacrifice quality just to buy an accessory on the cheap.