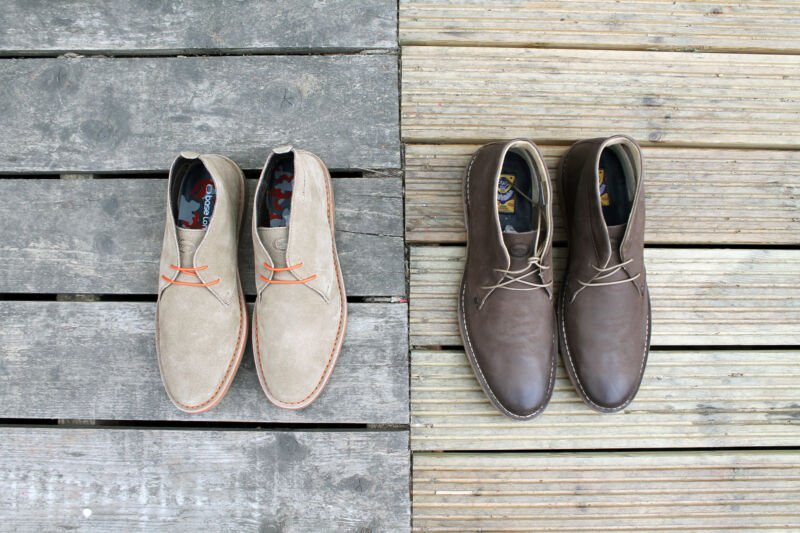 Desert Boots
are a great versatile shoe that can be worn by both
men
and
women
. Read our essential guide to desert boots to find out the origins of the shoe, how to wear them, and how to care for them.
History Of The Desert Boot
The desert boot was never designed with fashion in mind. It came about when Nathan Clark, part of the Clarks shoes family, was inspired by what he saw while serving in Burma in the Royal Army Service Corps during the Second World War. The footwear of choice for off duty army officers was what we now know as the desert boot, and he saw a market for this style of shoe back in England. It was eventually from this that the first ever casual, every day shoe came about. The footwear world have a lot to thank Nathan Clark for!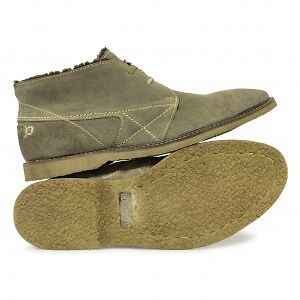 Crepe Soles
Original desert boots were designed with crepe soles, to make it easy to walk on sand in the desert. Crepe soles are made from a colloidal latex. This basically means that the material is separated from rubber at a microscopic level. The latex then mixes with a formic acid, causing it to change state. Next, it is processed through a creping battery, where a series of machines crush, press, and roll the latex coagula into long sheets. Finally, the sheets are hung up in a heated drying shed. It is these crinkled sheets that are sent to shoemakers and used to create the crepe sole that we are now so familiar with. Traditional crepe soles may not be for everyone as they are not the most practical, but they do provide flexibility and comfort. Many desert boots are now made with
rubber crepe soles
or
PVC crepe soles
. Rubber crepe soles are generally seen as a lower quality, but do provide more grip, greater traction and a solid base to stand on. PVC crepe soles provide more support while still looking stylish.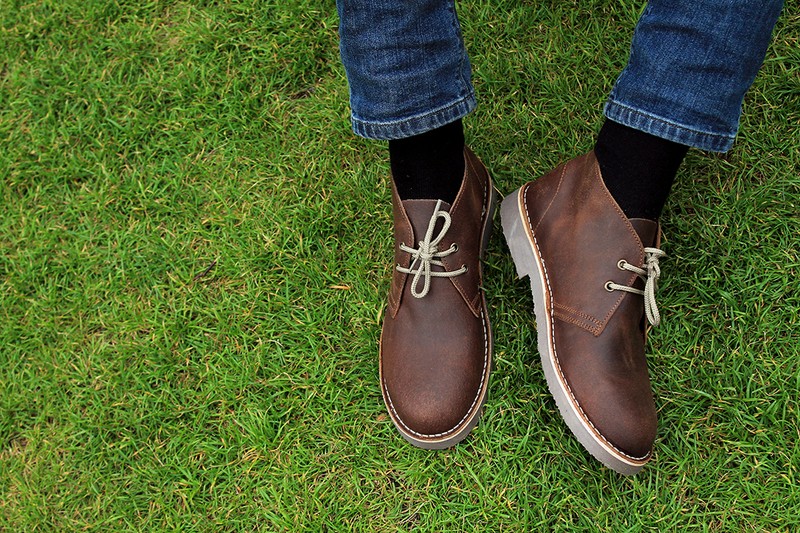 Desert Boots For All Seasons
You may think that the desert boot is a boot reserved only for the warmer summer months, but there are many styles of desert boots available, so you can find a pair to fit whichever season you are dressing for. The traditional suede leather uppers of the desert boot are great for the summer months, as they let your feet breathe in the warm weather. Desert boots now even come in
leather
, and have TPR grip soles, which are perfect for wet weather and the winter months. There are even
warm lined
desert boots to keep your feet warm. There's no excuse for you not to wear desert boots all year round.
How To Wear Desert Boots
The desert boot has achieved popularity for its lazy, casual, unisex style, meaning that they can be worn by men or women, and they are so simple that they can be worn with almost anything. But just how should the desert boot be worn for the ultimate stylish look? Whether you are dressing for smart or casual occasions, read on to find out how.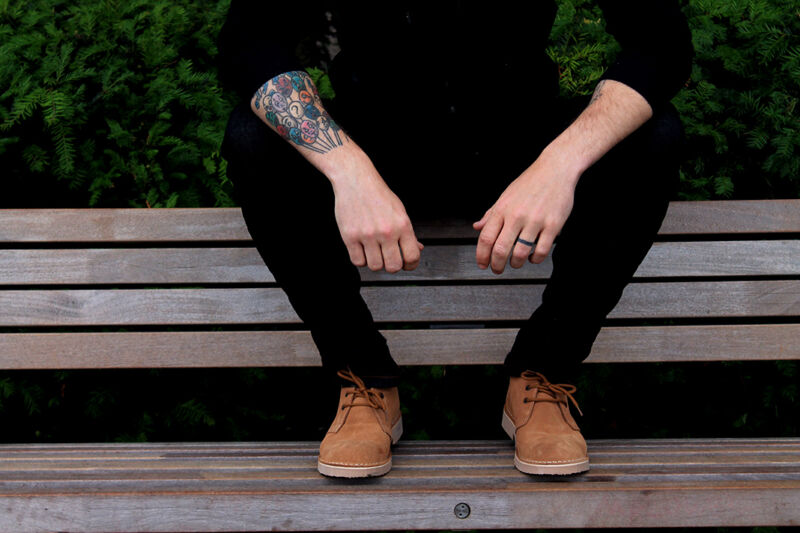 Men
Desert boots are very versatile and can easily be dressed up or down, thanks to their neutral colour range and minimalistic design. The go-to staple to wear with desert boots is denim. The jeans should not be too baggy, as the boot should not be swamped by your jeans. Pair this with a plain casual t-shirt and dress up with a smart blazer and you instantly have an effortlessly stylish look, and the perfect cross over between smart and casual. If blazers aren't your thing, then try wearing with a checked shirt open with a plain t-shirt underneath. A loose jacket can finish the outfit nicely. Rolled up denim works especially well with the desert boot, showing off the shoe rather than hiding it.
In summer, wear your boots with rolled up denim, a plain t-shirt and sunglasses and you're good to go. In winter, you can keep the look nice and casual by swapping the blazer and t-shirt combo for a chunky knit. The blazer could also be swapped for a hoodie and paired with a beanie hat.
Desert Boots can also be worn in formal occasions. A pair of leather desert boots can add an edge to a plain suit with a crisp white shirt, as long as you keep your lines sharp and sleek. Try wearing your boots with neutral coloured chinos for a nod to casual, and add a navy or grey blazer for a minimalist and sleek look.
Women
Many of the same rules apply for women as men when dressing around a dessert boot. They work just as well with a skirt or dress as they do with trousers, which is why dessert boots are such a popular choice of shoe for women. Wearing dessert boots with a skirt/dress shows a feminine and edgy style. In winter months, pop on a pair of brightly coloured wool tights and in summertime, dare to bare your legs or wear with natural coloured tights.
Desert boots also come in more
unusual colours
like pink, purple and red, which is a great way of showing your adventurous side, while keeping the rest of your outfit fairly neutral. A firm desert boot favourite for the ultimate feminine look are those that have a block heel. A pair of these in black will go with many skirts and dresses for a casual, every day look. As many desert boots come in unisex styles, we recommend that women buy a size smaller than they would normally purchase.
Bright colours compliment the neutral tones of suede nicely. Try changing the laces in your desert books for a quick and easy way to completely change your shoe. Wearing a bright coloured sock underneath is also a great way to stand out from the crowd. This works well for men or women.
Caring For Desert Boots
Desert boots are traditionally made from suede leather, a notoriously delicate material which can mark very easily. Spraying your desert boots with a
suede protector
before the first use can help to waterproof them. A
shoe brush
is an essential item for any desert boot owner, as it will remove most of the day to day dirt and marks that you may get on your boots. It is important to only brush in one direction, as changing direction and brushing in different strokes can leave your boots looking two different colours. For more stubborn stains, a
gum cleaner
can be very useful. It works similarly to an eraser, and can be rubbed against the marked area. This will then need to be cleaned off with a light brush or
sponge
.
So now you know everything there is to know about desert boots, it's time to buy a pair. Browse our range of
desert boots
on eBay and find your perfect pair today.