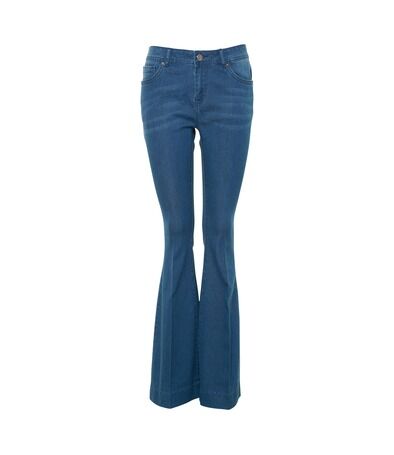 Flared leg jeans have been around for years, ever since the 1800s when US sailors wore 'bell bottom' trousers to make it easier to remove or put on their boots. And when a bell bottom or flared leg trouser got wet it was much easier to remove than a traditional trouser. In the 1960s bell bottom jeans were the most popular style of trousers. They originated with the hippie movement. Flowing tops and tie-dyed clothing was worn to accessorise flared leg jeans. Twenty years later, in the 1980s, flared leg jeans became all the rage in Europe and the Americas once again. In fact, the fashion fad spread worldwide. When flared leg jeans hit the market in The Eighties, they were called 'bootcut' jeans and it was not until later, when the hem had been widened further, that the term 'flared leg jeans' became popular.
Men and women alike wear flared leg jeans, but designers have been trending toward the retro look with women's styles of casual and dress flared leg pants. Flared leg jeans can be made using a variety of materials, including cotton denim and corduroy, wool, and polyester blends. When searching for a nice pair of flared leg jeans, eBay should be the first avenue to search as they have an extensive selection of flared jeans for women.
Flare vs. Bootcut Jeans
Although flared leg jeans and boot cut jeans derive from the same origins, the garden-variety bell bottom jeans of nautical descent, there is definitely a difference between the two. While bootcut jeans are sometimes called a flared jean, that is not strictly the case. Bootcut jeans are not as widely flared at the ankle, and while they taper from the hips to the knee, they are not as form-fitting as flared jeans. The flare from the knee to the ankle is enough to make taking off boots easier without having to ruck up the hem to do so.
Flared jeans, on the other hand, are wider and the flare from the knee to the hem is greater. The shape of the flare is also more of a bell-shaped than it is in bootcut jeans. Flared jeans are normally snugly fitted to hips and thighs, flaring out from the knees. Most flared jeans have low waists, or a low rise, and are just slightly less form fitting at the waist than they are at the thigh area.
Types Flared Leg Jeans
Some women are wary of choosing jeans with flared legs. They have been wearing skinny jeans since they hit the fashion scene and the difference between the two styles is so drastic that they shy away from the flared leg. But flared leg jeans have their benefits. The flare has a leg lengthening effect that can make the wearer appear slimmer. Flared leg jeans also help to make a wider hip appear smaller as flared legs draw attention down the leg and away from the torso. This helps to balance the figure.
There are more than one kind of flare for jeans, so choosing a style that suits one's taste is only a matter of research and finding the perfect fit. There are five different kinds of flares for jeans, each with its own particular style.
70's Retro Flare
Jeans with a retro flare have a high waist and a full flare. This style is good for those who may suffer from the 'muffin top', as it keeps the stomach under control. Those with a boyish figure can benefit from this flare as it will help to create a more hourglass look.
The Skinny Flare
Jeans with this type of skinny flare jeans hug the hips with the flare only at the ankle, and are good for figures that are very thin and for wearer's that feel comfortable in skinny jeans.
Kick Flare
Jeans with a kick flare have a standard fitting leg and a wide flare that 'kicks' out at the ankle, tending to even out the shape for those with fuller thighs and hips. This his type of flare jean should be worn with heels.
Wide Leg
This style of jeans creates a leg with width that progresses subtly into the flare. The leg of the jeans will be wide, with a draped look. Women who are very tall will have the ability to wear this style of flared leg.
Crop Kick
A crop kick jean is just what the name implies, cropped. The flare ends at the calf, making it a good choice for those wanting to minimise the look of the thigh and create the appearance of a longer leg. Nearly any woman can wear crop kick jeans. Many find them a welcome item of clothing when the weather warms up.
Fabric, Fading, and Colour
Most jeans, be they flared leg, boot cut, skinny or straight leg, are generally made from denim. Denim was originally made in Nîmes, France and was called Serge de Nîmes, which was shortened to simply 'denim'. Denim jeans have been worn for over one hundred years. However, in 1982, a designer by the name of Elio Fiorucci made a monumental decision to incorporate Lycra into the creation of denim fabric, by which process the stretch jean was created.
Traditionally, denim has been dyed with indigo,, a natural dye made from plant extracts. The dyed denim jeans were called blue jeans, a name that sprang from the name of the town where the trousers were first made, Gênes, Italy. However, today there are many dyed or coloured versions of the traditional blue denim jeans available. 'Fading', is a pattern created intentionally in denim jeans. Whiskers are streaks of faded fabric that surround the crotch of the jeans. Combs, also known as 'honeycombs, are streaks of faded lines that are usually found behind the knee on the jeans. Stacks are a type of fading created by sewing the denim jean in a manner that allows a stacking effect on the shoe, causing the fabric to fade around the ankle and up toward the calf. Train tracks is a form of fading that occurs on the outer seams of the jeans and is a set of faded lines framing that look like railroad tracks.
Selecting Jeans Based on Body Shape
It is obviously a good idea to select a pair of jeans which will complement the buyers' body type. Everyone falls into a particular body type or shape. Knowing what works well with her shape, allows a woman to select a pair of flared jeans that will not only look stylish but be comfortable as well. Each body type has its positives and negatives, with none being an inherently good or bad body shape. To find a pair of jeans that will fit like a glove, a woman needs to first determine her body type and then go out and find jeans that work with that body shape. The four body types include boyish, pear, hourglass, and petite.
Boyish
This describes a straight figures, with a lean look from top to bottom. A woman with a boyish body type will benefit most from a pair of jeans that enhance curves. Skinny flared jeans are a fantastic look for this body type, but when choosing a flared jean, go for one that fits snugly against the thigh and bum and flares out from the knee only slightly. Jeans with a dramatic flare will overwhelm a woman with a slight frame. A woman with a boyish frame can wear high waist jeans well. However, low rise jeans work extremely well with this body type. Choose styles that have embroidery on back pockets as this will give the impression of more fullness across the bum.
Pear
A pear shaped body is fuller in the hips and bum, often making it difficult to find jeans that fit correctly. However, there is no reason to give up, as there are definitely jeans available for this shape, too. Bootcut or flared jeans are good for drawing the eye away from the bum and down the leg. Faded jeans will help create a thinner or more streamlined look as well. Mid to high waist jeans are perfect for this body type, as a high waist jean will create a more hourglass look and mid-rise jeans work nearly as well if the back is slightly higher than the front. Avoid an abundance of detailing such as embroidery, as this will only emphasise the curves that a woman is attempting to downplay.
Hourglass
Such a curvaceous figure can sometimes be hard to find clothing for. Jeans that emphasise the small waist while at the same time balancing the body from bust to hips are a good choice. Those with this body type are fortunate to be able to wear any type of jean they like. Skinny jeans work well for this type. Flared jeans will work if the jeans are snug from waist to knees, showing off the perfect figure. A high waist is ideal for this body type, emphasising the tiny waist to perfection. Jeans with Lycra are a superb choice, accentuating the wearer's hips to her advantage. Women with an hourglass can enjoy flared jeans for their ability to even out the body proportions.
Petite
Petite figures can be hard to buy jeans for, as most styles are geared toward a larger frame, however there are definitely jeans available for this body type as well. Choose a style that can be worn with platform heels to add height, or choose a rolled hem jean which will work for this body type as well. Petite woman can wear just about any style. Skinny jeans will emphasise height by creating a lengthened look to the leg. Overly large flared legs or those that do not conform to the hip and thigh may overwhelm this tiny frame. Legs can be made to look longer with a high waist and a low rise that lengthens the trunk. Assess dimensions to make an educated decision about which type of jean will work best. While straight leg jeans may be the most straightforward style for this body type, flared jeans will work well if they conform to the body and flare only slightly from the knee.
How to Buy Flared Jeans on eBay
To search for flared jeans in a variety of styles and colours, start on eBay's home page.. Type the keyword that best fits the description of the jeans you are searching for into the search bar at the top the page. For instance, if you type in 'flared leg jeans&', only listings for jeans that match those keywords will be displayed. On the results page you will be able to narrow down your choices by selecting and deselecting search filters. You can sort the listings by trouser size, condition, brand, and leg length. You will also be able to filter the results by rinse and colour. You can also search for accessories to wear with your flared leg jeans, such as hats, belts, or boots.
Make sure to read the item description very carefully. If you have any questions or would like to see photos of the jeans from different angles, contact the seller by clicking on the contact link in their profile.
Conclusion
In today's fashion conscious world, buying a pair of flared jeans is an excellent idea. Although the flared leg jean was originally a man's trouser, today both men and women can be found wearing this style of clothing. Jeans have been worn for over a hundred years by people from all walks of life and social affiliations and have evolved from a bohemian style trouser to the wardrobe staple of today. Women shouldn't shy away from flared jeans, they should embrace them. Flared jeans can flatter almost any body type. The flared leg helps to draw the eye down the leg, giving the illusion of length. There are a variety of flared jeans to choose from. They range from the retro flares of the 1970s to the skinny flare that is more form fitting. When choosing a pair of jeans, a woman should choose a pair that will complement her body. She should consider the colour of the jeans as well as the presence of any fading or decoration, as these features can help to draw attention to some areas of a woman's body while downplaying other areas. A woman will find a large selection of flared jeans in a variety of sizes and rinses on eBay.