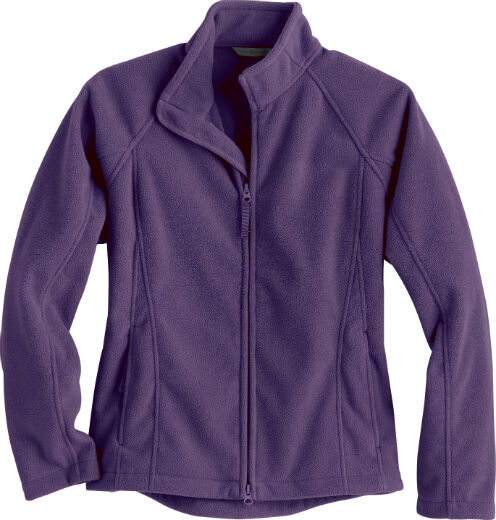 When searching for a jacket that provides warmth and dries quickly, fleece jackets should be the first choice that comes to mind. Fleece is a synthetic material that is hard-wearing and soft, and was originally formulated for outdoor clothing worn in climates that experience severe weather. Fleece is not a truly water repellent fabric. A piece of clothing made with fleece should be lined with a waterproof material to ensure that the wearer stays dry.
Fleece is two-sided and will not unravel. It is so warm, that fleece has been used to make ear warmers for baby calves and undergarments for astronauts. Fleece is preferred to wool for outdoor garments because it is lightweight, provides more warmth than wool and when compared to wool, fleece dries very quickly. When looking for fleece clothing, eBay is the best place to shop due to their huge selection of fleece jackets, vests and gloves, as well as hats and fleece socks. This guide will explain the benefits of fleece, as well as the limitations of the fabric. It also includes advice how to choose the best fleece jackets for particular outdoor activities.
What Is Fleece?
Fleece is not a fabric naturally found in nature, but is a synthetic fabric created from the reaction of two petroleum byproducts subjected to very high temperatures and then cooled. The resulting viscous liquid is driven through metallic discs called spinnerets to form long threads that are then woven into yarn and subsequently into cloth. After the cloth is woven, it is passed through a napping machine that gently abrades the exterior of the fabric, creating a soft and smooth nap, or fleece.
There are a few limitations to fleece clothing. Garments made with fleece tend to be warmer than those made from other fabrics, and the wearer can feel quite hot wearing fleece clothing on warm days. Clothing made from fleece is generally less breathable when compared to other fabrics. Because of this a wearer may experience excessive sweating under certain conditions. Fleece can be more expensive than some other types of fabric. However, if the objective is to find a jacket than can be worn in extreme weather, is lightweight while providing superior insulation, then fleece clothing is still the best choice for outdoor clothing.
Types of Fleece Fibers
Although the appearance of one's jacket may be the primary buying consideration for most buyers, the benefits of fleece should outweigh any style considerations when choosing a jacket that is intended for use in severe weather conditions. When choosing a fleece garment, there are certain factors that should be considered. Fleece is usually categorised by weight. Each category relates to level of insulation needed for particular activities. The categories are micro-fleece, 100-weight fleece, 200-weight fleece, and 300-weight fleece.
Micro-Fleece
Micro-fleece products are generally more lightweight, with characteristics closer to chamois. This weight of fleece is ideal for fleece shirts, leggings, neck scarves, and jacket liners.
100-Weight Fleece
100-weight fleece is a bit heavier than micro-fleece. This fabric is perfect for lightweight fleece sweaters, hats, gloves, and socks. This is a good type of fleece to wear for activities that require a lot of moving around, including running in cold weather.
200-Weight Fleece
Fleece products made from 200-weight fleece are generally used as a mid-layer. These garments are layered over the base layer and beneath an outer shell. Medium-weight fleece can wick perspiration away from the body, and can also be purchased with a water-repellent finish. This type of fabric is excellent for fleece jackets and blankets, as well as hats and mittens and a plethora of other fleece items. It is an ideal fleece for layering between a t-shirt and an outer coat in extremely cold weather. This fleece is very versatile and is commonly worn by hikers.
300-Weight Fleece
This heavy-weight fleece is the most common type of fleece found on the market today, and it is also the most versatile fleece. This weight of fleece is the warmest fleece available, and yet compared to other types of fleece, 300-weight fleece is far less bulky, lending itself to use in many types of weather and all seasons.
Features of Fleece Jackets
The type and duration of physical activity, as well as the the climate and weather conditions will determine the choice of fleece jacket. When shopping for a fleece jacket, the buyer should consider a jacket's particular features.
Fleece Jackets with Spandex or Lycra
Some fleece jackets have stretchable spandex, or Lycra, incorporated into the fabric to allow the material to move better, while still conforming to the wearer's body. Because the fabric does not gape or sag, cold air cannot penetrate the jacket.
Windproof Fleece Jackets
Windproof fleece jackets are perfect for layering between two layers of fleece. When worn in this manner the amount of airflow is reduced. This gives extra protection from the cold on windy days. Windproof fleece jackets are a good choice for athletic activities. The reduced airflow ensures that an athlete's muscles stay warm when training on cold days.
Waterproof Fleece Jackets
Waterproof fleece is ideal for wet climates, where the wearer is likely to encounter light rainfall. Waterproof fleece jackets prevent rain from penetrating the jacket. While these fleece jackets are considered to be waterproof, should the wearer be caught in a substantial downpour, the jacket will not provide sufficient protection against the heavy rain, and the wearer could get wet.
Wind Flaps
Zipper front fleece jackets have a thin strip of fabric under the zipper that provides an extra layer of protection against the wind. The narrow flap prevents cold air from leaking into the jacket.
Fleece Jackets with Pockets
A fleece jacket for everyday use does not require pockets. However, if the jacket is for hiking, pockets can prove to be invaluable. Fleece jackets for hiking should have deep pockets that have zippers or snaps that will protect items from falling out of the pockets.
Jackets with Thick Neck Material
When choosing a fleece jacket for everyday wear in cold climates, the buyer should consider choosing a style that has a thicker neck or collar. The extra material will provide additional warmth and protection against near or below freezing temperatures.
Hooded Fleece Jackets
Hooded fleece jackets can provide additional protection against heat loss by effectively keeping heat from escaping the head and through the ears.
Fleece Jacket Colours
Because fleece is a synthetic fabric, the material is available in a variety of colours and patterns. Fleece jackets, scarves, hats, gloves, mittens, and blankets are available in every colour of the rainbow, making it easy to find jackets that complement specific outfits. There are also a plethora of patterns available, from geometric designs to winter scenes and wooded forests. It is not unusual to find pictures of horses and wolves on fleece blankets or snowflake patterned fleece jackets.
Caring For Fleece Jackets
The care of fleece products is relatively simple. Always check the fleece item's tag to determine if there are specific care instructions for that item. Load your fleece into the washing machine along with other clothing, washing like colours together to avoid the bleeding of colours into one another. Use cold water and a mild detergent formulated specifically for cold water. Never use fabric bleaches or softeners as they tend to destroy any waterproofing and dull the fabric. Wash on a normal cycle and remove the fleece jacket when complete.
A clothes dryer on low setting can be used for fleece, but keep in mind that fleece dries rather quickly so it may not be necessary to tumble dry fleece jackets. Never iron a fleece. The fabric is wrinkle-free and ironing could very well damage the fabric. To remove tough odours, a fabric spray can be used. You can choose to hand wash your fleece with cool water, a mild, cold-water detergent, and then just let the fleece jacket air dry.
How to Buy Your Fleece Jacket on eBay
To search for a specific fleece jacket, or a pair of fleece gloves, start at eBay's homepage. Simply type the keywords that best describes the item you are looking for into the search bar at the top of the page, or any page on the eBay website. For instance, if you type 'fleece jackets' into the search bar, you will be returned a results page with listings for all the fleece products that contain those keywords in the title.
You can also search for accessories such as hats, scarves, mittens, or gloves, to wear with your fleece jacket. On the results page you are able to refine your search by selecting or deselecting various options. For example, you can specify that only men's fleeces appear on the results page, or just women's fleece jackets. If you are looking for a fleece jacket to wear for a particular sport, you can also sort the listings by activity.
Conclusion
Fleece jackets can be the ideal solution for occasions when you want to wear something that is casual and provides protection from the cold. A fleece jacket is a versatile choice for outerwear, as fleece jackets are available in a variety of designs, colours, and patterns. Choose a fleece jacket in bright red, or a pair of fleece mittens in blue, or any gradient of colour in between. A patterned fleece jacket can be stylish as well as warm, and a soft and silky fleece scarf can protect one from the elements while adding a splash of colour. When choosing a fleece jacket for an outdoor activity, the buyer should consider the type of fleece. A micro-fleece jacket is appropriate for walks on mild days, while a 300-weight fleece jacket is more suited to wintery conditions. Whether the goal is to make a fashion statement or to stay warm in the winter, fleece jackets roll warmth, comfort, and style into one convenient garment. Fleece jackets are available from a selection of brands such as North Face, Regatta and Patagonia.