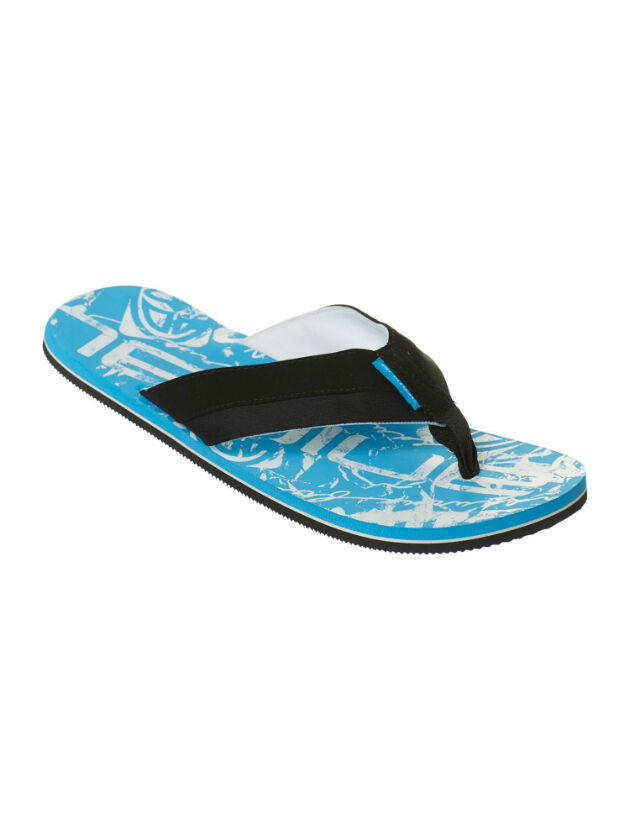 Nothing says "summer" like the ever-present flip flop. This simple open-toed thong sandal is named for the sound it makes against the floor and the sole of the foot while the wearer walks. The flip flop has a flat sole, usually rubber or polyurethane foam, that is held to the foot with a Y-shaped strap originating between the big toe and second toe and connecting to the sandal's sole on either side of the foot. Made for casual wear, flip flops do not have a strap around the heel and are made to slip on and kick off with ease.
This buying guide offers an overview of the various types and styles of flip flops for women. Flip flops can be purchased online and from retail stores, including department stores, sporting goods stores, and bargain stores. In addition, eBay offers a number of new and used flip flops that are made using different types of materials. This guide also provides suggestions on how to use eBay to choose and purchase flip flops that meet the customer's expectations.
Types of Flip Flops
The thong-style sandal has been worn for at least 6,000 years. Murals from 4,000 B.C. in ancient Egyptian temples and tombs show figures wearing sandals that resemble flip flops. Soldiers who returned from the Pacific front in World War II often brought Japanese zori thong sandals with them, as well as similar sandals acquired during the Korean War in the early 1950s. The modern flip flop design originates from zori sandals which are still available to consumers. The flip flop continues to evolve, with styles intended for fitness wear and even for special occasions such as weddings. While there are many thong sandals for women that feature elevated heels, flip flops generally have no heels or low heels.
Beach Flip Flops
A staple of warm weather wear, foam rubber or polyurethane flip flops are designed to withstand salt water, chlorinated pool water, and sandy beaches. These sandals are usually inexpensive and do not require care beyond a quick rinse with fresh water and air drying after use. As with athletic shoes, flip flops have become a part of everyday fashion beyond the original intended use. Because flip flops are comfortable and easy to slip on and take off, it is common to see women wearing beach flip flops around town or at home. Beach flip flops are offered in a rainbow of colours, patterns, and styles on eBay.
These casual sandals are also made with wide canvas or webbed thongs, which provide a higher level of comfort and wearability than rubber flip flops. Footwear manufacturers that focus on utilising repurposed and sustainable materials also make flip flops out of recycled bicycle tires or hemp.
Casual Flip Flops
Casual flip flops are intended for non-beach or pool use, and they are made with materials that are more suited to regular footwear such as leather, suede, and sturdy synthetics such as nubuck. Casual flip flops for women are available in a large assortment of materials and styles. For an easy yet put-together look for women, these flip flops go well with shorts, capris, jeans, and casual skirts as well as dresses of any length. Women who pair casual flip flops with work outfits that are appropriate for "Casual Fridays" are able to transition from the office to an evening out with ease and style.
Young women frequently wear flip flops particularly in schools that have flexible dress codes that allow students to express their style and individuality through footwear. While flip flops are normally worn with bare feet, women also have the option of wearing tabi socks, which feature a split toe to accommodate the Y-shaped thong strap. Five-finger socks are another choice to wear with flip flops and are available in a low, ankle-cut style or in funky, colourful knee-high styles.
Sports Flip Flops
In the late 1960s, the flip flop took another turn in utility with the release of the Dr. Scholl's exercise sandal, a wood-soled flip flop with a leather upper designed to tone a woman's leg muscles. The contoured sole and raised toe crest allow the wearer to grip her toes and flex her feet while walking.
Following the success of the Dr. Scholl's sandal, other types of training flip flops were developed to tone the wearer's leg muscles. Similarly, sandals are available that are appropriate for use in the locker room and shower.
Flip Flops for Special Occasions
The fashion-forward bride who likes to express her individual taste in comfort on her special day has a wide selection of dressy flip flops from which to choose. Delicate white or ivory flip flops decorated with crystals, beads, and flowers are popular with brides who choose a ceremony and reception by the beach, in a park, or even in a church. Traditional wedding shoes are not known to be comfortable during a long ceremony and a longer reception, and the transition to a beautiful pair of flip flops enables any woman to enjoy the event without pinched feet. These pretty flip flops are also a hit with members of the bridal party and with the female guests when presented as gifts from the bride and groom. For the honeymoon, the couple can wear matching flip flops imprinted with "Just Married" as they stroll along the beach.
Where permitted by the school, dressy flip flops are also a good choice for young women who attend school dances, balls, or proms. Students enjoy wearing flip flops to graduation ceremonies, especially when they match the school colours.
Flip Flop Sizes
When purchasing flip flops, it is important to ensure that these sandals are the proper size and that the wearer's foot does not hang over the heel of a too-small flip flop. Likewise, flip flops that are too big also present a hazard for the wearer.
Women's Sizes
To determine the right size for one's foot, draw a long line near one edge of a piece of paper; stand on the paper with the heel on the line. With a pencil, draw another line at the tip of the longest toe. Repeat these steps for the other foot, and measure between the two lines to obtain the foot length. Using the larger measurement, find the correct size using the following chart. If the foot measurement is between sizes, go up to the next size.
| Foot in cm | UK Size |
| --- | --- |
| 22.2 | 3.5 |
| 22.5 | 4 |
| 23.5 | 5 |
| 24.1 | 6 |
| 25.1 | 7 |
| 25.9 | 8 |
| 26.7 | 9 |
| 27.1 | 9.5 |
| 27.6 | 10 |
Flip flop sizes vary depending on the manufacturer and brand, and consumers should consult the seller's sizing chart before choosing a pair of flip flops. If that information is not available, buyers can contact the seller to confirm whether the flip flops will fit properly.
Shopping for Flip Flops on eBay
Searching for just the right pair of flip flops in a department store can take hours, and there is no guarantee that you can find the perfect style. eBay offers an extensive choice of flip flops to suit women in myriad styles, colours, and sizes.
Your search for the ideal flip flop begins on the eBay home page. Enter "flip flop" in the search box on the homepage or any other eBay page. This basic search displays the applicable listings for flip flops available on the website. It also provides several suggestions to refine your search. Because the results include listings for all flip flops on eBay, it is a good idea to enter "women", "ladies", or some variant to eliminate the men's flip flops from your search. Further, you can add other information to further narrow your search, such as the colour, brand, condition, material, and size.
You may want to search for local sellers to save time and shipping costs. This option works well if the seller agrees to an in-person pickup after the successful completion of your transaction.
Conclusion
Flip flops are a comfortable, stylish, and budget-friendly footwear choice for women. As long as they are properly cleaned, their open design encourages toe and foot health. This makes them ideal for wearing in the warmer months as well as for use as indoor footwear that is gentle on floors and carpets. Because they are generally not expensive, it is easy to find a diverse collection of flip flops online at eBay for any purpose, season, event, or stylistic whim. Flip flops are available in a wide variety of colours and styles, including options that enhance the wearer's fitness level and muscle tone. If the buyer wishes to make a special occasion more comfortable and fun, eBay offers a wide array of flip flops for weddings, dances, and graduation ceremonies. With the help of eBay's user-friendly features such as seller's feedback ratings and buyer comments, a woman can easily find and purchase these comfortable fashion staples to add to her footwear wardrobe.