With such a mind-boggling array of bold prints, patterns, colours and styles to choose from, we've put together a guide to the top ten funkiest wellies to help cheer up your wintry walks.
Number 10: Ditsy dots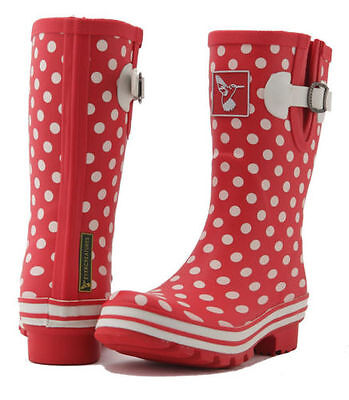 Kicking off proceedings is the esteemed polka-dot option from Evercreatures. In a delicious pillar-box red with white dots, this stylish but fun combination will brighten any grey day. This welly is made from natural rubber and features a red cotton lining and adjustable side straps. It is available in both tall and short options.
---
Number 9: Patriotic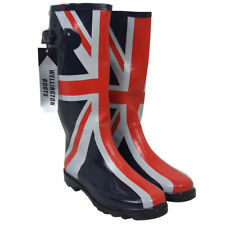 In a bid to embrace the Great British Weather, there is no more suitable attire than a pair of wellies featuring a Union Jack design. Full-length or mid-calf versions of this patriotic design are available. They make for the perfect festival wellie to keep your feet free of foot rot when living in them for a four-day festival!
---
Number 8: Classic simplicity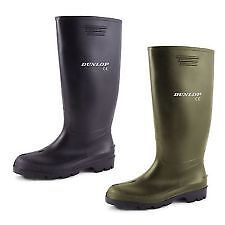 For those who prefer to sport a simple but classic design, consider investing in the original welly from Dunlop. The company evolved out of a brilliant idea by a 19th-century veterinary surgeon. He invented the pneumatic tyre after watching his son ride his very uncomfortable solid-tyre tricycle across cobbles. This rubber technology developed into the classic Green Flash tennis shoe and then further into a range of protective footwear. This robust and elegantly plain welly boot – in navy, black and classic green – offers a solid budget-range option.
---
Number 7: Fashionista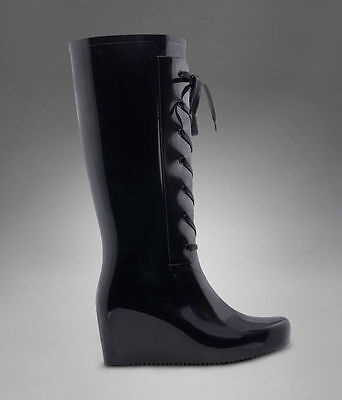 For the fashionistas out there who can't quite bring themselves to don a pair of smelly wellies, there is the Wedge Welly. Available in black mock-croc or black high-gloss, these urban-styled boots sport a 2.5-inch wedge heel to elevate you to true style icon status! There are even designer wedge options to choose from, with Yves Saint Laurent making a navy lace Rain Boot if this appeals more to your contemporary tastes.
---
Number 6: Hand made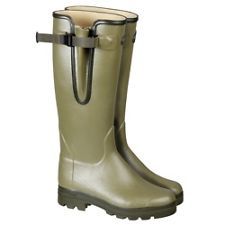 For those wanting a bit of Continental charm, a pair of Le Chameau (camel) wellingtons may be just the ticket. At the upper end of the price range, these "country sports" boots have a solid pedigree. The first pair of Le Chameau boots were produced by Claude Chamot, a French agricultural engineer, in France in 1927. He listened to people who worked outside every day complaining about how uncomfortable their leaking boots were and set about designing a new boot – one handmade in natural rubber. They are still made by hand today.
---
Number 5: Wedding welly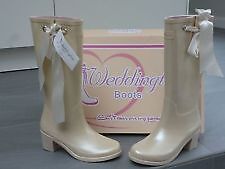 A welly to get wed in – otherwise known as the Weddington Boot! With heel, without heel, with laces, with ribbons, with fluffy insides, or without. Available in cream, white or pink, these boots offer the country girl an alternative to pesky peep-toes that can't be tramped across fields without becoming ruined. Wedding wellies may even be customised to include a message emblazoned on the side, in diamante lettering, such as "Mrs Smith".
---
Number 4: Short and sweet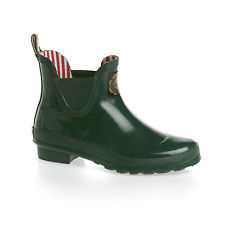 Love it or hate it, the shortie has wormed its way into the hearts of even the most hardcore of welly enthusiasts. From high street shopper to gardening nut, this oddball number offers a compromise for the "I wouldn't be seen dead in wellies!" fashion hunter seeking a practical footwear solution. Available in every colour and design under the sun, this cheeky little number is equally suited to urban dog walkers and winter party goers alike.
---
Number 3: Country chic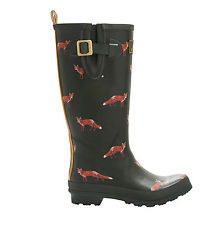 With a meteoric rise to the top of the country clothing charts, the Joules brand has only been around for 10 years or so. Pretty pastel florals compete for the top wellie hotspot with candy stripes and of course any animal you care to think of – frolicking foxes, funky chickens, capering canines and flying pheasants – you name it, Joules will have put it on a wellie boot! The kids' range is cute as anything, with green tractors, sharks and robots jostling for space.
---
Number 2: Pink and practical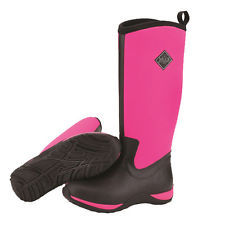 No self-respecting welly countdown would be complete without a hot pink boot. The Arctic Adventure from Muck Boots in hot pink and black not only looks spectacular but scales the heights of practicality. Made of neoprene – the same insulating material used to make wetsuits – it is guaranteed to keep your feet both dry and toasty warm. The 4mm neoprene construction, stretch-fit binding and fleece liner are billed as keeping your feet snug down to -20 degrees.
---
Number 1: Top of the heap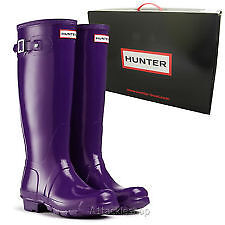 The old adage "You can have it in any colour you like so long as it's black (or, in this case, green) used to apply to the most royal of welly brands, Hunter. But in response to popular demand and music festival-goers' whims, the iconic welly brand has diversified into an impressive range of short, long, chunky, gloss, colourful and classic welly boots.

From aubergine to snake print, these wellies will fit the bill whether romping across fields or tramping the streets of Chelsea. Celebs won't been seen in anything less than a pair of Hunter Originals when pretending to "muck in" with the public at festivals, so why should you settle for anything less?
Welly accessories
There is now an extensive range of welly accessories that any self-respecting boot owner should consider purchasing. A pair of furry, knitted, camouflage, fleecy or over-the-knee socks to complement your wellies is essential to drive out the soggy British weather. And pulling off one's own boots is not the done thing, so a boot jack should be a permanent fixture by the back door for when your boyfriend, hubby or handy child is not around to assist.

Doggie boots
And don't let your pooch miss out on the fun either, and consider investing
in some matching protective boots to keep your dog's paws in tip-top condition. These boots are available in a rainbow of colours as well as more practical black. Investing in a pair (or two!) will save hard-walking paws from the ravages of rough surfaces and cold and wet conditions when out on winter walks.
Fit for purpose
If you intend using your spangly new pair of wellington boots for what they were originally intended – protecting feet from muck, mud and moisture – make sure to choose a pair that is oil and chemical-resistant, waterproof and, above all, reflects your personality. There is a pair out there to suit every possible taste and whim!


| | | | | | | | | | | | | | | | |
| --- | --- | --- | --- | --- | --- | --- | --- | --- | --- | --- | --- | --- | --- | --- | --- |
| Euro | 36 | 37 | 38 | 39 | 40 | 41 | 42 | 43 | 44 | 45 | 46 | 47 | 48 | 49 | 50 |
| UK | 3 | 4 | 5 | 6 | 6.5 | 7 | 8 | 9 | 10 | 10.5 | 11 | 12 | 12.5 | 13 | 14 |