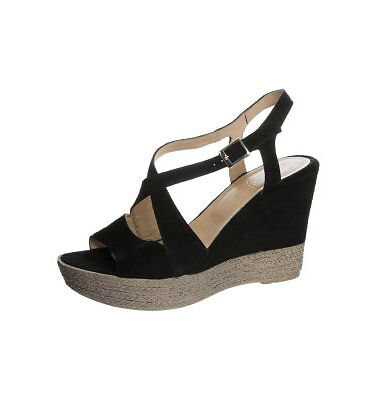 Platform shoes are dramatic and powerful and make a statement about the self-confidence of the women who wear them. A diverse array of women wear platform shoes, including the rich and famous, models and everyday women. They have seen a resurgence in their popularity of late, and the trend shows no signs of abating. The true beginnings of platform shoes were the chopines worn in Europe in the 1500s. Those original platform shoes were as tall as 76 cm.
Platform shoes have fallen in and out of favour many times over the last one hundred years, cropping up in the 1930s and 1960s. They were a huge hit in the 1970s. Both men and women wore platform shoes then. They passed out of public favour until a few years ago when platform sandals hit the scene, creating a contemporary craze for the platform shoe.
Platforms are available in shoes, tennis shoes, boots, as well as platform sandals. Platform sandals are the hot new fashion for women currently, and since the summer of 2006, many different versions of the platform heel have proved extremely popular again. When looking for platform sandals, one can find them in thrift stores, online boutiques and on eBay, where a huge selection of platform shoes can be found, including platform boots and platform sandals. This guide will explain the benefits of platform shoes, how they should be worn, and how to go about searching for platform sandals on eBay.
Platform Shoes vs. Stiletto Heels
Many say that platform heels are more comfortable than stiletto heels, due to the fact that the platform has an angle that is far less steep than that of the stiletto heel. A traditional heel may have a heel height of 15.2 cm. The platform heel would have the same height, with the platform taking up four centimetres of that height, resulting in the pitch of the shoe being much lower. The platform retains the coveted height of the heel, without the killer steepness. Platform shoes makes it possible for a woman to walk more comfortably and still look like she just walked off the pages of a fashion magazine.
Today, platform shoes are not as weighty as the platform shoes of the 1970s. Contemporary varieties are streamlined and angular, creating a look of vivacity and edginess. So popular has the platform heel become that even tennis shoes are getting the platform treatment. The sole of for platform tennis shoes is generally rubber, in contrast to the wood, leather, plastic or cork soles other platform shoes are made with. The inner sole of the platform tennis shoe is available in two selections. There is a flat sole and there is a raised heel version of the sneaker. The raised heel is not noticeable when looking at the shoe from the outside, and is much more comfortable than the flat sole for those wearers who have high arches.
How to Choose the Right Platform Sandal
Wearing platform sandals is classier and more stylish than wearing flat soled sandals. Many women have never worn platform sandals and may not be sure which style to choose, or whether there is a specific design that is better than another. To choose the right platform sandal, there are several areas the shopper should investigate.
Because platform sandals are available in many different kinds of materials and in a variety of designs, it is imperative to research the components and determine which one would will work best for the wearer. Platform sandals are available in vinyl, cork, canvas, and satin, and one can choose between various heights as well. Some sandals are adorned with accessories such as grommets, snaps, and zippers that are incorporated into the design. Women's platform sandals are available in a plethora of colours, making them versatile as well as fashionable.
Selecting the Height
Depending upon the look that the wearer is trying to achieve, platform sandals should be chosen that are of a height that the wearer can reasonably walk in. Narrow platform heels or those with thin straps would probably present a problem for someone that has trouble walking in heels. Never choose a shoe that would make it difficult to walk or the shoe will probably just sit in the closet, unworn. For that remarkable pair of stunning metallic platform sandals advertised online, a wise course of action would be to make certain before purchasing them that the height of the platform is not too high to prevent the wearer from walking comfortably in them.
Choosing a Flattering Style
Platform sandals have the ability to look good on any foot, but if one's foot is wider than the average foot a narrow strap can dig uncomfortably into the skin. Also, if the buyer is a very small statured woman, a chunky oversized platform sandal would dwarf the foot and detract from her small feet and ankles.
Pairing Platform Sandals with an Outfit
Depending upon what clothing will be worn with the sandals, platform sandals can either dress up or dress down an ensemble. High-heeled platform sandals look amazing with summer dresses or tight jeans, and wedge platforms can accent skirts in a down-to-earth manner with complementary colours and styles.
Wearing Platform Sandals Every Day
Although it may at first glance appear as though the height of the platform sandal would preclude using them in any way other than as conversation pieces, the fact is that platform sandals are actually a sturdy shoe, making it possible to do anything in a platform that one could do wearing a traditional heel.
Wearing Platform Sandals to Shop
Shopping in platform sandals is a good idea if the objective is to accessorise an outfit to match the sandals. Choose fun jewellery to wear with slip on platform sandals, or beads for use with an espadrille platform wedge sandal, or fancy gloves to match the patent platform sandals for a signature look.
Dancing in Platforms
Not only can platform sandals be used for walking, they can be worn for a night out on the town, dancing. Choose a glamorous purple platform sandal to wear with a mini-sheath for a night out with the girls or a romantic dinner date with that special someone.
Driving with Platform Sandals
Even if walking in platform sandals has been perfected, driving a car in high-heeled platform sandals is not the wisest choice of action. The best advice is to keep a pair of flats in the car that can be switched out with the platform sandals for driving.
How to Buy Platform Sandals on eBay
If you have been looking for a specific pair of sandals, perhaps a slinky pair of black patent platform sandals, start at eBay's homepage. Simply type the relevant keyword into the search bar at the top of the page to bring up a results page with listings for platform shoes. For example, if you type in 'black faux suede platform sandals', the results page will be populated with listings that only include those keywords in the listings' titles. You can refine the search results by sorting the listings by shoe size, style, condition (new or used), price range and brand. You also have the option of specifying the height of the platform. You can also search for a little black dress to wear with your platform sandals, or even coordinate your accessories with a pair of black patent gloves.
If you are planning to buy a specific pair of platform sandals, or patent gloves, check with the seller first to be sure that they will agree to exchange your purchase, or provide a refund, should you find that the platform sandals do not fit properly. To save yourself the trouble of having to return your purchase to the seller, make sure that you read the item description very carefully. If you have any questions for the seller regarding the platform sandals listed, you can reach them by clicking on the contact link in the seller's profile.
Conclusion
For occasions when an elegant shoe is required, choose platform sandals that are stylish and make a statement about the wearer, such as with pair of red platform sandals paired with a sexy red evening gown. If the occasion is a summer date, choose a pair of cool striped canvas platform sandals that can be worn with a pair of girls shorts and a halter top, creating a fun and summery look. Platform sandals come in a variety of styles and colours, as well as varied materials such as canvas, patent, satin and leather. They can be classically elegant or cute and flirty like peep-toes.
A woman should choose a style of platform sandals that is well suited to the outing, party, or occasion she plans on attending. It is always a good idea to try on a pair of platform sandals before buying a pair. The wearer should be able to walk in them comfortably without risking embarrassing stumbles. Because of the different styles and heights of platform sandals available on the market today, making sure that a specific design is compatible with the buyer's style is key to pulling off a confident look.