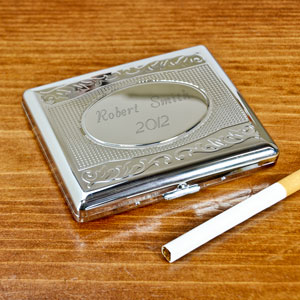 History of Antique Solid Silver Cigarette Cases
The history of what we consider to be modern solid silver began in the 1400s. In this period, the English government created the 'sterling standard' that demanded all solid silver contain no less than 92.5 percent silver. This standard help unify the silver smith industry under the jurisdiction of the Assay offices who provided their own hallmark of approval to every piece that made the cut. Those that did not were destroyed. Silver production did not actually become important until colonial times. This was due to the large amounts of silver found throughout the new world and Asia in the 16th century. This made silver the favourite decoration of the upper class and helped create a massive industry in England. During the 19th and 20th centuries, tobacco began a cheap and popular product in both Britain and the United States, which led to the production of the solid silver cigarette case. World War I introduced mass-produced, machine-rolled cigarettes to the public, which sometimes lacked the tight roll of a hand-crafted cigarette, and required a case to protect it through the harsh conditions of the war. Coupled with the invention of the modern match, cigarettes and cigarette cases became hugely popular. Today thousands of quality antique solid silver cigarette cases can be found online and added to any collection.
Discover Antique Solid Silver Cigarette Cases
Cigarette cases produced in the mid 1800s to the late 1900s owe their popularity to a boost in the production, and demand, of both silver and tobacco. Matches were also invented in the same time period and helped increase the demand for these pieces. Thanks to the remarkable popularity of silver at the time, cigarette cases became a sign of personal wealth and many cases feature elaborate designs and symbols. The cigarette case still acts as a convenient and elegant way to enjoy a cigarette while protecting its contents far better than the plastic cases cigarettes are sold in today. The high level of workmanship and the high quality of solid silver means that these pieces can be used and looked after by many more generations to come. The durability of silver also lends itself well to protecting easily damaged cigarettes, and cigarettes placed within an antique case are sure to stay dry and intact.
Factors to Consider When Buying Antique Solid Silver Cigarette Cases
Before purchasing a solid silver antique cigarette case there are a few important factors that should be considered. These factors can make a large impact on the value of a cigarette case and a well worth exploring. Solid silver also is known to have several factors that can influence a sale and are best kept in mind at all times. The most important factors to keep in mind are:
The Hallmark – The hallmark was instituted to assure that only genuine solid silver ever met the sterling standard. The hallmark also contains the unique symbol of the maker of any piece. Some of these symbols are quite rare and can heavily influence the price of a cigarette case. There are many sites and books that can help any potential buyer identify the exact hallmark and its worth. If a piece does not include its hallmark before sale it is best to avoid it. Without a hallmark a fair value is hard to determine.

The Condition– Look for signs of damage to key pieces of any antique solid silver cigarette case, be especially vigilant for damage to the hinges and insides of the case. Minor damage should cause less of a concern, as antique items often come with their share of nicks and scratches that may need to be accepted as part the cost of acquiring these fine antiques. Superficial blemishes such as these shouldn't dissuade a buyer from purchasing a case that they are otherwise interested in.

Level of Silver – True solid silver is 92.5 percent silver and 7.5 percent other metals. Silver plate and the equally common electro plated silver are not of the same quality as sterling silver and are avoided if looking for a more valuable piece.
How to Care for Antique Solid Silver Cigarette Cases
The best way to take care of an antique solid silver cigarette case is to treat it with care and protect it from harm. It is also important to keep it clean and remove any tobacco stains through a simple washing. Using a low irritant, non-scented dish soap should be enough to remove most stains and keep the silver sparkling. Using a soft cloth it is recommended that any silver product be polished at least weekly to keep away tarnish. If tarnishing does occur it is important to apply a small amount of silver polish to the affected area. After rubbing gently with a soft cloth the tarnish should disappear. For extensive damage to the case, including dents, large scratches and even broken clasps it is best to seek out a professional to avoid further damage from attempting a home repair. Antique solid silver is a strong, durable material that, if treated well, should last for generations to come.
Popular Antique Solid Silver Cigarette Case Manufacturers
At the height of its popularity several well-known manufacturers produced the cigarette case. These silver smiths were identified by their hallmark, which can add a unique style to any case. Some manufacturers developed a reputation as the best in the business and as a result their pieces are worth a great deal to modern collectors. The rarest hallmarks can identify a manufacturer that produced only a limited run of cases, which could dramatically change the value of any solid silver cigarette case. Some popular manufacturers include;
Gorham
Asprey and Co.
Shreve and Co.
Edward Bernard and Sons Ltd.
Batin
George Scheibler
George Stockwell
Thomas Daniel
William Chawner II
Whiting
William Eaton
Blackington
Accessories and Add-ons for Antique Solid Silver Cigarette Cases
An antique solid silver cigarette case on its own is a wonderful collectors item, and buying a few extra items can help restore or maintain its condition, or complement its design. These additional items can be easily found in any number of antique and jewellery shops. A few of these add-ons include:
Silver polish
Polishing cloth
Protective case
Vesta case
Finding Antique Solid Silver Cigarette Cases on eBay
Once you determine the type of antique solid silver cigarette case you want to purchase, visit the Antiques< portal on eBay, click on Silver then sub-category solid silver and start searching item listings. The Categories list on the left-hand side of the eBay page helps to narrow the search.
Searching for Antique Solid Silver Cigarette Caseson eBay
Search eBay listing titles for specific words when shopping for an antique solid silver cigarette case. For example, to find antique silver cigarette case, type 'Antique Silver Cigarette Case' into the search box, and then click the Advanced button to customise the results. Also visit eBay's Search Tips< page for more advice on searching for antique solid silver cigarette cases with keywords. If you can't find the exact antique solid silver cigarette case you want, try shopping eBay Stores<.
Conclusion
From learning the history and benefits of the solid silver cigarette case to discovering the important factors that one must consider before making a purchase, finding the perfect case should be more attainable after reading this guide. Understanding the right care tips and any accessories to buy, should also enhance the enjoyment of a future owner. Once you have collected this information, you can buy an antique solid silver cigarette case safely and securely on eBay<.