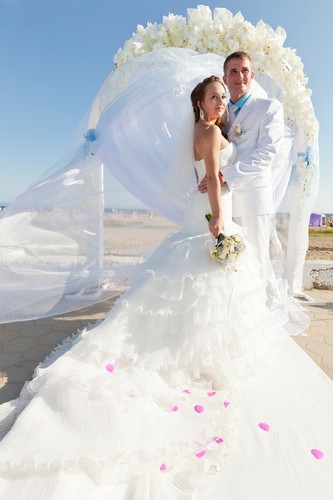 Every woman wants to look special on her wedding day. With the wide array of wedding dresses available in the marketplace, there are bridal gowns that can satisfy almost any woman's needs and give her a look that makes her a real standout. Of course, there is always the bride who will not settle for just being a standout and wants a wedding dress that will steal the show on her special day and make a statement that none of her guests has ever seen.
While local retail options may have some scene-stealing options for this ambitious bride, the online auction site eBay represents one of the more extensive and diverse resources for the bride in search of the truly unique dress. On eBay, a bride-to-be can find everything from the most dramatic ball gown to one-of-a-kind wedding dress options, along with accessories that can complement the dress. This guide walks readers through the buying process on eBay and looks at some of the creative options available to the bride in search of a scene stealing wedding gown.
Shopping for a Scene Stealing Wedding Dress on eBay
There are several ways to begin a search for a scene stealing wedding dress on eBay. A good way to get an initial overview of the wide range of choices on the website is to run a general search by entering the term "wedding dress" in the search field which appears at the top of every page on the site. Running this search pulls up all of the auction listings associated with the term "wedding dress".
Of course, this method will pull up the entire catalogue of wedding dress options and will not necessarily bring up the unique items a scene stealing bride is looking for. However, it may help a bride to get a basic idea of some of the dramatic, statement-making options available to her via eBay. In the following sections, this guide walks the reader through some creative scene stealing wedding gown ideas and even takes a look at accessory items that can help a dress make a unique statement.
Go Big with a Wedding Dress
A great, scene stealing choice can be for a bride to go big. An oversized ball gown skirt, a very long train, or even an enormous and long cathedral veil can give a bride-to-be a style that is entirely unique and very impressive. Whether emulating the never-ending train of Princess Diana or the expansive ball skirt of a gypsy wedding, the bride who goes big is sure to create the kind of scene stealing moment she is looking for.
Accessorising a Big Wedding Dress Look
It is important that a bride let only one piece of her ensemble create the "big" in her big wedding day ensemble, whether it is her skirt, her train, or her veil. The rest of the accessories and touches involved should be controlled and minimal to let the oversized element have its intended effect.
Go Short with a Wedding Dress
For the woman who loves her legs, a mini dress on a wedding day can be a definitive statement. A short sheath, for example, in a plain jersey or silk can win points for drama and minimalism. Another option might be a fitted bodice and a short flare skirt in layered tulle.
Accessorising a Short Wedding Dress Look
Women who wish to wear a short look on their wedding day probably need to eschew long veils. Fascinators, short veils, and even a mid-length veil can work without creating an imbalance against the short hemline of the gown. Shoes can vary from anything as classic as a simple high heel to knee-high boots for the extra-confident bride.
Go Vintage with a Wedding Dress
A vintage wedding dress from almost any era can create a truly one-of-a-kind ensemble on a woman's wedding day. An Edwardian dress, for example, with its detailed lace and elegant, long lines can come across as a real scene stealer in a world full of ball gown wedding dresses. Another choice might be the refined lines and bateau bodice of a 1950s era wedding dress. Any one of several vintage wedding dresses can help a woman make a statement that is 100 percent her own as she walks down the aisle.
Accessorising a Vintage Wedding Dress Look
While vintage looks worn in daily life should not look too consolidated for fear of looking like a costume, a vintage bride can supplement with accessories appropriate to the era of her dress. Gloves, veils, and even her style of bouquet can be sourced directly from the fashion time frame of her gown, giving her a complete and entirely distinct look.
Go Dramatic with a Wedding Dress
Gothic, steampunk, burlesque... any of these unconventional and dramatic style statements can transform a bride from the traditional blushing sort to a real scene stealer. Any of these options can even breach the usual colour etiquette of a bridal ensemble, adding yet another level of the daring and scene stealing to a bride's wedding gown. A goth dress might feature a tight bodice, extra-long sleeves, and a sweeping skirt in black or red, while a steampunk look might combine the classic lines of a renaissance-style gown with modern touches. For the burlesque bride, a fitted bodice and a layered tulle skirt might be the answer.
Accessorising a Dramatic Wedding Dress Look
A bride who wants to leverage one of these dramatic looks on her wedding day can go all out when it comes to accessories. She should explore gloves of any length, hats of any style, and even veils for adding just the right touch. Her ensemble can be as dramatic as she wants it to be, if she just leverages her creativity and goes for a one-of-a-kind look.
Go Sexy with a Wedding Dress
For the bride who is not afraid of being provocative, one of the best ways to steal the show is by showing a bit of skin. This does not have to be a completely risque look; after all, only a bit of revealing drama can steal the show at an event like a wedding. A bride who is looking to provoke a reaction might consider a dramatic, thigh-high slit in her skirt or wear a light jersey matte gown with a very low back line. Any of these options can turn up the drama and make her the star of a very impressive show.
Accessorising a Sexy Wedding Dress Look
A traditional veil would not work with a sexy bridal look, and women leveraging a sexy bride ensemble may want to go for less traditional accessories. A dramatic fascinator might work, or a short veil attached to a stylish hat could be the trick. Cocktail length gloves can ramp up the sex appeal another notch, really finishing off the look.
The eBay Buying Process
Once you have chosen a style of scene stealing wedding dress that you are interested in, run a search for a specific style and begin perusing individual item listings in detail. Click on the name of the item to see its full listing and pay special mind to points such as the condition of the dress, shipping costs involved, the length of time needed for shipment, and the seller's accepted payment methods.
When it comes to vintage items, consider requesting a certificate of authenticity. This can help prove the provenance of your dress and guarantee the quality of your purchasing experience. If a wedding day is arriving quickly, make sure to verify shipment times to ensure that your dress arrives in time for your special day.
Getting to Know Your Sellers
You should also research each seller closely when shopping for a scene stealing wedding dress on eBay. You can do this by looking through their past auctions and reviewing the feedback they have received from other customers. This helps ensure the quality of your experience, and you can rest assured that the dress you want will arrive within the time frame you want.
Once you make your purchase, consider leaving your own feedback on a seller. This helps sellers improve their own customer service levels and can help inform the experiences of other brides who shop on eBay.
Conclusion
Finding a truly unique look for a wedding ceremony can go a long way toward making a bride feel like a scene stealer on her wedding day. A wide range of creative options are available for brides to choose from. Whether it is wearing a vintage wedding dress, leveraging the drama of a steampunk or burlesque look, braving a short gown, or just going big with a ball gown, a woman can end up with a one-of-a-kind bridal gown that leaves an indelible impression. Leveraging the power of an online auction site such as eBay can be one of the most powerful tools in a woman's arsenal as she prepares to be a scene stealing bride. On eBay, a bride-to-be can find any one of the distinct approaches to the wedding gowns described in this guide. Additionally, the website is a great source for the accessories she might need to polish off the look and make her wedding ensemble a game-changing combination.