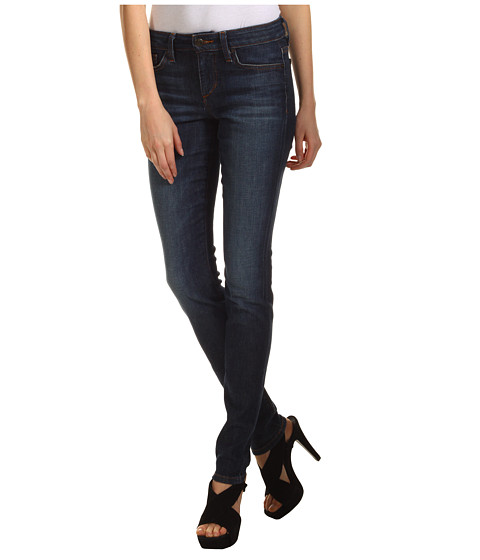 When looking for flattering jeans, many men have no idea what to buy. They often choose the most comfortable option over style, often to their detriment. To find a flattering pair of jeans, there are a few points to keep in mind. A guy should look for jeans that fit well without being too large or too small. If the their upper body is large, the guy should choose jeans that have a wide leg, and stay well away from skinny jeans. Boot cut or flared jeans that fall smoothly over a guy's shoes will help create a look of length and are a good style for nearly all body types. A guy should consider trying on several types of jeans to find the style and colour that best suits his particular body and sense of style.
When searching for a look that is flattering to specific a body type and individual taste, a guy should consider an online venue like eBay. eBay can boast a huge selection of flatterings jeans for men in a variety of styles and colours.
Types of Jeans for Men
Styles come and go. Just because a particular cut of jeans is in fashion doesn't mean that the style is going to be the right look for every man. A guy should choose a style of jeans that is fashionable but still complements his physique. Fashion and style may be priorities for many men, but dressing for style at the expense of dressing in clothes that flatter one's body type is never a good idea. Different types or 'cuts' of jeans look good worn on particular bodies. The cuts of jeans available to men include straight-leg jeans, bootcut jeans, baggy jeans, carpenter jeans, relaxed fit, and skinny jeans.
Straight-Leg Jeans
Straight leg jeans will flatter nearly any man because the style falls smoothly from the waist to the foot without tapering or creating any flare of any kind. A larger belly, or thick thighs will benefit from straight-leg jeans, while low-rise jeans in a darker wash and whisker fading will be an asset for men with a very slim to skinny body type. Choose any style of shirt to wear with these versatile jeans, from dress shirts to t-shirts, and anything in between. For a dressier look, a guy should pair men's low-rise jeans, dress loafers and a nice blazer jacket.
Boot Cut Jeans
Boot cut jeans flatter the wearer by making him look taller and slimmer. Choose a pair of boot cut jeans to wear with a golf shirt and boots for a casual and easygoing look. The flare cut was originally designed to wear with cowboy boots. Choose colours from grey or black to dark blue denim and pair them with ankle boots or a pullover or cardigan for a more sophisticated look. For those with a lean physique, boot cut jeans can make one's legs appear broader, while also helping the legs to look longer.
Baggy Jeans
This style of jeans work best for men who are very fit. Those with a great physique can wear this style of jeans with no worries about how they will look in them. Heavyset or skinny men should avoid baggy jeans entirely.
Carpenter Jeans
Carpenter, or work jeans are designed for work and should never be worn in any other setting. While comfortable, these jeans are not intended for wear to go out or for smart-casual functions. The carpenter jean is as comfortable as the baggy jean, but without the same baggy look. This style of jeans works best on tall, fit men.
Relaxed Fit Jeans
This style of jeans can be worn by all men, from the skinny to the overweight, but will look the best on those that with average to stocky build. Wear a pair of relaxed fit jeans with casual clothing such as t-shirts, and trainers. Remember that relaxed jeans that don't fit well or are too loose will make one appear skinny or short.
Skinny Jeans
Skinny jeans have been all the rage for several years, and are available in styles with longer leg cuts to create a 'bunched' look at the ankles. Skinny jeans can be worn by very slender men but should not be worn by those with heavier builds as it will accentuate areas with bulges or excess weight.
Selecting Jeans by Body Type
When choosing a pair of jeans it is best to research the styles to determine which one would best suit particular body proportions. There are jeans available for tall, slender, athletic, or average builds as well as for those who are short or, heavyset.
Tall and Slender Builds
Men who are very thin, even skinny, find it just as hard to find a flattering pair of jeans as heavyset man. A lean guy should look for specific styles, fabrics and colours that flatter by helping him to appear more bulked up. The most flattering look that a very thin man can wear is the straight-cut, low-rise jeans that lie low on the hips. These jeans provide a bit more room in the leg, allowing a guy to look as though he has a more defined physique. Boot cut jeans are another good choice for this body type, especially for those with broader hips, because flared legs can help to balance out one's shape for a cleaner and more streamlined look.
Short Builds
Finding jeans that flatter shorter frames can be hard when the majority of styles are geared toward taller men. Jeans that are too long can still be worn by a short man, but he will need to buy men's wedge shoes or heeled boots to keep the hems of jeans from dragging on the ground. Vertically challenged men should avoid wearing bell-bottom jeans because this style of jeans makes any build appear shorter. Pleats will make hips appear wider which in turn makes the wearer appear shorter. Lighter washes will be the best choice for short men as darker washes make small framed men look even smaller.
Average to Athletic Builds
Average to athletic built men will find that they look best in loose or wide-leg jeans because the looseness of the cut actually highlights a toned body. Jeans that are more form fitting cause defined musculature to appear overly large.
Heavyset Builds
Those with a larger than average build should never wear flared jeans because this type of jeans will make a heavier man look even bigger. However, wide-leg jeans actually help to conceal areas that are of concern, such as love handles and extra weight around the middle. With a style of jean that has a leg which is too wide, the heavyset man will look even larger. The looser styles with only a bit of extra width help to accentuate his shape and keep him from looking far larger. If a guy looking to conceal a large rear, he should choose a pair of jeans that does not come with large rear pockets.
Sizing Men's Jeans
Because men's styles are sized by waist and inseam measurements, the first step toward determining the correct jeans size is to measure one's body. Using a cloth measuring tape, measure the natural waistline, hips and seat. To measure the front rise, measure from the natural waistline in the centre front down to the centre of the crotch. The rear rise is measured in a similar manner by measuring from the centre of the back down to the centre of the crotch. Thighs are measured by wrapping the tape around the top of the thigh at the thickest point. The outside seam is measured from the natural waistline to just below the ankle bone, and the inseam from the crotch to just below the ankle bone. The table below features the jeans sizes from extra small to extra-extra large with the corresponding US/UK and European sizes.
| Men | XS | S | M | L | XL | XXL |
| --- | --- | --- | --- | --- | --- | --- |
| Size UK/US | 34 | 36 | 38 | 40 | 42 | 44/46 |
| Size EU | 44 | 46 | 48 | 50 | 52 | 54/56 |
For any man, finding that pair of jeans that will fit properly and be flattering can be challenging. A man's weight may fluctuate over a year. His waistline may increase over a winter or he may put on muscle around his thighs. Before venturing out to buy a new pair of jeans, a guy should have himself measured. With accurate measurements on hand, a guy is one step closer to find a flattering pair of jeans.
How to Find Flattering Jeans on eBay
When looking for flattering jeans, the best place to search for them is on eBay. To start, simply type the keywords that best describe the style and colour of jeans you are looking for into the search bar at the top of any page on eBay. For example, if you type in 'relaxed jeans', eBay's search engine will generate a results page with listing of men's jeans that fit that description. You can also search for skinny jeans or straight jeans. You are able to sort the listings for jeans by choosing options like size, colour, rinse, and the brand of jeans.
When you are ready to buy a pair of jeans, consider reviewing the seller's feedback score before you buy the jeans or participate in an auction. This is a number that appears next to the seller's username in the item listing. This feedback score is essential for determining a seller's reputation. Those with the highest feedback scores have earned the distinction of being called eBay top-sellers.
Conclusion
Flattering jeans are important for any man, regardless of body shape or size. For any occasion when it is necessary to look one's best, it is a good idea to research the options available and choose a pair of jeans that will best suit individual style and budget, but never forgetting that some styles of jeans flatter certain body types, while others do not. For the guy short in stature, but big on style, a pair of light-wash jeans and a casual jacket will be the way to go, while dark jeans should be avoided as they tend to make shorter men appear even smaller. For a dressier occasion, a pair of straight-leg jeans and a more formal jacket with leather loafers is stylish as well as comfortable. With the wide variety of styles and designs available on eBay, no man, whether tall and lean or heavyset, need settle for jeans that do not flatter his particular physique.