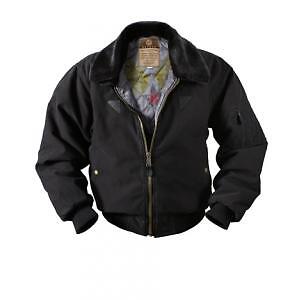 Bomber jackets have been around since the early 1900s. These jackets have traditionally been made from sheepskin leather outer shells and a soft wool inner liner. The bomber jacket has a rich and detailed history. It provides exceptional warmth in sub-zero, windy or rainy climates, and has a well-deserved reputation as a fashionable part of men's wardrobes. This jacket is versatile enough to be worn for any occasion from casual to semi-formal. Due in part to that versatility, the bomber jacket has experienced a steady growth in its popularity over the years.
When searching for a quality bomber jacket to add to his wardrobe, a guy can find these jackets in local shops with men's clothing sections or online. eBay has an extensive collection of bomber jackets in a variety of modern styles and colours. Shoppers can choose from a variety of designs and materials, such as iconic bomber jackets made from leather, and designs that include denim in an array of colours.
Bomber Jacket History
Bomber jackets were first created in 1915, when pilots from the Royal Flying Corps flew bombing missions in Belgium and France. No standard military issue pilots' jackets were available for pilots at that time, but as it became increasingly evident that pilots needed to wear warm jackets inside the frigid cockpits, and so a long leather coat was made for bomber pilots to wear. And thus the bomber jacket was born.
During World War II, the original bomber jacket was updated. The new style of bomber jacket was named the A2 bomber jacket and featured a shorter waist length, extended wrap around collars, front zip closure, and tight knit cuffs that enabled pilots to work in a cold and windy cockpit with maximum comfort.
Today, the bomber jacket has continued to evolve and has become much more than simply a pilot's jacket. It is now a fashion statement as well, allowing men to look dashing for casual or semi-formal occasions.
Bomber Jacket Features
Bomber jackets have traditionally been made with an outer shell of leather or seal skin, and an inner lining of shearling wool capable of keeping the wearer warm and dry in the harshest climates. Wool liners spread body heat evenly, providing superior comfort. Because wool fibres are crimped, heat becomes trapped within the fibre, therefore wool provides natural insulation against the cold. There are a number of benefits one can count on when choosing a bomber jacket.
Durability
Leather is highly durable and has insulating properties, keeping the wearer warm. A jacket with a leather outer shell is durable and able to reliably withstand the elements.
Zipper Closures
The tight zipper closure on the front provides exceptional warmth by keeping cold air out and warm air in.
Wind Flaps
Also on the front of the bomber jacket are extra-thick wind flaps to keep even the most errant draft from penetrating the zipper and introducing cold air into the confines of the jacket.
Collar
The bomber jackets is fitted with an extended, high, and wrapped collar that keeps wind away from the neck while keeping body heat in.
Cuffs
Bomber jackets have knit cuffs that are comfortably fitted, providing additional warmth and protection. These fitted cuffs feature webbed stitching at the bottoms to keep them tight against the body.
Determining the Correct Size Bomber Jacket to Buy
Determining the correct fit involves careful measurement of the upper body. Measure the circumference of the neck, sleeve from the back of the neck to the wrist, the upper chest, the waist, and the hips. Write all measurements down and compare them to a sizing chart to find the corresponding size jacket. The following table lists the different jacket sizes and their corresponding chest, sleeve, and jacket length measurements. All sizing measurements are in centimeters.
Jacket Size

38

40

42

44

46

48

50

Chest Size

110

115

120

125

130

135

140

Sleeve

(short)

59.5

60.5

61

61.5

62

Sleeve

(regular)

62

63

63.5

64

64.5

65

65.5

Sleeve

(long)

65.5

66

66.5

67

Length

(short)

75

76

77

78

79

Length

(regular)

77.5

78.5

79.5

80.5

81.5

82.5

83

Length

(long)

81.5

82.5

83.5

84.5
When measuring the chest, it important not to wrap the tape around the body too tightly. The tape should wrap loosely, but not too loose. The person doing the measuring should be able to stick two fingers between the tape and the body. This is to take into account 'breathing room'.
Bomber Jacket Styles
The original bomber jacket was strictly used as flight jacket for pilots. There are several different styles of bomber jacket available on the market today, with varying features, allowing one to choose a style that best fits one's individual sense of style.
A-2 Bomber Jacket
The A-2 is the best known version of bomber jackets. This jacket features a snap down collar, and leather epaulettes as well as front flap and side entry pockets, underarm grommets for ventilation, and knit cuffs and waistband to keep wind and cold out of the jacket.
B-3 Bomber Jacket
The B-3 bomber jacket features a sheepskin leather outer shell, wool liner, welted seams, brass zipper and a collar that has buckles. It also has adjustable straps for the waist and hand warmer pockets on the front.
MA-1 Bomber Jacket
The MA-1 bomber jacket can be worn throughout the year. It is made from a lightweight nylon and features slashed side-entry pockets on the front, zippered front closure, ribbed cuffs and waistband for keeping out the wind. This style also has an orange liner of synthetic material.
Aviator Bomber Jacket
This style has a front closure zipper, hand warmer pockets, a tailored collar,, and knit cuffs and waistband. The major difference between the other versions of the bomber jacket and the aviator bomber jacket is that the liner is made from a polyfill synthetic material.
Eco Bomber Jacket
The eco-friendly bomber jacket is made entirely from recycled TP Eco fabric materials for the perfect balance between exceptional warmth and comfort as well as an environmentally friendly coat. These jackets feature wool lining, two-way front zipper, water resistant qualities, zipped and welded side pockets, and a stand collar. This jacket has reflective tape sewn at the collar, front cuff, and shoulder seams.
Hi-Visibility Bomber Jacket with Gore-tex
This 100 percent synthetic material bomber jacket includes a waterproof and windproof breathable outer shell that is made from lime-coloured polyester material, fully taped seams, two outside pockets, a double storm flap heavy duty zipper with a snap closure to ensure complete waterproofing, zippered flap pockets with storm flaps, elastic cuffs, and a removable hood. Reflective tape is sewn onto the jacket in various places.
Nylon Bomber Jacket
The nylon bomber jacket is as soft and supple as leather, but is made from synthetic material. This jacket has authentic detail and features two unflapped, snapped front pockets, an interior pocket, a pen/pencil pocket on the sleeve, and a removable mouton collar with a leather collar underneath, knit cuffs and waistband, and a nylon lining. Some versions have Thinsulate liners that are removable in warmer weather.
Waxed Denim Bomber Jacket
Waxed denim bomber jackets are water and weather resistant and have a broken-in look to them. These jackets feature a shearling wool collar, short, waist length crop, and flapped front pockets. This is a stylish alternative to leather as the waxed material has the look and feel of leather, but is far less expensive.
Waxed Nylon Bomber Jacket
This bomber jacket has modern utility pockets, a mock-neck collar with button tabs, two-way zipper, ribbed cuffs and waistband, angled zipper pockets in the front and snapped flap at the waist for tighter fit and less exposure to the elements.
Bomber Jacket Materials
The current materials used to make bomber jackets differs greatly from the original version of the bomber jacket. Today, the bomber jacket is available in various colours and styles, adding to the versatility and popularity that this jacket.
Leather or Suede
Leather bomber jackets have an outer shell that is made from sheepskin, cowhide or goatskin leather. These materials provide excellent warmth and are weather repellent as well as stylish. Leather can be dyed a variety of colours, from lightest tan to dark brown or black.
TP Eco Fabric
The eco-friendly bomber jacket is made entirely from recycled TP, or thermoplastic. Eco fabric materials offer improved wear and washability. This synthetic fabric is comfortable and is easy to care for.
Gore-tex
Gore-tex is a synthetic fabric made from fluoropolymer products, and is known for its ability to protect against wind and rain, yet remain breathable.
Waxed Denim or Nylon
Waxed denim is created by processing denim with beeswax, linseed oil and turpentine. The result is a fabric that has water and weather resistant qualities. This material provides excellent warmth and has a shiny finish. Waxed denim products are more affordable than leather products and much more breathable.
How to Care for a Bomber Jacket
Depending upon the material the bomber jacket is made from, there are specific steps that should be taken to keep the bomber jacket in good condition.
Caring for Leather Bomber Jackets
A new bomber jacket should be pre-treated with a stain protector to help prevent staining and damage. This process should be repeated once every year. To clean the jacket, use a damp cloth and a mild soap solution. Wipe this mixture all over the jacket and then rinse with clean water. Once the process is completed, simply pat the jacket dry with a towel. Never dry clean a bomber jacket unless something has spilled on it and the jacket has suffered a serious stain. If that happens, be sure to take it to a cleaner that specialises in dry cleaning leather garments.
Synthetic Bomber Jackets
To care for a synthetic cotton blend bomber jacket, fill the washing machine with cold water and use a mild detergent according to the package instructions. Wash the jacket on the delicate cycle and then hang the bomber jacket up to air dry, or place it in the clothes dryer on the air dry setting.
Wool Bomber Jackets
Wool bomber jackets will need to be cleaned regularly. For best results, hand-wash a wool jacket by filling the sink with cool water. Add a mild detergent and scrub the wool together by hand. Rinse completely with cool running water then wring by hand and hang the jacket on a sturdy hanger to air dry.
Never wash a bomber jacket made from fur or shearling at home. Rather a guy should take the bomber jacket to a reputable dry cleaner. Never wash a vintage bomber jacket at home. It should be taken to a dry cleaner that specialises in vintage clothing.
How to Buy a Bomber Jacket on eBay
Start by simply typing the keyword that best describes what you are looking for into the search bar at the top of any eBay page. For example, if you type in 'black leather bomber jacket&' you will be taken to a results page from which you can select the bomber jacket that fits your style and budget. Once you have chosen the jacket you want, be sure to check the sellers' feedback score. The feedback score is essential for determining whether or not a seller has fulfilled their commitments as promised, and it will give you a good idea of whether you want to proceed or move on to a different seller. The feedback score is the number next to the user's name in the item description.
Be sure to read the item description carefully. If important information like the jacket size seems to be missing, you can contact the seller with any questions you may have about size, colour or their individual return policy by going to their member profile and clicking on the contact link. If no refund policy is noted, check to see if the seller will exchange the jacket if it doesn't fit.
Conclusion
A bomber jacket is the perfect addition to a guy's wardrobe. It can to be worn as casual or semi-casual dress. Bomber jackets are classic in design, making them appropriate for most occasions. The bomber jacket makes a fashion statement as well as a good choice for warm winter outerwear, and because bomber jackets are available in a variety of styles, fabrics, and colours in today's market, choosing a bomber jacket that will suit one's sense of style has never been easier.
For a look that speaks volumes about the confidence and assurance of a man, choose a leather bomber jacket in black with a shearling wool collar. Accessorise this ensemble with black leather loafers, belt and a fedora for a masculine and worldly look that is alluring. Women will take a second, or even third, looks at a guy wearing a bomber jacket. eBay offers the adventurous a guy a diverse selection of bomber jackets in designs that range from iconic to contemporary.