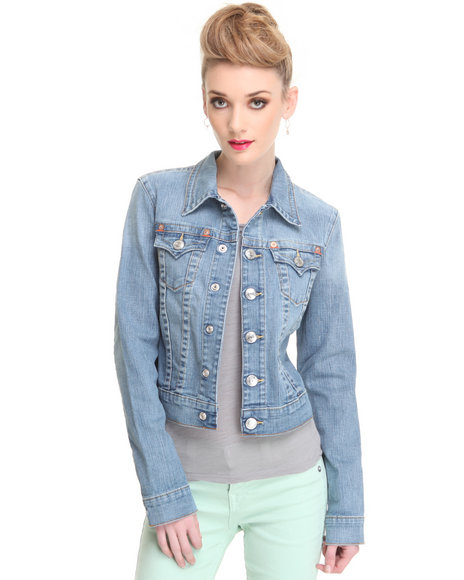 If there is a centre to the universe of casual men's wardrobes, it would have to be denim. But not every occasion permits totally casual attire. Fortunately, denim jeans clean up nicely and with a few additions, any guy can take a totally casual look and dress it up for the club in just minutes. Some men have the innate confidence to pair a dress jacket with a pair of dark jeans, and the look works. Blazers and sport coats are a great choice for dressing up jeans. For a dressier look, wear a crisp button-down shirt, or for a more casual dressed up look try wearing a t-shirt under a blazer with a pair of dark jeans.
When searching for the perfect wardrobe accessories to wear with a pair of jeans, check eBay for a wide selection of wardrobe options. Dressing up jeans can be as easy as adding fine leather shoes and a dress jacket with a pair of black jeans, or a formal vest with a button-down shirt for an edgy look that works not only for the office, but for nights out on the town as well. This guide will discuss the many options available for guys to be able dress up men's jeans, as well as how to find blazers, jeans, and accessories on eBay .
The Jeans
To dress up men ' s jeans a guy should be aware that colour and attitude are the two most important words to remember. Lighter colour jeans are never the best choice. Choose a pair of jeans that can be accessorised with a variety of other clothing options to help extend the wardrobe. Darker jeans are not only more stylish, they are far more dressy, so when paired with a blazer and appropriate shirt, the result is a classy, semi-casual look. Dressed-up jeans start with dark, fitted jeans. This is because baggy jeans do not lend themselves well to settings with strict dress codes. Blazers with dress shirts work well, as a collared, button-down shirt with a blazer is the definitive semi-casual look for men. Choose a tailored blazer with shoulders that are fitted. Another great look is a dark or muted coloured cardigan. Wool or corduroy jackets are good choices as well.
The Choice of Cut
Jeans come in different 'cuts'. This refers to the shape of the jeans and how a pair of jeans fits the wearer's body. There are four cuts of jeans.
| Cut | Description |
| --- | --- |
| Boot-Cut Jeans | Fitted from the waist to the knee, flaring out from the knee down |
| Slim-Fit Jeans | Wider at the waist, becoming narrower down the leg |
| Straight-Leg Jeans | Classic cut and found in styles from form-fitting to relaxed fits |
| Skinny Jeans | Fit very closely to the body from the waist to the hem |
A guy can't go wrong with a pair of classic, straight-leg jeans. For the gent trying for an edgier look, he should consider a pair of skinny jeans.
The Choice of Colour
A guy should choose a style and colour of jeans that he feels complements his specific build and most closely matches the look he are going for. He should keep in mind that the colour of his jeans will determine the colour of the blazer he pairs with the jeans. Denim is naturally dark blue, but jeans are available in other shades . Some jeans have been chemically washed to achieve a more distressed and faded look. These jeans are not a great choice for dressing up a casual style. A dark, well-fitted pair of jeans without faded or worn areas lends itself best to a semi-casual, dressed up look.
The Blazer
Avoid wearing dark jeans with a dark blazer . A navy blazer with straight-cut jeans and a collared, button-down dress shirt provides a nice, preppy look. Grey blazers present a more dressed up, tailored look when paired with dark jeans, and bold colours such as red look great with raw denim jeans. If you are looking for a more retro look, velvet blazers are a good choice when worn with skinny jeans and a t-shirt.
The Accessories
Accessories are the finishing touches for dressing up men's jeans and it is important for a guy to remember that ties, watches and jewellery can add that last bit of style needed to create a semi-casual look.
Belts
A guy should never wear a really thin dress belt with a pair of jeans because this type of belt is traditionally worn with dress trousers and should never cross over to the casual side. He should consider a medium width suede belt or animal skin leather belts. Guys should keep their looks edgy, yet subtle, instead of flashy.
Glasses
Many a fashion conscious guy has opted for wearing a pair of fashion glasses with a sport jacket and jeans. It does not matter if the glasses have prescription or clear lenses, a heavy tortoise shell frame is sexy and smart and goes a long way toward creating a dressy look for a guy.
Shoes
Wingtips are never a good choice to wear with jeans as the resulting look is neither dressy nor a classy, but just plain comical. Leather loafers are spot on for casual dressing and pair nicely with jeans. Black leather boots are a must for a dressier look. These boots are timeless in terms of style. They pair exceptionally well with jeans for a look that can be worn in the office as well as for a night out.
Leather laced shoes work well for a casual dressed up look, but a guy should avoid dress shoes that have tassels or buckles. Square toed shoes are a good look when worn with jeans, too. A guy should remember to always wear dress socks with his dress shoes, not athletic socks.
Ties
There are a few options to choose from when selecting a tie to wear with your jeans. Skinny ties tend to create a more casual dressy look, while a slightly wider tie is generally worn with formal clothing. Ties with scenes or characters or made from polyester are never a good idea. Every stylish guy should know how to tie a tie. If there is any doubt in his mind about how it is done, he can find advice online.
Watches
Watches that are simple yet classy are the best choice. No need for all the gadgets and gizmos some watches advertise, a guy should buy a watch he can afford that looks nice. Sports watches are not generally a good choice.
Jewellery
This is not a good time to break out the heavy gold chains and chunky jewellery. Watches and smart cufflinks are acceptable, but a guy should try to avoid wearing rings, and if a chain is something he cannot live without, he should only wear one simple chain necklace .
How to Buy Items on eBay to Dress Up Your Jeans
When searching for the perfect jeans, blazers or accessories to dress your jeans up from casual to semi-casual, look for items of clothing that work well together. To choose the items of clothing you want to pair with each other, simply type a specific keyword into the search bar at the top of eBay ' s homepage. For example, if you type in 'men ' s boot-cut jeans' and press the 'Search' button, a huge selection of listings for jeans matching that keyword will be displayed. You can sort the listings by size, condition and brand, as well as style, rinse (treatment), and colour. You can search for men's Italian leather loafers, skinny ties, or men ' s navy blazers to wear with your jeans to create the dressed up look you have been envisioning.
If you have found a specific pair of jeans or loafers that you want to buy, check with the seller first to be sure that they will agree to exchange the items, or provide a refund, should you find that the jeans do not fit properly. You should, of course, read the item description very carefully and ask the seller questions or request additional photos of the item if that will help you make an informed decision.
Conclusion
Dressing up your jeans for a dressy or semi-casual look does not mean that you have to forego comfort or style. Pairing a men ' s tailored beige jacket with dark jeans and a grey t-shirt presents a semi-casual look that is classy and stylish, especially when paired with black leather boots. Whether you are headed for work or off to the club for a night out, a casual yet dressy look can be created by pairing a sport coat or blazer with dark jeans.
For a more retro look, pair a men's red velvet blazer, crisp, white, collared button-down dress shirt and skinny black tie with a pair of black skinny jeans and black leather boots. No matter what the exact look may be that you are going for, the wardrobe items needed to dress up your jeans can easily be found on eBay. On the site, you can choose from a variety of blazers and jackets or dark jeans to create the perfect dressed up look.