I am a buzz agent and been asked to write a guideline.
What is it,
It's a multi purpose, table top oven which i purchased from eBay
it enables food to be cooked using infrared waves from a halogen light source.
It cooks up about 40 per cent faster than a conventional oven. So uses less power and is therefore very economical to run. Halogen ovens will
Roast
grill
defrost
bake
steam
The halogen oven consists of a large glass bowl which rests on a plastic base. The workings are all in the lid which sits on top of the glass bowl. There are 2 racks, a high rack and a low rack. You can put your food directly on to either of the racks, and each rack can also support dishes and trays.
The lid has a handle which must be used to lift the lid when taking it off or placing it on the glass bowl. The handle also acts as a safety switch, as soon as it is lifted up the machine will turn off. The handle must be flat down for the oven to work. There are two control switches. One is for the temperature, ranging from 20c to 250c.
The other control switch is for the time. Select the time by turning the switch in a clockwise direction from 0 to 60 minutes.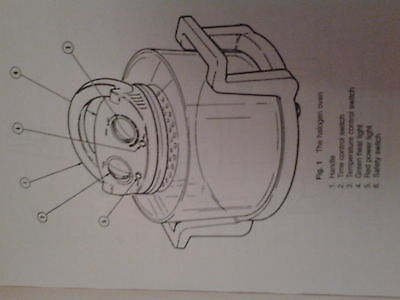 Since i bought my halogen oven off eBay I've never stopped using it it's the best thing I've bought off eBay. I also purchased recipe books off eBay as well.