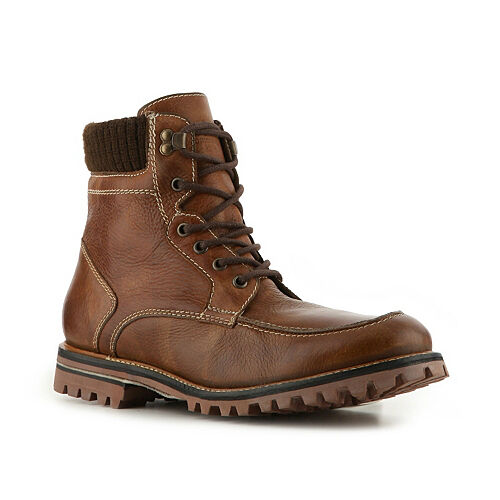 Leather boots for women can range from practical everyday footwear to highly specialised protective items and can vary greatly in price and quality. Buyers, whether seeking to clad their feet in high fashion garb or intent on being shod in something sturdy and hardwearing, should keep at the forefront of their minds the purpose which their boots are intended to serve and the necessity for comfort.
When shopping for boots, the purchaser, besides facing a bewildering array of choice, additionally must decide where to buy: high street shoe retailer, department store, specialist outdoor or other specific retailer (for example Country and Western specialists), or online stockist. On eBay, many thousands of women's leather boots are on sale at any given time and throughout the year. High street stores tend to stock boots on a seasonal basis, with little choice left as winter progresses. This guide outlines the various types of leather boot available and is designed to advise buyers on what essential features to consider when making their choice.
Leather Boot Categories
One useful classification system for women's leather boots groups them to the length of the boot shaft. Boot lengths fall into the distinct categories listed and then outlined below. Buyers are influenced by the demands of fashion, function, and the degree of protection that a particular boot offers .
Ankle Boots
Everyday boots are customarily separated into height classifications, according to the height of the boot shaft . The ankle boot is often chosen for wear below trousers, in preference to the more open look of a shoe, and for warmth. A minority of designs challenge the accepted purpose of a boot (to protect); these more quirky fashion designs feature an open toe or other cutaway section. As fashion footwear, they playfully cross the divide between the concepts of shoe and boot.
Leather ankle boots are produced either as pull-on, with an elasticated side panel (generally based on jodhpur boot design), or with a zip or laces. The type of fastening is a factor to be borne in mind, as it affects comfort and ease of movement.A zip, naturally, is the most restrictive of the three styles, laces the most traditional.
Desert boots, hiking boots, sneaker boots, jodhpur boots and work boots are the main classifications of functional ankle boot. Wearers need to give consideration to ankle width. There are some manufacturers who specifically produce wider ankle fitting boots. The owner of narrow ankles may find that their shape is less well catered for.
Mid-Calf Boots
The mid-calf leather boot is a popular height for bad weather and outdoor activities such as hiking. While it is less often chosen for high-heeled fashion boots, there are, nevertheless, some popular mid-calf looks that never go completely out of fashion. These include, among others, the biker (usually distinguished by its buckle fastenings), the cowboy and the fur-trimmed winter boot.
For pure practicality, this length is a good winter choice. Quick to put on or take off, tending to be less of a fashion statement and to have a wider top, this boot is associated in the minds of wearers with snugness. Another advantage of the mid-calf boot is its flexibility: it is both suitable for wearing with trousers, often worn outside skinny jeans, and with skirts of assorted lengths. The cowboy boot is a case in point, having a functional role as the footwear chosen by line dancers, who sport boots bearing intricate patterns tooled into the leather and worn equally with either jeans or the typical flounced skirt associated with country and western music.
When seeking mid-calf boots for whatever purpose, calf circumference is a factor for the buyer to consider. Wider than standard calves are catered for by many of the respected manufacturers, in some cases offering as many as 21 different calf fittings.
Knee-length Boots
Also referred to as knee-high, these boots first burst on the women's fashion scene in the 1960's and have not gone away. In winter, they are the most practical choice below short or knee-length skirts, dresses, and coats, giving warmth and protection from rain, leaving no portion of leg uncovered .
A welcome trend for those who suffer when wearing high heels has been the upsurge in the flat or very low-heeled knee-length boot as a stylish item. One version is the completely heel-less, close-fitting knee-length boot in supple leather which gives a gaiter effect that may not suit everyone.
The emphasis on retro fashion has meant that the sixties-style knee-length boot with modest heel of between 2 and 3 inches is widely available, and often in interesting, lighter colours, in contrast to the dark browns and blacks more customarily on sale.
Over-Knee Boots
Often known as thigh boots, this height makes a statement and the over-knee boot is normally chosen for its attention-grabbing power, rather than for practical purposes. High-heeled varieties of over-knee leather boots tend to project a sex-kitten image, while lower-heeled and more baggy wader-style boots, resembling anglers' leg attire, often have a fold-down cuff and a more cavalier appearance. Typically restricted to black, with fetish versions in red, some designers have also ventured into beige and blue, as well as the more predictable brown.
Material
Leather is by far the preferred material for boots for reasons of durability, looks and, importantly, the ability of the wearer's foot and leg to breathe. The types of leather most commonly used for boot manufacture are listed below.
Tanned leather - the most popular cow leather, revealing its grain and having an attractive sheen;
Patent leather - leather that has been overlaid with a high-sheen plastic coating
Nubuck - a leather that has undergone buffing to create a roughened texture;
Suede - a cow leather that, similar to nubuck, is rough, but in this case due to its being the inward facing side of the animal's skin.
Lining is an important consideration. Boots that are principally intended for protection against the elements are most often equipped with a nylon or other soft synthetic lining. This can wear out sooner than the boot; hence its strength is worth weighing up. A fleece lining may make the boot seem a little bulky, but its density reduces with wear, and the boot will become a little looser in time.
Heel Height
Probably the most important consideration for the buyer of a pair of boots is heel height. Practical considerations are paramount. Sometimes heel-height is determined by the boot's purpose. The horse rider will require a very small, i.e. 0.5 inch, heel as a precaution against the foot sliding forward in the stirrup. Walking boots are all about grip, possess a thick sole and have a heel that is in most cases one inch in height.
Fit
A source of potential irritation for large numbers of prospective purchasers of boots is the inconsistency of fit which is found across the footwear industry. Buyers must of course try on boots that they are contemplating buying; when purchased online, the facility to return them due to incorrect fit is normally available. Many of the reputable brand names produce their footwear in half-sizes. Narrowness of the toe is a factor to consider in deciding which size to select. The more pointed the toe is, the more probable it is that the wearer will require a size which is one half-size bigger than her normal shoe size.
Width Fittings
Helpfully, manufacturers are increasingly responsive to the needs of purchasers where foot width is concerned. In the interests of having fewer distorted feet out there, many shoemakers and bootmakers produce each size in a number of width fittings, from AA to EEEEEE.
At-a-Glance Guide to Leather Boots
Decisions about what leather boot to buy are dependent on many factors, and one woman's longed-for addition to her wardrobe may be another woman's worst nightmare. There are almost as many style/colourway combinations as wearers. The following chart cat
Purpose of Boot

Characteristics

Heel Height

Fastening

Features

Fashion accessory, intended to flatter the leg and to set off chosen outfit

Available in all shaft heights, types of leather and colours.

May be retro 60's, or 70's with platform sole

From 2.5 - 6 inches either standard or wedge

Zip, elasticated side gore(s), or lace-up fastening

Adornments: buckles, studs, chains, lace panels, cutaway shapes, leather cuffs or contrasting knitted cuffs

Riding

Sturdy, but elegant and close-fitting, often in high-shine leather with a slightly pointed toe

From 1 - 2 inches

Ankle length: Elasticated side gore(s) or zip or Knee length: zip or no fastening

For pulling on, ankle length jodhpur boots have pull tabs at back; knee-highs have tabs inside and require boot hooks

Work

Most often an ankle boot or military height boot, normally unisex, noted for sturdiness

Less than 1 inch, typically moulded to caterpillar-track sole

Traditional lace-up with extra-thick laces

If designated "Safety Boots" they possess reinforced steel toecaps. Colours: from classic browns and honey shade to pastel blues and pinks

Walking or Hiking

Not unlike work boots, sometimes sold as composite work/walking wear, usually ankle height. Desert Boots are included in this category

From 1 - 1.5 inches

Lace-up

Often guaranteed waterproof, padded ankle support is commonplace, as is shock-absorption in the soles
Care of Boots
To prevent damage to boots and to enable the wearer to ease boots on, boot hooks can be an invaluable tool. By the same token, a boot jack helps removal, although it can scrape the boot's heel if used too enthusiastically.
Leather of all kinds is subject to stiffening and cracking. Buyers are strongly recommended to invest in suitable products to apply to their boots, such as Neatsfoot Oil, or saddle-soap, and to follow the makers' instructions closely.
How to Find Leather Boots on eBay
On eBay, you can find leather boots within the section "Clothes, Shoes and Accessories", sub-group Women's Shoes. Here, you will find no fewer than 13 helpful style categories, from Cowboy Boots to Combat Boots. There is a huge selection of new and used leather boots. A customary, and time-saving, way to narrow the search on eBay is to enter your size in the search bar, along with your keyword. If you know which brand you would like, include this in the search terms . If, for example, you take a size 5 and are seeking some Doc Martens, simply type "Dr. Marten's leather boots size 5" in the search bar to see a representative up-to-date selection. A little prior research will also narrow down your search still further, for example: "floral print doc martens boots size 5".
Be sure to verify that the seller you are buying from has a high feedback rating (100% or close to it), and, above all, make sure that the individual offers a returns policy, given that the boots ordered just might not fit. When satisfied, proceed with bidding or with making a direct purchase.
Conclusion
Since most women will at any given time own at least one pair of boots and their owners naturally want them to withstand some wear, leather boots are a highly commonplace item. Designers and established manufacturers compete fiercely for shoppers' custom. Fashion styles vie with one another and boots can be either modest, unassuming footwear merely peeping out from beneath trousers or positively outrageous-looking, upstaging and overshadowing every aspect of their wearer's chosen 'look'. Inventive new 'takes' on boot styles emerge each season, and ever more supple grades of leather are brought into the manufacturing process.
Given the abundance of options, it is necessary for purchasers to establish clearly what it is that they want from their boots and to track down the product that best ticks the boxes on their wishlist. Above all, it must be recognised that good leather boots are not a cheap item, but something worst investing in. Buyers will gain most satisfaction if they are willing to spend the requisite amount of money in exchange for a lasting, comfortable, and good-looking product.