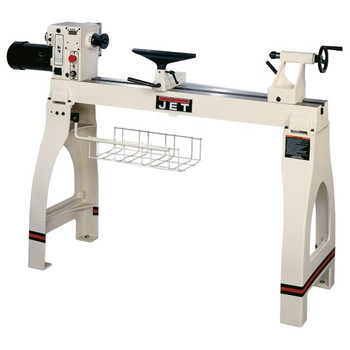 Builders use lathes while making furniture, pottery, machine parts, and a variety of other products individuals use every day. A lathe uses a secure axis to spin the materials being worked on while an operator uses a variety of tools, including their hands, in some cases, to work the material. This way the craftsperson can more easily form items that range from tables, to trophies, to bowls, and more.
While basic in operation, some lathes feature adjustment speed and horsepower, which can help increase workflow. When buying a lathe for any type of industrial application, shoppers must have an idea of what they need to accomplish with the machine. This includes the materials they want to work with and the overall speed and horsepower they need to produce their product. In most cases a multi-speed, multi-spindle lathe would best serve a user's needs in an industrial setting. Learning about the different types of lathes can help a craftsperson select the right tool.
Types of Lathes
When researching lathes, shoppers need to determine the type of lathe they need. A variety of choices exist, including wood lathes, pottery wheels, and turret lathes. The table below details some of the different lathe types available.
| Lathe Types | Description |
| --- | --- |
| | The simplest of lathes; designed to turn wood; belt driven, with speeds changed by moving belt to different pulleys |
| Engine Lathe | Comes in a multitude of sizes; adaptable to almost any material; spindle includes variable speed |
| | Designed for high-precision work; ranges in size from small to medium; accurate spindle with smooth operation |
| | Rotating turret allows for easy working of material with multiple tools; can perform up to eight operations |
| Pottery Wheel | Operates like a lathe with a vertical access; operators use their hands to form material, though uses some tools |
| | Operator inputs program into the computer; excels at cutting curved contours without the need for special tools |
Knowing the type of lathe needed goes a long way toward determining which materials an operator can use on the lathe. This way companies or individuals can determine the tools they need for the job at hand.
Number of Lathe Spindles
The spindle of a lathe comprises the rotating axis that turns the part allowing the tools to work it into the shape desired. The number of spindles of a lathe plays a large part in determining its efficiency. The following sections go into more detail about the main types of spindles available, single and multi.
Single Spindle Lathes
Single spindle lathes use only one spindle to work the material. These spindle types make up more traditional lathe models, such as wood lathes, the potter's wheel, and some engine lathes. These spindle types provide nowhere near the proficiency of a multi-spindle lathe.
Multi-Spindle Lathes
Multi-spindle lathes use two or more spindles to work the materials on them. In addition, each spindle can use a different tool if desired. This leads to better efficiency with the production of more parts. Multi-spindles are commonly used in industrial settings.
Lathe Applications
Lathes have many different applications in an industrial setting. Whether working wooden table legs to constructing baseball trophy top pieces, a lathe exists for almost every type of material. The following table details a few of the applications.
| Applications | Description |
| --- | --- |
| Woodturning | Used to make wooden objects such as ornate table legs, baseball bats, wooden bowl, and platters; operators use a variety of tools to form |
| Metalworking | Used to create precision parts; most often associated with a multistep process requiring different tools for each step |
| Metal Spinning | A process where metal spins on a spindle, while the operator works it with tools; an automated process |
| Acrylic Spinning | Involves spinning acrylic on a spindle to form items from acrylic; most often used in the making of the top pieces for trophies |
| Thermal Spraying | Combines the rotating spindle with the painting process; the paint sticks to the stock via processes involving heating the paint materials |
| Pottery | By using a potter's wheel, artisans can make a variety of pottery pieces; though formed mainly by hand, craftspersons also use tools |
Lathe users should also follow all safety precautions when using machinery. This includes wearing the appropriate eye and ear protection, as well as a mask if the material working process produces any fine particles. Operators should also wear gloves while operating a lathe.
What to Look for in a Lathe
When looking for a lathe to purchase for a machine shop or other business, shoppers should pay special attention to the type of lathe they plan on buying and its capacity, horsepower, and speed. Only after determining that the machine fits their needs in these three crucial areas should they buy a lathe. The sections below cover these three areas in more detail.
Capacity
Swing and distance between the centres provide two important measurements that play a large part in the capacity of a lathe. The swing details the maximum diameter of the piece operators can turn at any given time. The distance between centres gives an indication of the maximum length of stock that the lathe can handle at any given time.
Power
Lathe power helps determine the hardness of the materials allowed, as well as how much actual work the lathe can achieve before needing a break. A higher horsepower lathe should allow the working of harder woods and metals. The general rule involves getting a lathe that has a little more power than needed. This should give an operator a little leeway when working materials, especially if the company decides to move up to a higher grade material in its part production.
Speed
Spindle speed plays a large role in the creation of different parts. Shoppers should look for lathes that have a good range of speeds. This way the machine becomes more versatile and allows the production of different types of parts.
Other Tools Used With Lathes
In addition to lathes, various tools exist that can help machine operators perform their job. These include the various bits used to work the material, measuring devices to check accuracy, and other tools, which help in the day to day use of a lathe. The following sections contain information on some of the more common tools used in the operation of a lathe.
Chuck
The chuck holds the rotating tool bit on the lathe. Their size determines the drill or tool bit that can attach to them. Three and four jaw chucks provide the most common types. Always know how to operate a lathe and use a chuck before attempting to do work with a lathe. Otherwise personal injury, or even death, can occur if the lathe is not operated correctly and all safety precautions observed.
Calipers
Precision measuring equipment, such as calipers, allows lathe operators to check the accuracy of their work. This becomes important with precision tooling of machine parts as every measurement must meet exact parameters. Otherwise, lathe operators run the risk of the part not matching up and causing the machine placed into to malfunction.
Tool Bits
Lathe operators require various tool bits to successfully complete their job. Whether drill, cutting, or even custom bits, lathe operators could not work the material without them. Held in place by the chuck, operators must know how to properly secure and use tool bits before operating a lathe.
Find Lathes on eBay
To purchase a lathe on eBay, go to any page on the site and start searching for the product of your choice. Enter keywords into the search box that describe what you are looking for. Use terms like "metal lathe" or "variable speed lathe", for example, to begin searching. If necessary, narrow the list of results down by clicking on the categories options to display only the specific listings of interest. For additional help on how to search the site, click on eBay's search tips page or visit specific eBay shops for more product options.
Shopping on eBay allows shoppers to choose from a wide variety of product choices. But before buying a product, make sure to look through applicable product listings for important specifications, like size, colour, price, and condition, whether new or used. If the listing does not answer all of your questions, just click on the Ask a Question link on the seller's listing page. After submitting your questions, the seller should respond promptly. Also, do not forget to check the seller's feedback rating to make sure you are satisfied with their previous sales performance as rated by other shoppers.
Conclusion
Forming tool parts and other components has come a long way since the inception of the industrial age. Lathes allow operators to perform precision cuts and work parts that fit the exact dimensions needed. Whether working parts for a machine that requires dimensions within thousandths of a centimetre or working parts that have a more practical application, such as a baseball bat, lathes give users the ability to work quickly and precisely.
Business and industry apply lathes toward a production application, producing parts for whatever the company requires. To this end, they most often employ CNC lathes for high-production jobs, or even an engine lathe for jobs that require more of a personal touch on the operator's side of things. Regardless of the type or size of lathe needed, shoppers can find them at machinery manufacturer shops, online at a manufacturer's website, or on eBay, which has a wide selection of machinery and the items necessary to use it.