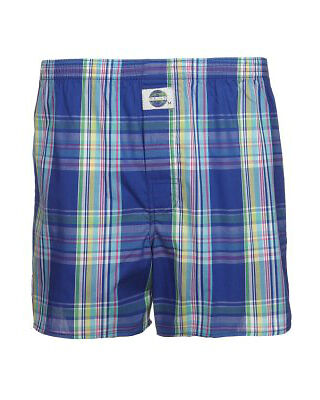 Comfortable, stylish, and healthier to wear than briefs, boxer shorts are an enormously popular article of men's clothing. Having been introduced in the mid-20th century, boxer shorts have withstood the test of time, graduating from a hidden-away article of underclothing to become a fashion statement in their own right. Perhaps because they are looser and less revealing than singlets or briefs, boxer shorts are more commonly discussed and compared, and they are commonly made from cloth which is brightly patterned with checks, stripes or humorous designs.
A man has a variety of boxer shorts to choose from. They vary according to their features. Some boxer shorts are held up by elastic, while others are secured using a drawstring. The materials used to make boxer shorts range from cotton and cotton blends to synthetics, and even silk. Online retailers such as eBay have become a popular choice for buying boxer shorts, thanks to the excellent variety of cloths, sizes, patterns and styles available.
Features of Boxer Shorts
Classic boxer shorts have a discernible amount of leg length to them, following the style of ordinary short trousers. They are also loose fitting, with the cloth standing away from the thigh rather than hugging the contours of the body. This loose fit allows air to circulate and keeps the testicles cool which some scientists believe can have significant health benefits, particularly for men who are trying to father children. There are shorter and closer fitting versions of the boxer short known as 'boxer briefs', which, as the name suggests, are a compromise between boxer shorts and briefs. This guide does not consider boxer briefs, confining itself solely to classic boxer shorts.
Elastic and Drawstring
Boxer shorts fall into two broad categories: those which open at the waist, and those which do not. The majority of boxer shorts have an elasticated waistband of some sort. In many boxer shorts this completely encircles the waist, but in the ones which open at the waist, this is either broken at the front or else it consists only of short sections of elastic.
Some boxer shorts dispense with the elasticated waistband in favour of an alternative means of support. It is sometimes possible to find pairs that have a drawstring inside the waistband, which can simply be pulled tight and tied at the front. Other boxers shorts have a variation on this theme, using tapes at the sides that are connected to the waist yoke, and which can be pulled tight and tied.
Buttons and Poppers
For those boxer shorts which open fully at the waist, it is common to have either a button or a series of poppers to keep the waistband closed.
Regardless of whether the waistband is elasticated or non-elasticated, and of whether it is continuous or open, virtually all boxer shorts have a fly opening at the front. There is however a difference between styles, as to to how the fly is closed.
The style of boxer short known as 'yoke front' boxer shorts often leave the fly unsecured, but have several poppers above it securing the waistband. When these are closed, the cloth of the fly drapes in such a way that it is effectively closed without being further secured.
A second style of fully-opening boxer short often has a popper to secure the waistband, and a single button beneath it to close the fly.
For boxer shorts which have a continuous waistband, the fly may be secured with just a single button, although often there is not even this much. As with the 'yoke front' boxers, the cloth is cut to drape in such a way as to effectively close the fly without further assistance.
Boxer Shorts Materials
As with any article of clothing, the cloth from which a pair of boxer shorts is cut reflects the style, personality, and budget of the owner. Natural or synthetic, patterned or plain, practical or stylish, the range of permutations is virtually unlimited.
Pure Cotton
For most men, cotton is the ideal fibre from which to make underwear. It is comfortable, reasonably durable, and it breathes well. This last point is an important attribute for clothing worn next to the skin, and which will inevitably have to deal with a fair amount of perspiration. Allowing moisture to evaporate improves comfort, reduces the danger of fungal infections, and generally helps keep the skin healthy. Cotton is not surprisingly, a popular choice for boxer shorts.
For those men who are willing to pay a little extra, there are more expensive grades of cotton available, to give their boxer shorts an especially luxurious feel. Mercerised cotton is a long staple cotton thread which has been treated by a process that makes it especially smooth, lustrous, and almost silky. Mercerisation also improves the durability of cotton fibre, which is an important advantage, since ordinarily durability is not cotton's strongest point.
Sea Island cotton is another, especially fine, grade of long staple cotton thread, which produces an exclusive, very soft cotton textile. Both mercerised cotton and Sea Island cotton are cut into boxer shorts which sell at a premium compared with ordinary cotton fabric.
Apart from these different grades of cotton yarn, there are also different types of cotton textile into which the yarn is woven. Two of the most popular of these are jersey and poplin.
Cotton Jersey
Jersey is a traditional cloth which can be knitted commercially from either wool or cotton, and which is very popular for cutting into items of underwear such as boxer shorts. Cotton jersey is lightweight, and it gives well, which makes it comfortable for items such as boxer shorts, that need a little stretch to accommodate the wearer's movements. Ordinary, woven cotton textiles do not give very much at all, so this ability is an important asset for cotton jersey, helping to make jersey boxer shorts that little bit more comfortable to wear. Cotton jersey is also soft to the touch, with a pile on one side, which makes it feel warm against the skin in cold weather.
Cotton Poplin
Poplin is a strong, plain woven fabric. When woven from cotton, especially from mercerised cotton, it has a luxurious feel, yet is hardwearing. Popular for high quality shirts in the form of two-fold cotton poplin, single poplin is also an excellent cloth for fine cut boxer shorts.
Cotton Blends
Despite their attractive sheen and feel against the skin, even the finest cotton textiles are never going to be as hardwearing as nylon or polyester. One way around this problem is to combine synthetics and cotton together in a woven textile. It is for this reason that 'cotton-poly' is so popular these days. A blend of cotton and polyester, it looks reasonably similar to pure cotton, feels only a little less luxurious, but lasts much longer, and costs less.
Synthetics
For those men who are not concerned about the soft feel and other advantages of cotton, but simply want a cost effective, practical garment, plain polyester, or polyester combined with a more stretchy synthetic, are both good choices. Polyester doesn't breathe like cotton, but for most purposes it is an adequate and comfortable cloth, which will give good service over a period of years. Synthetics do not rot easily, and are generally very hardwearing.
Silk
Silk is even more luxurious than cotton, and if cost is no object, a fine pair of silk boxer shorts cannot be beat. Lightweight, soft and silky against the skin, silk has a sensual appeal, which by no means needs to be reserved just for feminine undergarments. Gentlemen have long worn silk shirts and underwear, and the only argument against it is is cost. Plus the fact that silk is not as durable as synthetic fibres. If money is no object, silk boxers may well be the ultimate choice.
Finding Boxer Shorts on eBay
If you are thinking of buying a pair of boxer shorts, it makes sense first of all to decide which factors are most important to you. Is price the most significant factor? Or do you have a preference for a particular cloth? Alternatively, you may simply want an attractive design, and not be too concerned about the other features. For those men who are especially tall or large in build, finding boxer shorts of the right size may be a problem, meaning that you place more emphasis on making the best of what is available.
Although boxer shorts are readily available in the high street, in both the multiple chain stores and smaller independent clothes shops, many buyers still find that they end up settling for what is on the shelf rather than trailing from store to store to find the ideal cloth, pattern, or colour. For this reason, Internet retailers such as eBay have become very popular in recent years with buyers of boxer shorts.
eBay has a vast selection of boxer shorts, in all sizes and styles, many from well known branded names. And unlike the high street it is easy to search and browse, simply by entering a simple term such as 'boxer shorts'. This action delivers to you a result page with thousand of listings. To narrow it down to just the right pair of boxer shorts for you needs, you can apply various search options like style, size, brand, and main colour. You can also buy boxer shorts in multipacks.
Conclusion
Boxer shorts have remained popular over the years thanks to their relaxed, comfortable fit. Available in a wide range of cloths, they tend to be bought in checks and other bright, cheerful patterns, or else in fun, humorous designs.
Being undergarments and therefore worn close to the skin, many buyers appreciate the advantages of cotton cloth, which breathes well and helps keep the wearer comfortable and dry. However, for reasons of durability and price, a blend of cotton and polyester is particularly popular for boxer shorts, as it combines the advantages of both yarns. Luxurious grades of cotton such as Sea Island, or cotton which has been mercerised, offer an upmarket alternative for those seeking boxer shorts that are a little special. While for buyers seeking a truly decadent boxer short, silk is a traditional but expensive option.
Whichever cloth a buyer chooses, finding the perfect pair of boxer shorts in the high street can be a time consuming business. Online retailers such as eBay can make the process easier, by offering a vast choice of boxer shorts at reasonable prices, simply by browsing and searching online.