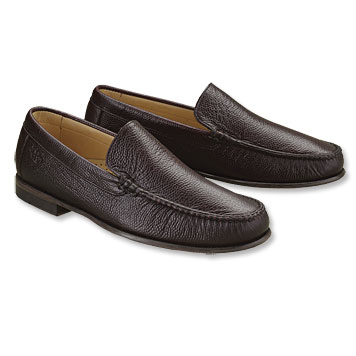 With loafers, the name says it all: these shoes are designed to be comfortable, laid back, and easy on the feet. Buy them in brown for casual dress, or if you are daring wear them in black with a suit. Loafers are a type of moccasin. Conceived in Norway but popularised in the United States, they put a premium on studied informality, and are the ultimate slip-on shoe. As there are no laces to fiddle with, the apron of leather above the foot is left free to flaunt gratuitous style details such as tassels or a metal snaffle. The low sides and flattish heels, the strongly emphasised stitching on the vamp and the louche air of these shoes, all give loafers a rather rakish appearance, suggestive of a man about town who refuses to play by the rules.
Before buying a pair of loafers, it is sensible to learn about the different types available, and the materials from which these shoes are often made. This knowledge puts the consumer in the position to make an informed purchasing decision. For the man hunting down the ideal pair of loafers, eBay carries a very large selection of, sizes, colours, and styles.
Types of Loafers
Compared with traditional English shoes, loafers once had a reputation as being slightly 'flash'; an American or Italian style which was not quite the done thing. But now loafers are widely accepted as being smart, and appropriate for most purposes. That said, the shiny leather and the range of exotic reptile skins that are sometimes seen, do keep these shoes slightly apart from the mainstream. Plain black apron loafers would be fine in a city law office. But some people may frown upon the notion of wearing tassel loafers with a pinstriped business suit.
Virtually all loafers share certain characteristics, such as a low heel and low cut sides, the absence of laces, the elasticated slip-on tongue and side grips. Most loafers sport ostentatious stitching around the vamp, often displaying explicitly bunched leather as a feature. Although loafers come in many colours, they are most often seen in black leather that is shinier than the average shoe, or else in brown suede. Within this broad pattern, there are numerous style details which set different types of loafers apart.
Snaffle Loafers
A style originally popularised by Gucci but now widely adopted, the addition of two metal snaffles to the top of the shoe has no function except to serve as decoration. Sometimes the snaffles are linked by a short leather strap, while other snaffle loafers have the snaffles linked by a metal rod or chain. A 'snaffle' is simply a 'u'-shaped metal buckle, of the sort used in horse riding equipment to hold the bit. Once, the idea of wearing snaffle loafers with a suit would have been thought of as 'wide.' Now it is probably less shocking, although it is probably not for the conservative at heart. For casual dress however, snaffle loafers are a popular and stylish shoe.
Apron Loafers
Apron loafers are loafers where the leather 'apron' or panel covering the top of the foot above the toes, is clear and clutter free, but ends with pronounced stitching. These loafers are more conventional looking than some of the other designs, and could potentially be worn with a suit, although for some conservative types this would considered still be less than ideal.
Pleated Vamp Loafers
The vamp of the shoe is the area above the foot, where it rises towards the ankle. On pleated vamp loafers the vamp is covered with a lattice design of leather pleats. Often the leather is shiny, not quiet patent leather but halfway to it. This is a fairly showy design, which needs to be well executed to look smart.
Tassel Loafers
As the name suggests, tassel loafers have leather tassels hanging from the top front panel of the shoe. Normally the tassels are attached to a leather lace, which is inserted into metal eyelets. Sometimes the tassels are complemented by leather fringes. Another fairly showy design, tassel loafers are ideally a casual shoe rather than an office shoe. Wear them with smart casual trousers and a matching jacket for a sophisticated look.
Square Toe Loafers
Square toe loafers have a slimline, squared-off toe, and uncluttered uppers, often combined with heavy stitching around the vamp. This gives them a sophisticated, rather understated look that can be worn either with an office suit or casually.
Penny Loafers
A popular design in the United States, penny loafers have a leather flash placed width wise across the top of the foot, out of which a long sweeping motif has been cut. Often seen in shiny black leather, they can be a very smart shoe indeed.
Shoe Materials
Generally avoiding the sober, conservative leathers of other shoes, loafers are often seen in shiny black, in brown suede, or in truly exotic leathers such as crocodile skin, snakeskin, or lizard skin. These latter skins can be hugely expensive, and are purchased to impress rather than for practicality.
Leather
As with most shoes, leather is the preferred material for the uppers. Expensive loafers may also have leather soles, although not generally heels, which would wear out too fast. The advantages of leather are that it breathes, it is durable, and it quickly moulds itself to the shape of the wearer's foot. The softer, finer and more durable the leather, the more it costs. On the other hand, the longer it will last too, providing it is looked after well. Never let leather become saturated with water. Always keep it polished, using a polish that contains natural oils to nourish and soften the leather.
Suede
Suede loafers are normally brown. As an alternative to black leather, they are casual shoes, which cultivate a more informal air, suggesting a relaxed, slightly non-conformist man. Suede also needs protecting from excessive water, and should be brushed with a suede brush, and cleaned with care.
Lizard Skin
Jazzy, almost outrageous, lizard skin loafers are not for the faint-hearted. They are shoes that are meant to impress. Like all the exotic leathers listed below, they come in two types. Genuine lizard skin is extremely expensive. Very fine grained, with a distinctive, small pattern of scales and often bright colours, these loafers stand out a mile. Alternatively, there are lizard skin print shoes, which have the pattern imprinted onto ordinary leather. These can still look impressive, at a fraction of the cost.
Crocodile Skin
Crocodile has a much larger scale pattern, and generally more muted colours, though jades and other greens and browns are still very impressive. A favourite for ultra-chic loafers, genuine crocodile or alligator skin is very costly. As with lizard skin, there are simulated crocodile skin loafers available that are real leather but not from a crocodile.
Snakeskin
Falling between lizard and crocodile in scale size, snakeskin is another leather which makes a very strong style statement. It appeals to some buyers, but not others.
Synthetics
Often, synthetic materials are confined to the soles and heels of loafers, where their hardwearing characteristics are most suitable. However, there are many loafers available with uppers made of plastic or woven synthetic textiles. These are ideal for budget conscious buyers, although the disadvantage of plastic is that it does not breathe well. Other synthetics can be long lasting and comfortable, and often come at a fraction of the cost of expensive leather.
Finding Loafers on eBay
If you are thinking of buying a pair of loafers, first decide what style you are after. Are they for formal wear, at the office? Or are they to be casual? Next, decide how much you are prepared to spend. Armed with this knowledge, you can begin your search.
As a very popular style of shoe, loafers are widely available. Most high street shoe shops offer the basic types, and the large multiple chains may offer a slightly better selection, still. However, the economics of keeping stocks of all the different styles, colours, leathers and a full range of sizes means that finding the right pair of loafers in the high street may require some time and effort.
With the growth of Internet shopping in recent years, it is now possible to buy pretty much any type of loafer online. eBay has a massive selection of loafers, covering the full spectrum of sizes, materials and designs, including many well-known brands. You can find the ideal pair of loafers on eBay by entering a simple search term such as 'men's loafers' or 'men's tassel loafers'. Another good search term is 'men's leather loafers'. It is easy then to narrow down your search options by specifying your size, preferred colour, or design.
Conclusion
Loafers are a popular style of slip-on shoe that are available in many different styles and materials. The basic pattern of a loafer is a low heel and low sides, without laces, and held on by elasticated panels on either side of the foot. Originally more of a casual shoe, nowadays many types of loafers are also acceptable as a business shoe, and may be worn with a suit. Some loafers are unashamedly ostentatious, using exotic leathers such as snake or crocodile skin to impress. Of the rest, black leather or brown suede are two favourite options, although loafers can be found in other colours too. Because loafers come in such a wide range of styles, it can be difficult to find the ideal pair in the high street. Online retailers such as eBay offer a very large selection of men's loafers, making it easier to find the right pair at a reasonable price.