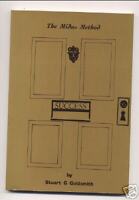 I know I usually go for novels, crime stories and the usual feel-good book, but this book was just waiting to be read. Sitting on the shelf with its bright gold cover, it felt a shame not to give it the once-over. I had no intention of reading this to the very end, let alone putting the advice into practice. But after spending most of my free time with this book in my hand, I only regret that I didn't read it earlier.
The book is written by one of the most well-known self-made millionaires in the business world and I'm happy to say it's not just another book about how he became loaded and how he lived in a flat with an old banger and no money. This book is actually a self-help guide that can be put into practice before you have even finished it.

Stuart Goldsmith takes you step-by-step through every aspect of making your life better. He gives advice that cannot be found anywhere else, like how to get the most out of your life by making loads of money and becoming a better person at the same time.
All those secrets that the rich keep to themselves, all the things that have made the millionaires in this life are here among the pages of this book in easy-to-understand and easy-to-follow steps.

Like I said, it's not like me to read a book that doesn't have a corpse in it, but this is one exception. Having ordered 20 of them and selling them all in a single week, I think this author must be doing something right otherwise all those customers would have come back to moan and not to order copies for their families and friends.