Disappointed with solar products not performing?

We have found ourselves that whilst many solar products work superbly throughout summer, they then may only work for hour or two (or may not light up at all) once we reach winter. This can be frustrating, especially if the item you have purchased has intended use as a security light or to help you see a path at night. It is generally less important with standard garden solar lights, which many people choose to pack away at winter and bring out again in the spring.

But the demand for solar lights that worked all year round was growing ever stronger, and we have decided to do something about it. This is why we have researched the technology to develop solar products that would work through winter, and we have come up with the SuperSolar™ range. Using SuperSolar™ products, you will be able to rest easy in the thought that you won't have any more problems with your solar light!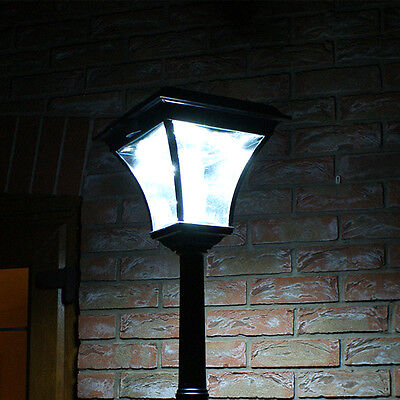 An example of a SuperSolar™ lamp post.

The advanced solar technology incorporated in these products has come after years of development, and it proves that solar technology is becoming a major source of energy around the world. All of these SuperSolar™ products are constructed from aluminium or stainless steel, cultivating in them being light, strong and durable – perfect for winter use.
In fact, we are so confident in our SuperSolar™ range that we are offering a two year warranty on all products that are branded with the SuperSolar™ logo!