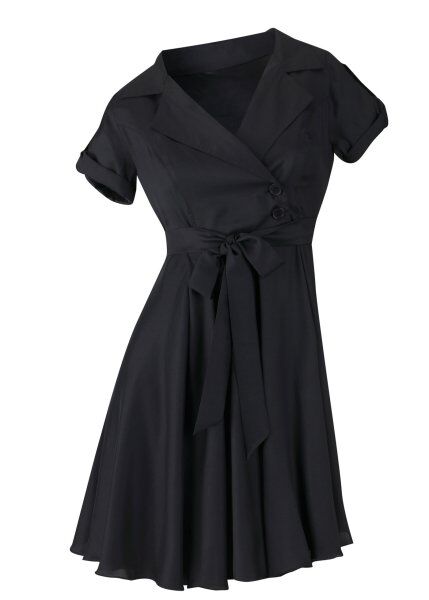 The one dress that is usually considered the universal staple of any woman's closet is the famous, little black dress. This elegant yet simple dress is often considered the most important item of clothing a woman can own, and will forever be considered sophisticated, classic, and timeless, but with the right accessories can also be flirty and trendy. The little black dress in its current incarnation has come a long way from the days when it was considered suitable only for those in mourning, and, according to Karl Lagerfeld, a designer for Chanel, "One is never over-dressed or under-dressed in a little black dress".
Whether one is searching for a specific black dress in a traditional store or through an online source, the versatility of the garment being selected should be kept in mind. Will it lend itself well to a variety of accessories? Can it be worn at a formal occasion as well as at an informal party? When shopping for a little black dress, traditional department stores or consignment shops are good places to shop. For those who prefer shopping at an online venue, auction websites such as eBay are available with thousands of options for consumers to peruse and they have proven to be a huge benefit to women of all ages. An amazing collection of women's clothing, shoes, and accessories can be found on eBay, from which not only a little black dress, but the items needed to accessorise it, can all be found. This guide describes the ways in which a little black dress can be accessorized to achieve a variety of trendy and contemporary styles through the addition of scarves, high heels, belts, hats, and jackets.
How Can One Little Black Dress Become Multiple Dresses?
Perhaps a bit of fashion magic is being employed, because when one little black dress is accessorised with a variety of contemporary, classic or trendy items, it seems as if a woman owns several different dresses, and not just one. A black dress is a versatile item of clothing that no woman will ever want to be without. Of course, because black is a very neutral colour, a single dress can be dressed-up as well as dressed-down, depending upon the current frame of mind and the occasion for which the dress is being worn. When the famous fashion designer, Coco Chanel, designed the little black dress on October 1, 1926, the fashion world was forever changed.
This year is the 86th anniversary of the little black dress, and at no time in its history has one item of clothing been capable of making such a huge statement about individuality, personality, and creativity. There are a number of ways in which to create striking moods or daring styles when wearing a little black dress. By combining one piece of clothing with a multitude of different accessories, an individual and distinct style can be created, as well as an extended wardrobe.
Dressing Down With Style
If a less than formal look is desired for a casual occasion, try wearing a simple little black dress with large, colourful, and chunky jewellery pieces, like a bangle, and a matching scarf. There are a multitude of fabrics and colours, as well as styles, from which to choose when thinking about purchasing a scarf. Pashmina is soft and colourful, and can be worn for formal, as well as informal, occasions. Pashmina scarves are made from wool that has a smaller fibre than Cashmere wool, making it the perfect choice for fine scarves because these scarves are never scratchy and bulky, but soft and smooth to the touch.
Another kind of scarf that lends itself well to pairing with a little black dress is the silk scarf. Silk scarves are, naturally, silky and sensual, and yet when worn with a black dress they can help to create a more casual and relaxed look, or they can ramp up the appearance of elegance for a formal evening. Silk scarves can be found in numerous shades and lengths, making it easy to find the ideal scarf; one that is absolutely perfect for each woman's particular fashion statement.
If a more daring look is being sought after, one can choose a pair of brightly coloured leggings to wear under the little black dress for a style that is fresh and flirty. And, of course, if a large, cable-knit sweater is added to this ensemble the wearer is assured a cosy outfit that shows off the individuality and style of the wearer, while ensuring warmth and comfort. Leggings come in a variety of colours and patterns making it possible to choose a muted colour that complements or showcases the other accessories being worn, or a striped pattern can be chosen that will perk up an outfit, making it apparent to all that the wearer is confident and exciting.
Another way to wear your little black dress in a more casual and relaxed manner, is to pair the dress with oversized sunglasses to add a trendy and cool look to any wardrobe. Choose between highly tinted or smoked lenses, or, if one is in the mood to be playful, a chunky pair of sunglasses with mirrored lenses can be worn for a style that is reminiscent of the rich and famous.
Dress Up a Little Black Dress For a More Formal Occasion
Wearing a blazer or jacket with your little black dress can take your look to a more professional or formal appearance. Perhaps a red jacket with red pumps and belt, to create a stunning look that leaves others in no doubt about the style of the woman wearing them. A more muted colour tweed jacket can be chosen if the occasion is a job interview or a meeting with the boss. And of course, the bolero is an absolutely stunning choice for evening to dress-up your little black dress.
The bolero is a half jacket that can be found in an amazing array of colours and styles, from the more simple and streamlined to the sparkly and spectacular. These fashion accessories are a must have for the woman of today, and are often the difference between being seen, and being noticed. The bolero comes in many sizes, lengths and styles; from fur or satin to crocheted and beaded. This item of clothing is so versatile that it can be worn in combination with your little black dress to create either a more formal and dressy look, or if a leather or crochet bolero is chosen, a more informal and perky look.
Fabulous Footwear Is a Must
No outfit would ever be considered complete without choosing the perfect pair of pumps or heels . For centuries, high heels have been worn by discriminating fashionistas. There are several types of heesl that can be chosen to create the exact look needed for any given occasion, with five traditional and more well-known styles:
Stiletto
These heels have a very thin and tall heel and can be worn with nearly any kind of outfit. With a dress, these heels create the look of a longer leg, and if paired with leggings and a little black dress, they are very chic.
Pumps
These heels are similar to the stiletto style, but with the main difference being a thicker heel. Pumps can be worn with a dress, slacks or a skirt, providing a classic and stylish look.
Wedge
As the name implies, these shoes have a solid wedge that lifts the heel, creating a dramatic look and the appearance of greater height. This style of shoe is normally chosen for informal wear, making it the perfect choice for wearing with leggings.
Peep-toe
The peep-toe heel is perfect for wearing during summer months. Paired with a short dress, and accessorised with the right jewellery, these shoes provide a fun and cool look.
Platform
This shoe adds height to your look, and can be either formal or informal and classic or contemporary.
And, of course, if a much more informal look is desired, sandals, flats and even designer tennis shoes can be worn with a black dress to create a more flirty and youthful look. Match up a pair of cute and stylish sneakers, some colourful leggings and a braided floppy hat with a little black dress to create a casual and breezy look for summer wear, with the added bonus of displaying a perfectly pedicured foot.
How to Buy your Dress and Accessories on eBay
To search for a specific item, such as women's clothing and accessories, start at eBay's homepage. Simply type the keyword which best describes the item you are in search of into the search bar at the top of the page. For instance, you can type "little black dress", and a huge selection of dresses matching that description will be displayed. As well, you can search for accessories to add your own personal touch to your dress, creating an exclusive look.
If you are planning to purchase a specific dress or pair of shoes, check with the seller first to be sure that they will agree to exchange the item, or provide a refund, should you find that it does not fit properly. To find information regarding the seller's refund or exchange policy, you can go to their member profile, click on their contact link, and ask them about the specifics.
Conclusion
Every woman has a unique and personal style that is all her own, and choosing the accessories to wear with a little black dress can be fun and exciting. eBay has an extensive selection of all sorts of items which enable women to personally accessorise the one dress that every woman should own.
Spice up a wardrobe with belts that add color and sparkle to an outfit, hats that complement a little black dress with flair and style, or jewellry which can add a dramatic or whimsical touch. Through the use of fashion accessories such as high heel shoes or pumps in the latest styles and colors and jackets that can make any dress suitable for a corporate interview, a simple black dress can be transformed into one's own personal fashion statement. Embellish a plain wardrobe with stylish or glamorous accessories paired with a little black dress, making a statement that expresses not only personal style, but an educated sense of fashion as well.