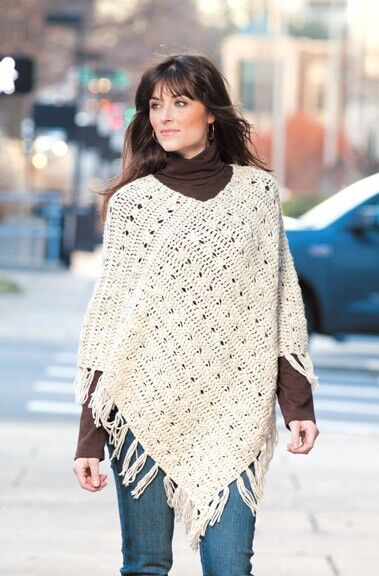 A poncho is traditionally an outer garment designed to keep the body warm. Native American Peoples of the Andes have used the poncho since before Spanish colonialism, and it is now not only a typical South American garment but also a fashionable garment in Western societies. Traditional ponchos were not only decorative pieces of clothing but were also an indicator of status, origin, and familial association.
Researching and obtaining as much information as possible before purchasing a poncho can help with a consumer's decision. The consumer needs to be clear about what purpose the poncho will serve before making any purchases. The types of materials used to make a poncho vary quite a lot, as a poncho is a versatile piece of clothing with multiple uses. It can be worn for warmth, style, or to keep dry. The next step is to determine the functionality, style, and size. Ponchos are available in a wide variety of stores as well as on eBay and suit a wide range of budgets.
A poncho is usually made from a woollen fabric, but in more recent times, ponchos have also been made from waterproof materials to keep the wearer dry in the rain.Waterproof ponchos usually have a bit more to them; some have fitted fasteners to close the sides once the poncho has been put on. They also have openings for the wearer's arms, as well as a hood to ward off any wind and rain. Ponchos made to look fashionable are usually made from different materials and are designed to provide the wearer warmth whilst being comfortable and breathable. The most common, stylish ponchos worn today are usually knitted or crocheted.
What to Consider When Buying a Poncho
A square or rectangular piece of cloth with a hole is the best way to describe a poncho. Yet this article of clothing has managed to be part of a wide variety of fashions going in and out of style throughout the years. The two main things to consider when purchasing a poncho are function and fabric. If a poncho is meant to keep the wind and rain out for a camping trip or sporting event, then the poncho needs to be one that is made from good quality rubber or plastic. Some sporting venues sell emergency plastic ponchos for a fairly reasonable price. If a poncho is for warmth, then the consumer should purchase a poncho made from good quality wool or a good quality heavy fabric. If it is for style reasons, then it can be made from any material the consumer likes.
Furthermore, if it is especially cold outside, it may be difficult to wear another article of clothing over a poncho as the poncho has a lot of excess material. Instead, try wearing warm clothing underneath the poncho. When purchasing a poncho, try and find one that is thigh high because it adds sophistication to any outfit, and it can also help make the wearer look slimmer. A short poncho, however, usually makes the wearer look short and fat. If a relaxed look is desired, purchase a poncho that has a deep V-neck or large, round neck. A turtleneck poncho is restrictive, so if extra warmth is not required, try and avoid a poncho with a turtleneck.
Types of Ponchos
There are many different ponchos on the market for consumers to purchase. They range from a poncho that is designed purely for warmth to ponchos designed to keep the wearer dry. A poncho is a comfortable, easy article of clothing to wear, and it looks great on any body shape. A poncho can be dressed up for a stylish, elegant look or dressed down for a more casual look. A poncho looks great with a pair of jeans and cowboy boots, and that same poncho can also be paired with an evening gown for a more formal look.
The Wet Weather Poncho
A poncho meant to be worn in wet weather rarely provides warmth. It is typically made from plastic, canvas, or rubber and should come down to the wearer's knees to effectively keep the rain off the wearer. The army typically uses the wet weather poncho as it is light, easily transportable, and durable.
The Poncho Designed for Warmth
The poncho designed for warmth is made from wool or some other fleecy material like cashmere. Some of these ponchos have a hood or are stitched under the arms for added warmth. They are lighter than a winter coat but heavier than a sweater or a cardigan.
The Fashionable Poncho
Next, we have the stylish poncho, which has become a fashion statement for many women around the world. This poncho is usually made from glittering cloth with a fringe. Crepe, georgette, suede, silk, and velvet have all taken their turn in making the poncho fashionable. This type of poncho can be worn as a wrap with a glamorous evening gown or as the focal point of an outfit perfect for a night out on the town.
Marketing Ponchos
Not only is the poncho a great fashion accessory, it is also a novel way to advertise, with small businesses, large corporations, and sporting clubs adopting the poncho as an advertising tool. This type of poncho often has the organisation's logo on the back. If it is a poncho meant to promote a sports club, it often is in the team colours as well as having the team's logo on the back.
Sizing
Size is actually quite important when purchasing a poncho. The length of a poncho depends on the wearer's taste, but the poncho should fit quite loosely around the neck. With many varieties of ponchos available, the consumer should be able to find something they like.
Poncho Size Chart
The following sizing chart can used as a rough guide when purchasing a poncho. Not all clothing manufacturers follow the same sizing guide, so sizes may vary between brands. All measurements are in cm first and then in inches.
XXS

XS

S

M

L

XL

XXL

Size

6

8

10

12

14

16

18

Bust

78 / 31

81 / 32

86 / 34.5

91.5 / 36

96.5 / 38

101.5 / 40

107 / 42

Waist

66 / 26

68.5 / 27

71 / 28

76 / 30

81 / 32

86 / 34

92 / 36

Hips

86.5 / 34

91.5 / 36

96.5 / 38

101.5 / 40

106.5 / 42

111.5 / 44

117 / 46

Inside Leg

(garment)

72.5 / 28.5

74 / 29

76 / 30

77 / 30.25

77.5 / 30.5

79 / 31

80 / 31.5

Sleeve & Shoulder

73 / 28.75

74.5 / 29.5

76 / 30

77.5 / 30.5

79 / 31

80 / 31.5

81 / 32
As mentioned above poncho sizing is quite difficult, so it is much simpler to pick a poncho that looks and feels great than worrying too much about the fit.
Finding the Perfect Poncho on eBay
There are hundreds of ponchos available on eBay, from decorative and fashionable ponchos to wet weather ponchos and ponchos designed solely for warmth. If you know the kind of poncho you want to purchase, then the best way to find it is to log onto eBay and search for the poncho type you want. If you are unsure what type of poncho you are after, simply type in poncho.
Before committing yourself to purchasing a poncho on eBay, make sure the seller ships to your country. Also, be sure you can find information about the seller's return policy just in case your poncho doesn't fit properly. If you cannot find information you require in the seller's advertisement, you can contact the seller directly and ask any questions you may have. If you follow these steps, you should have no problems finding the perfect poncho for every occasion.
Conclusion
Not only is the poncho an item of clothing designed for warmth as well as an item of clothing designed to keep the wearer dry in the rain, it is also a fashionable article of clothing that has been featured on many prestigious catwalks around the world. The poncho came from indigenous cultures of the world. Their mastery of weaving produced woollen textiles so fine that the design has hardly been altered to this day. Human curiosity regularly discovers "fashions" that have been in existence for thousands of years, and this is what has happened with the poncho.
There are many places to purchase the poncho even when it may be "out of fashion". eBay regularly has quality ponchos for all occassions for sale. When buying a poncho, try and purchase one that is knee-length, as this helps to elongate the body and make the wearer look slimmer. A crocheted or knitted poncho that has a fringe or is made of glittering materials is great for a night out as it can be the focal point of the outfit or just add a little bit of sparkle. If a poncho is for wet weather, a good quality plastic or a canvas poncho is a good choice. With all that said, there is a poncho for every person and every occasion.