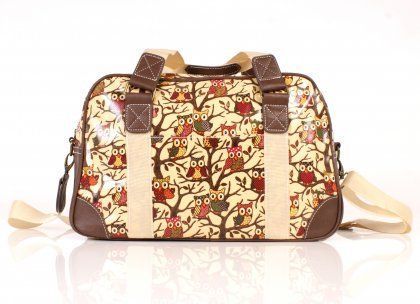 A nappy changing bag is something that a mom carries with her everywhere. It should be fashionable and versatile to match a lot of different outfits and occasions. In this day and age, style does not need to be sacrificed for motherhood, not even when nappy changing bags are involved. Nappy changing bags should always have enough space for all the essential supplies, and should be comfortable to wear and easily stored in a buggy. When purchasing a nappy changing bag, be sure that it has all the important features needed to suit the mom's lifestyle. Be aware of the different types and styles of nappy changing bags, as well as designs, features, and colours. Changing bags are available for every individual's style and needs.
Nappy changing bags are available in a variety of maternity and newborn stores, as well as online at different new mom websites. eBay has a large selection of changing bags available for all different uses and styles.
Styles of Nappy Changing Bags
The number of different styles of nappy changing bags on the market right now is great. Stylish bags are available inexpensively, but more costly luxury and designer bags are also available. The fashion industry is aware that more and more stylish women are having babies, and so manufacturers have tailored some designs specifically for them. These styles and designs have trickled down through the market, and now moms have a plethora of choices.
Some moms prefer a large, deep bag with a large compartment; this preference is often a mistake. Items are easily lost in deep, large pockets, making it difficult to find them. Users should instead opt for a bag with multiple compartments; this makes it easier to find smaller items. Compartments do not necessarily need to be on the outside of the bag, either. Many modern changing bags have compartments built-in.
Luxury and Designer Nappy Changing Bags
Luxury and designer nappy changing bags look sleek and fashionable on the outside, but easily open to many different individual compartments, making it easy for a new mom to organise her stuff. The first colour that comes to mind when words like "luxury" and "designer" are mentioned is often black, and while many black bags are available, designers have branched out to include a variety of colours to suit each mom. Luxury nappy changing bags are now available in all sorts of different fashionable materials, including leather.
Types of Nappy Changing Bags
Two very popular styles are the messenger or shoulder style, and the backpack style. Other changing bags look like a handbag. While great for shorter trips, the handbag styles do not leave hands free to carry the baby or push a buggy. Stylish messenger bags and backpacks leave hands free for doing other important tasks.
Small Changing Bags
Small changing bags are available for short trips that do not require mom to bring a lot of essentials. It is a good idea to purchase a small changing bag in addition to the larger, regular-use bag, and to stock each with baby needs, so moms can simply grab the bag they need when heading out the door. This saves time and eliminates the need to transfer items from one bag to the other. It also alleviates the burden of having to drag around a larger bag when only a few items are required.
Overnight Nappy Changing Bags
For overnight trips, users should have a larger changing bag available to carry all of baby's essentials. Overnight bags are available specifically for that nappy changing age.
Nappy Bag Designs
Rich patterns are a very fashionable option, and add a splash of colour and make the mom's whole outfit pop with contrast. Be careful not to choose a bag with overly feminine designs, especially if a male partner also carries the bag. He may not want to be seen carrying around a bag with bright flowers on it. Neutral styles are the best option for multiple users.
Bold black and white bags are always fashionable, and such neutral, solid colours go with nearly every outfit. White handbags are more difficult to keep clean, so keep that in mind when purchasing. Brown also goes with many outfits. Adding a stylish, colourful pin to a neutral bag helps change up the bag to match various outfits and needs.
Stylish moms should keep up on the latest trends. Match the stylish nappy changing bag with what is popular now to ensure that it is up to date and fashionable. Changing bags are easy to match with current trends, and add that style and pop to a mom's outfit without adding other concerns or complications.
Different Nappy Changing Bag Features
Different changing bags offer a variety of features. Buyers should make sure to choose features that fit well with the mom's lifestyle and needs. For example, small changing bags do not have all the features and space available in a larger changing bag, but if it is well-designed, a bag should hold all of the essentials and be easy to use.
Changing Mat
Some nappy changing bags come with a detachable changing mat, which makes it more convenient to change the baby in most situations. If the bag does not come with a detachable changing mat, be sure to add that to the list of essential items to carry.
Key Clips
Key clips are a very helpful option, since it is often difficult for moms to keep track of their keys with all the other things they have to remember when raising a baby. Most stylish bags do not mount the key clip on the outside of the bag; rather, they keep the keys tucked away inside the bag, for discreet and easy access.
Water Resistant
Water resistant bags keep the important baby items dry, and are much easier to clean than water sensitive nappy changing bags. In the past, it was difficult to find stylish bags that were water resistant. However, there are many such bags available now.
Compartments
Bags that are too deep with few pockets often make it difficult to find a particular item. Lots of small compartments give the bag a stylish, modern look, and also make it easy to keep track of everything.
Insulated Bottle Pockets
Insulated bottle pockets are a convenient extra that keep bottles of milk or other drinks cold. Such pockets are a great place to store other food that needs to stay cold, as well.
The Nappy Changing Bag Essentials
The nappy changing bag should be stylish, but it should also hold all the essentials a new mom must carry. Do not leave the house without a nappy changing bag that has a change of baby clothes, feeding essentials, nappies, wipes, and any necessary creams or lotions. Make a list of all the items that must be carried. Some babies have extra needs, and therefore additional items are required. Making a list helps moms make sure the bag contains everything they need, ready to go.
How to Buy a Nappy Changing Bag on eBay
Once you have decided on the most suitable type of changing bag, you can begin a search for what you want on eBay. Enter the phrase "nappy changing bag" into the search box on the eBay homepage. To narrow down the search results, enter more specific words to precisely describe what you want. You can also browse through luxury changing bags or small changing bags, depending on your needs. Once you have found a suitable bag, be sure to read the detailed item description to ensure that it has all the different features you require. Message the seller with any questions you may have regarding the item.
Also read the seller's profile, including feedback left by previous buyers. This feedback lets you know how well the seller has satisfied customers over the last 12 months. Browse through the seller's other listings to see if they have other items for sale that you might want. Buying multiple items from a single seller can save you money on shipping costs.
Conclusion
New moms need not sacrifice style for utility anymore. Lots of stylish options are available when it comes to nappy changing bags. This is important, because moms take their bags with them wherever they take their baby. Therefore, it is a good idea to have a versatile bag that matches a lot of different outfits. It is important to select a bag that can hold all the essential items a new mom needs. Big, deep-pocketed changing bags with few compartments are not a good option because smaller items can easily get lost.
Changing bags come in many styles. These include luxury bags, with lots of features; small changing bags, perfect for short trips; and overnight bags, that carry everything a mom might need for an extended excursion. Popular styles of changing bags include messenger bags, and backpacks, as well as small handbags. Changing bags are available in virtually every colour, so it is important to match one with individual style and taste. Keep up on the latest trends to look for a bag that is in style.