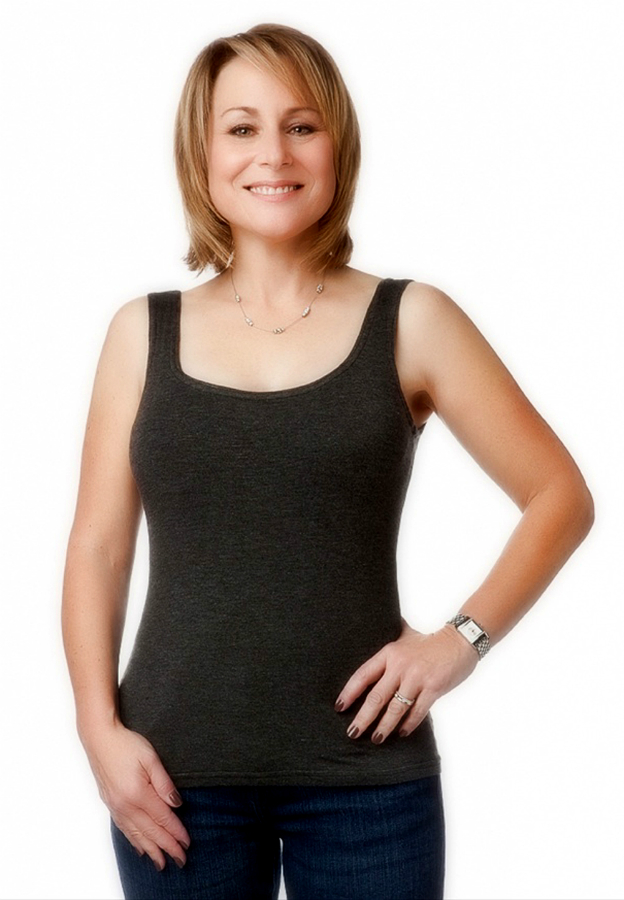 Traditionally, tank tops are sleeveless woollen pullovers in the UK. However, the contemporary definition is moving closer to the American version, which describes sleeveless T-shirts that are usually cut generously for a loose, baggy fit. Closer-fitting tank tops are also available. Pullover-style tank tops are usually worn over collared blouses, while T-shirt style tops can be layered or worn on their own and are often used for a more sporty, casual look. Modern tank tops most often have rounded necklines that can be high or lower cut and come with a range of back designs. Although they can be seen as a summer wardrobe staple, many women have difficulty wearing them without showing bra straps or inadvertently flashing via the generously cut armholes.
In order to find the perfect fit, measurements should be taken and compared with a size guide for ease of reference. Although some women show off their bra straps deliberately, many women prefer to keep their bras under wraps. Tips for wearers on keeping bras and bra straps invisible are included. Finally, colours, designs, and styling possibilities are discussed. Tank tops are available from clothing and department stores, and from online sources, such as eBay.
Measuring for a Tank Top
UK clothing sizes are not standardised and, as a result, tend to differ from manufacturer to manufacturer. Having the wearer's measurements on hand while shopping removes the guesswork from buying tank tops. Three measurements are needed: the bust, waist, and hip dimensions. Measurements should be taken with a tailor's tape measure.
How to Take Bust Measurements
To measure the bust, loop the tape measure around the back and over the fullest part of the bust. The tape measure should not be pulled too tight and should be held parallel to the ground to obtain accurate results.
How to Take Waist Measurements
Waist measurements should be taken at the natural waistline. This is the slimmest point between the ribcage and navel and the exact point differs for most women. Where the waistline is not defined, the wearer should bend her body to the side while standing up. The body bends at the natural waistline.
How to Take Hip Measurements
Hip measurements are not taken at the hip bones. Instead, measure below the hip bones at the fullest part of the seat. Measuring on the hip bones yields an inaccurate result that is often smaller or larger than the measurement around the seat.
Women's UK Clothing Size Chart
The chart below gives approximate sizes according to body measurements. While these sizes may differ across brands, this chart can be used as a starting point to get an idea of which size ranges may fit the wearer.
| UK Size | Casual Wear Size | Bust (in) | Waist (in) | Hips (in) |
| --- | --- | --- | --- | --- |
| 6 | XS | 31.5 | 25.5 | 34.5 |
| 8 | S | 33 | 26.5 | 36 |
| 10 | S | 34 | 28 | 37.5 |
| 12 | M | 35.5 | 29 | 39 |
| 14 | M | 37 | 31 | 41.5 |
| 16 | L | 39 | 33 | 43.5 |
| 18 | L | 41 | 36 | 46 |
| 20 | XL | 43 | 39 | 48.5 |
| 22 | XL | 45 | 40.5 | 50 |
As these sizes are only intended as an indication of possible size ranges, it is best to have the wearer try the tank top on before buying it. Where this is not possible, the seller should be asked for accurate clothing measurements in order to compare these to the wearer's dimensions. When buying clothing it is best to buy from a seller or store with a reasonable returns policy in order to return ill-fitting items.
Tips for Wearing a Bra with a Tank Top T-Shirt
Due to the cut of the armholes and the design of the sleeves, modern tank tops have a way of turning the most modest woman into an exhibitionist. Paying attention to the top's cut and choosing smaller armholes and broader sleeves before buying goes some way towards solving this problem. Alternatively, tops can be layered under jackets or over tight fitting vests or T-shirts. If a top is generously cut and an absolute must-have item, choose the right bra to wear with it.
Women with larger busts, who need more supportive, broader bra straps should opt for tank tops with broader shoulders to cover their bra straps. Other alternatives include wearing a strapless bra when the cut of the armholes permits this; a racer back bra that crosses at the back; a multiway bra that can be adjusted to accommodate a variety of clothing cuts; a sports bra to create the look of a layered top underneath the tank top; a bra that is the same colour as the top to better conceal the straps and camouflage anything peeking out of the armhole; a bra with clear straps; an adhesive bra, which consists of cups that are stuck to the skin for secret support and can be bought to match the wearer's skin tone; or no bra at all, provided the wearer can get away with it and the top's armholes are not cut generously. A standard bra's straps can be attached to the top with a single, subtle stitch or a safety pin. Some women go a far as attaching press studs to the top of the bra straps and the inside of the tank top.
Tank Top Colours, Designs, and Styling Options
Tank tops are available in a range of colours and designs, and a variety of fabrics. For a more casual look, choose a cotton tank top bearing a slogan or branded with a favourite sports team or organisation's logo. Similarly, graphic designs give these tops a casual, more trendy look. Tank tops in solid or neutral colours are perfect for layering under clothing. Where tops have armholes that are cut too wide for the wearer's tastes they can be layered over tight, neutral coloured tank tops or T-shirts.
Cotton tanks tops are comfortable, especially in summer when the wearer needs to keep cool. Tank tops are also available in fabrics like viscose, polycotton, and polyester. Although synthetic fabrics are not as cool as natural fibres, these fabrics generally drape well and come in designs that are more feminine and look a little bit smarter. Fabrics such as lace can be used to add texture to an outfit, and silk or slinky materials can be dressed up by wearing them with more formal skirts or trousers and heels.
Knitted, traditional tank tops should be worn over fitted blouses to avoid clothing bunching up around the bust line or waist. Choose a colour that complements the blouse, and wear patterned tank tops or colourful tank tops with blouses in neutral or solid colours. These tops are ideal for work, adding detail and colour while keeping an outfit looking professional. In addition, knitted tank tops provide an extra layer of warmth to the torso without adding bulk to the sleeves, making them perfect for layering under suit jackets.
To dress up a tank top, consider adding a long or short scarf in a light, summery fabric; a belt to accent the waist or add a splash of colour to a plain tank top; a cropped jacket; or jewellery and accessories to complement the top. Pair a knitted tank top with a knee length skirt for office wear or add a feminine touch by layering it with a cardigan. Provided a tank top is cut appropriately and is not overly revealing, it can be worn to work. Avoid spaghetti straps and make sure no straps are visible. Embellished tank tops look good when worn under suit jackets for a feminine touch.
Buying a Tank Top on eBay
Finding a tank top on eBay is easy. Type a keyword or search phrase (like "black silk tank top") into the search bar that can be found on every page. Narrow your search results by choosing the most appropriate category and the tank top's desired characteristics. For more control over search results, use the advanced search function.
Before You Buy on eBay
Before you buy on eBay, learn all you can about the seller and the item for sale. Many eBay sellers have returns policies like clothing and department stores. Keep an eye out for these sellers when shopping for clothing items such as tank tops.
Check the Seller's Feedback
eBay's seller feedback feature allows you to see what other buyers have to say about a seller's products and customer service. Detailed seller ratings include additional information about the seller's communication, the reasonableness of the postage and packaging fees, the accuracy of the item description in the listing, and how long it took for the seller to dispatch the item. Click on the number next to the seller's username to access this information.
Check the Item Listing Page
The item listing page contains all the information you need to shop with confidence. This includes details such as the item description, the seller's information, bidding and buying details, postage and shipping fees, the terms of the seller's returns policy, and the seller's accepted payment methods. Use the "Ask a question" link to contact the seller if you have any queries about a listing.
Conclusion
Tank tops are available in a range of colours and designs, but most are cut generously for a loose fit. These versatile items can be worn over or under other garments to create a layered look. In addition, they can be dressed up or down to suit the wearer's mood and the occasion. Unfortunately, many women find it difficult to wear these tops as they tend to be revealing and often show bra straps or allow others a peek into the armholes.
This can be overcome by choosing a top with smaller armholes and broader straps, or by layering the tank top over another tight fitting top. In addition, choosing the right type of bra makes it easy to keep a tank top modest. A variety of options are available, including choosing a strapless, multiway, or colour co-ordinated bra. Adding a layer over the tank top effectively hides bra straps and covers generously cut armholes.
Although tank tops are seen as casual clothing items, they can be dressed up for wearing to the office or at night. This can be achieved by adding layers and accessories, or by coupling them with more formal items like conservatively cut skirts, trousers, jackets, or blazers. Slinky or silky fabrics and embellished tops generally give an outfit a more formal look. A range of tank tops suited to the office or a lazy summer's day is available from eBay sellers.