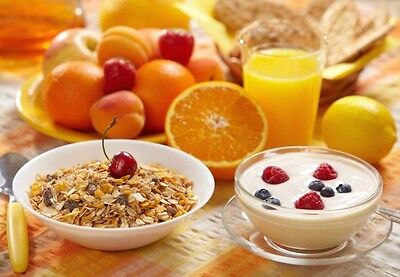 Your healthy breakfast could be packed with sugar and you might not even know!
Juices – the healthiest many fruits and vegetables lie in their skin and the amount of fibre, but this can all get lost whilst juicing. A study at the University of Glasgow compared the amount of sugar in a glass of juice to that in a can of fizzy pop!
Cereal – A study done by the Environmental Working Group found that 54 of the 84 cereals studied contained more than 24-26% sugar. Even many perceived "healthy" cereals contained more than 15g of sugar per serving.
Instant porridge – porridge can be healthy if you make it from scratch, but many instant porridges contain far too much sugar. Quaker Oatmeal Express Cinnamon Roll contains 17g per serving!
Tinned fruit – even when it's in a "light syrup", most packaged fruit such as peaches, mandarins, cherries and pears contain more than 17g of sugar per serving.
Smoothies – opt for homemade smoothies, as even a small smoothie in some juice & smoothie bars can contain 50-70g of sugar
Muffins – most packaged muffins contain at least 15g of sugar, and some even contain more than 32g.
Protein bars – many of these contains almost the same ingredients as normal chocolate bars, but with added protein. Most contain more than 20g of sugar!