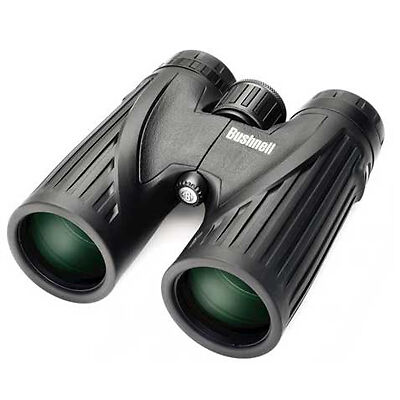 Binoculars are a multipurpose piece of kit that can be used for a number of hobbies such as bird watching, wildlife watching, plane spotting or train spotting. They are very popular because they are light, easy to carry, simple to use and are generally not too expensive. There are a huge range of different binoculars on the market at any one time and it can often be hard for a prospective purchaser to decide which is the right pair of binoculars for them.
What to Look For When Buying a Binoculars
Binoculars are a technical piece of equipment and it is important to ensure that the right type of binoculars are bought for the buyer's hobby.
Here are some of the key features that buyers should be considering when looking at the many different types of binoculars available today.
Types of Binoculars
There are two standard kinds of binoculars - roof prism and porro prism. The difference between the two is down to how the prisms within the binoculars channel the light to the viewer's eyes. Roof prism binoculars have the eyepiece and the binocular tube in a straight line with one another and the two tubes and joined by a 'bridge', giving the overall set-up and 'H' shaped design. Conversely, in porro prism units, the eyepiece and lens are not in line and are instead offset, giving the binoculars an 'M' shape. Roof prism binoculars tend to be smaller and more compact that porro prism models.
Size
Binoculars come in all sizes, from models designed to fit comfortably in a coat pocket, to models that need to be carried in a bag. Buyers should think carefully about how and where they are going to use the binoculars before deciding on which size to buy. If they are to be carried on long walks, then a smaller, lighter pair is probably more appropriate. If, however, the buyer is wanting something to use in a more stationary setting, such as a wildlife hide, then a larger pair might be more suitable.
Magnification and Objective Lens Diameter
All binoculars come with two numbers shown on the case - these relate to the magnification power and the objective lens diameter. The magnification number shows how many times larger the image seen through the binoculars will appear when compared with same item viewed with the naked eye. So, for someone looking through a set of binoculars with a magnification of 10, any object will seem 10 times closer than it does to a person standing next to them without binoculars.

The objective lens diameter relates to the physical size of the lens at the bottom of the binoculars. The bigger the lens, the more light gets in and therefore the brighter the image is when viewed through the binoculars. Both of these numbers have a large impact on the performance of the binoculars.

Buyers should think carefully about what they will be using the binoculars to look at - birdwatchers and wildlife enthusiasts may be more interested in higher magnification, but be careful not to go for too high a magnification figure as the image will be less bright and will have a smaller field of view.
Field of View
The field of view is basically the area that can be see through the binoculars. A general rule of thumb is that the higher the magnification, the smaller the field of view, but the field of view can also be affected by the design of individual binoculars. Most binocular specifications will have information relating to the field of view, usually telling the width of area that is in view at a set distance from where the user is standing. A wide field of view is particularly useful for bird and wildlife watching.
Waterproof or Not
It is possible to buy waterproof binoculars. If the buyer is intending on spending a lot of time outside in all seasons, then it is worth at least considering whether waterproof options might be a sensible buy. Rain can damage ordinary binoculars and they can be expensive to replace.
Price
As with most specialist technical equipment, prices for binoculars can vary hugely. However, there are options in every price bracket and so once a buyer has established what their budget is, it should be easy to find a wide range of options within that price band. As with any specialist piece of equipment, performance and reliability tend to increase as the price does and it is often worth stretching the budget to buy the best model available.
Accessories
There are a number of accessories that buyers can also think about when considering a purchase of binoculars. Firstly, for a buyer intending to watch birds or other wildlife, then a tripod is an excellent option that will eliminate any problems with shaky hands. Also, larger bags or cases are available to carry not only the binoculars, but cameras and other equipment too. It is also possible to buy rain covers, clips for keeping the lens caps attached to the binoculars when they are removed for use, and alternative comfort models of neck straps.
How to Buy Binoculars
Binoculars are generally thought of as a technical piece of equipment and, therefore, it will be rare to find anything other than very basic models for sale in standard high street shops. However, catalogue shops and larger department stores may have a small range in stock. Purchasers may wish to consider visiting a specialist retailer to seek advice on which binoculars or features are best for their requirements,

Alternatively, look at any number of specialist binocular retailers online. Binoculars are also available for sale on sites like sites like eBay.
Finding Binoculars for Sale on eBay
Binoculars are generally found within the Cameras and Photography section. To find it, select All Categories from the list shown on the left of the page and go on to select Cameras and Photography. Then select Telescopes and Binoculars, and click on Binoculars and Monoculars. This will then show all the binoculars available in this category. Alternatively, there is another category called Other Telescopes and Binoculars and it is also worth checking in here to see what else is listed for sale.

Once buyers have reached the main listings page for binoculars, they will also be able to refine their searches further by using the various options listed on the left of this page. For example, they would be able to specify that they only with to see new binoculars for sale, or perhaps search by a particular magnification.

As with any eBay purchase, it is always worthwhile looking for items that have been listed in the wrong category. Sellers occasionally get the category wrong and so items for sale occasionally pop up in unexpected categories. By doing a general search using the buyers should be able to look at examples of all binoculars for sale across eBay.
Summary
Binoculars are a very personal choice and where one set might be perfect for one person, it may be totally unsuitable for the next. Hopefully by following the hints and tips set out in this buying guide, prospective purchasers will be able to identify which features are of most importance to them and will be able to confidently pick the right set of binoculars for their activities.