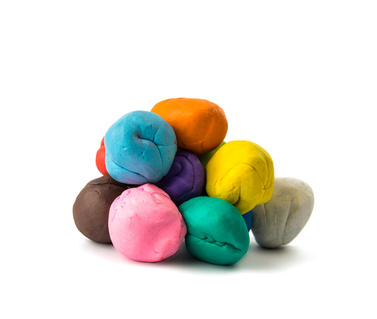 Clay modelling is a rewarding and educational activity for children aged two and up. It is beneficial to the child as it helps with sensory development and the refinement of motor skills. Clay modelling has also been highlighted as a positive tool in the building of a child's esteem and expression. It is fundamental in the development of children of all ages.
There are many types of Clay made specifically for children. Some are more suitable while others require a better level of understanding to create with. The following guide will explain the various types of clay available and how to successfully search for Clay on eBay.
What Clay Is Used For
People have used Clay as a building tool for thousands of years. The Babylonians used the material in the construction of their homes over 5,000 years ago. The earliest known examples of writing are found on Clay tablets. To this very day it is still used as a building component, and just under two thirds of the world's population live or work in a building made from it.
Clay is also an important part of the art world. The introduction of the Potter's Wheel around 4,500 years ago revolutionised the speed and control an artist had over the creative process. The Ancient Greeks created pottery and works of art from Clay. The invention of Plasticine has led to new forms of Clay available, these made with children specifically in mind. These types of Clay are quite different to their natural counterpart, and often are ready to use straight from the tin. Their popularity continues to grow.
Types of Clay
There are many different types of Clay available for children, so choosing the right one is important. Different Clays have different characteristics. Make sure that the Clay chosen will be adequate for the intended user. All Clay sets or individual pieces will come with a recommended age for use. There are four main types of Clay available on eBay, Plasticine, Polymer, Play-Doh and Air Dry Clay.
Plasticine
Invented in England in 1897 by William Harbutt.
For use at home and at school.
Oil-based clay.
Non-toxic.
Suitable for children aged three years and up.
Harder than Play-Doh, takes a while to become malleable.
Allows for much more detailed modelling than Play-Doh.
Does not air dry.
Can be found in an assortment of colours.
Cannot be hardened by firing (baked in oven).
Can stain.
Polymer
For use at home and at school.
Non-toxic but can release dangerous fumes if overheated.
Suitable for children aged three years and up.
Often contains no clay particles. Uses a liquid to achieve malleable properties.
When wetted becomes softer than Plasticine.
Easy to work with and doesn't air dry quickly.
Needs to be left overnight to dry.
Can be baked to harden.
Developed in Germany in the 1930's.
Available in many colours, including special-effect colours such as florescent, phosphorescent and translucent.
Play-Doh
For use at home and at school.
Composed of flour, water, salt, boric acid and mineral oil.
Non-toxic.
Non-stainable.
Suitable for children aged two years and up (with adult supervision).
Reusable but not indefinitely.
Inexpensive.
Soft and easy to mould.
First developed in Ohio in the 1930's as wallpaper cleaner.
Dries as it ages and loses its sticky properties.
Can be found in an assortment of colours.
Included in the Toy Industry Associations 2003 'Century of Toys list'.
More than two billion cans sold between 1955 and 2005.
Air Dry Clay
For use at home and at school but requires adult supervision.
Also known as 'Grey Clay'.
Non-toxic.
Suitable for children aged five years and up.
Hardens naturally so no need for firing.
Very easy to use.
Once dried it remains very solid.
Can be used as decorative pottery or crockery. Adding liquid to it when hardened can cause cracks and destroy it.
How to Choose Clay
It is important to take into account the below information when choosing Clay for a child. The first thing to consider is the age of the child, and if adult supervision is required. Clays such as Play-Doh and Plasticine make great additions to any child's playtime, while Air Dry Clay usually requires an adult to teach how it works. Remember,
Always check the recommended age.
The Clay's composition.
Find out if the Clay requires additional items to use it (e.g. Potter's Wheel, oven for firing).
A kiln is an oven made specifically for baking Clay. It is not advisable to use a standard oven found in kitchens, as the Clay can damage it. eBay has listings for a number of appropriate kiln, in different sizes and specifications. If thinking about buying an oven, research beforehand into the size and power that will be needed.
Buying Clay for Children On eBay
eBay offers a large selection of Clay, with many types, sizes and colours available. The more information there is about the Clay wanted, the easier it will be to find it. Extra details such as colour, composition, the company that makes it and the age it's intended for.
To search for Clay, first click on the All Categories tab located beside the search bar.
This will link to the Categories page.
Scroll down to the Toys and Games heading and click More.
Click Creative Toys and Activities to be brought to the relevant page.
Enter Clay into the search bar and press enter.
eBay also hosts a number of tools that can be used by children when creating with their Clay. However, tools relate directly to the type of Clay, e.g. a cutter is used with Play-Doh. If searching for tools, remember to check on the product page the type of clay the tool should be used with.
Clay Listings Page
This is the page that shows Clay available on eBay. There are a number of filters that can be edited to assist in the search. The table on the left contains the headings for the filters that can be controlled.
Sub-Type – This contains different types of Clay and what it can be used for.
Specific Character – There are licensed Clay products from companies such as Disney and Hello Kitty on eBay. If looking for a character, make sure to check the brand in this heading. There is also a TV/Film Character heading further below.
The Condition of the item is located below. If purchasing Plasticine or Play-Doh always check the condition as if it is well used it may no longer have malleable properties.
The Age Level will quickly filter what Clay is suitable, depending on the age of the child.
To change the number of listings of Clay shown, scroll down to the bottom of the page and click on the desired number. The number of items per page are 25/ 50/ 100/ 200.
The Sort By bar allows buyers to change how the Clay is listed. Items can be listed by highest or lowest price, their distance, condition and how long is left in the auction.
Clay Product Page
Clicking on the title of a listing for a Clay item will link to its Product Page.
The left hand side of the page contains a photo of the product, while the condition, price, postage and quantity available are on the right hand side.
A description of the Clay product is found below the photo and more details on postage can also be found here.
Seller's often post additional information or company item web pages below the item specifics box.
Business seller information is found at the bottom of the page.
If there are any questions about the Clay, or if another photo of the product is required, click on the Ask a question link.
The Seller
The Product Page also contains brief information about the seller. Their rating is displayed here and also what percentage of positive feedback they have received.
Double check the price of the Clay item new to work out if the eBay price is fair.
eBay provides a Resolution Centre to help with any problems between buyers and sellers. The Resolution Centre's page is found in the Customer Support drop menu. There is also a Customer Support page which is aimed to aid customers with any problems they may encounter on the site. Always double check this page before contacting eBay as another buyer has most likely encountered the same problem previously.
Conclusion
Although all children's Clay seems similar, there are a number of differences between them. Some types like Play-Doh are perfect to give to a child and leave them to their own play, while others like Air Dry Clay require supervision and instruction in how to use. When choosing specific Clay spend some time thinking about who it's for and what kind of activity you want them to engage in it with.
Whatever clay that is required for your circumstance of child, eBay is sure to provide one of the widest selections on the Internet. With a Buyer Protection plan established on their platform, there is no safer and more effective way to purchasing clay for children.