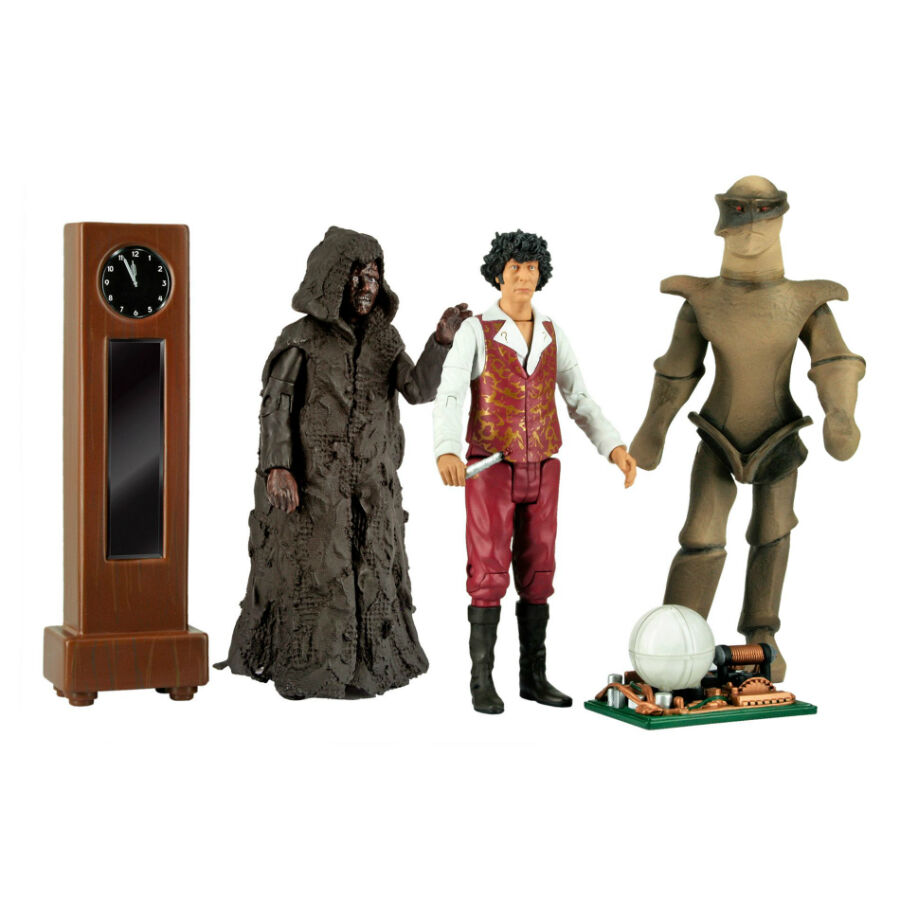 What is it that children use to play the roles of their favourite film, TV, video game, pop, sporting and cartoon characters? What allows adults to recapture the wild imagination of childhood? What can collectors on eBay buy either for pleasure or to invest in for profit? The answer is the most widely collected of all toys, the action figure.
What Is an Action Figure?
An action figure is a small scale representation of a person or fictional character which can be posed. Its origin goes back to Barbie, defined by the Oxford English Dictionary (OED) as "a doll representing a conventionally attractive young woman." Her launch by Mattel in 1959 and successful career prompted Hasbro in 1964 to come up with an equivalent for boys - GI Joe.
Like Barbie he was 11.5-inces tall, but was he also a doll? Technically, yes, but knowing boys would have no time for anything called a 'doll'; the company marketed him as an "action figure." Thus a new species entered the toy world - "a character known for vigorous action such as a soldier or superhero (OED)".
Plaything or Collectible?
Compared to the modern day, highly articulated, finely detailed, body-scan sculpts, these early GI Joes were basic but fun. Their limbs were held together with elastic bands inside, allowing the arms, legs and head to be moved, as well as enabling their uniforms to be changed.
The popularity of GI Joe and Palitoy's Action Man in the UK was confined to pre-teen boys, but the advent of Star Wars in 1977 opened up new horizons. With the huge success of the film, action figures based on the characters flew off shop shelves.
Their design made them more collectable. They were 3.75-inch in height and instead of being a single character with clothes that changed for different purposes; different sets of characters were introduced, each with their own outfits. Major shortages of particular characters soon arose, such as the Darth Vader and Han Solo figures and low production figures made for play sets such as the Cantina.
Variations in individual characters began to appear. The first Jawa had a vinyl cape, but the manufacturers soon decided that because of his reduced size they could afford a cloth cape. As a result, vinyl-cape Jawas became something to find and treasure.
Scarce figures gained resale value from fans wanting to build up a collection. Thus the collectible action figure market was born. It has grown and grown. Popular films, TV programmes and video games have followed Star Wars with ranges of action figures, for example:
Spider Man
Transformers
Dr. Who
Teenage Mutant Ninja Turtles
Halo
Harry Potter
Toy Story.
The hobby is now mainstream.
What to Look For
The collectors' market is now both massive and complex. A collector needs to have a precise idea of what to look for in order to build a coherent collection rather than a box of mismatched figures, collectively worth little. In the process of deciding on a direction, collectors need to take into account a number of factors.
Genre
This refers to the source of the originals for the action figures - for example, films, rock stars, comic book or sporting heroes. These are too general to provide a framework for collecting. Even the type of film – e.g. fantasy, horror, animation – is too broad. But a franchise such as the Spider Man or Harry Potter films gives an achievable focus.
Niche
Having decided on a genre, look for a category within it. For example, within Harry Potter it could be Quidditch players, or a set of characters such as the Weasley or Malfoy families, or a specific film such as The Chamber of Secrets.
The main objective is to find a niche tight enough to enable one to build a collection:
complete each release or series
keep costs down
give the collection consistency and build on a theme
If it proves too narrow, it can be broadened or one can move on to another chosen strand.
Condition
The golden rule for collecting action figures is never to take them "off the card", the cardboard backing on which they are enclosed in a see-through plastic bubble. Doing this devalues the figure quite a bit, although if that figure is rare enough it will still be worth a substantial amount. Because these figures should be carefully preserved and many collectors of action figures are also fans of the series from which they came, some will buy two figures - one to store and one to use in displays with other related figures, for example from the same TV programme or sports league.
Whether to buy new or second-hand is the next decision. To keep to a budget, the best bet would be to go for second-hand figures and save buying the new ones for especially attractive figures. The advantage of buying new is, of course, that the figures are in mint condition and stand the best chance of increasing in value provided they are kept carefully in a place where they will be protected from dust, temperature variations and sunlight.
Grading
Do figures which are not in gem mint condition have any long term value? That depends on just how close to mint they are. There are various scales which collectors use to assess potential buys. The Collector-Action Figures "C-Scale" runs from C10 (Mint) to C1 (Very Poor) and is very exacting. Thus to qualify for C9-10 (near mint) status the plastic bubble must be,
"clear, completely attached
no yellowing, no crushing
Minimal dents or dings if barely noticeable
No severe malformations or cracks of any size."
This example shows the degree of sophistication attained by a hobby which took off only 35 years ago.
Rarity
As with any collectible, the harder a prized action figure is to find, the more money a buyer has to pay. The range of action figures on the market can be classified as Regular, Chase, Super Chase, Variant and Custom.
Regular A regular action figure is the standard issue, bought new from a shop or online outlet with the figure pictured on the packaging. Beware of massively overproduced mass market figures, as these, even in Gem Mint Carded condition are unlikely to increase in value for a long time.
Chase A chase is a version of the regular figure which has been modified intentionally in some way by the manufacturing company, so called because its scarcity will stimulate the collecting community to chase it. The alteration can be in the clothing, pose or painting of the figure to create a special collectors' version, for example a sporting figure with helmet off, compared with the regular one with helmet on.
Super chase: This is a further modification of the chase figure produced in very limited quantities to create an artificial scarcity.
Variant A variant is a different form of the regular action figure arising from an error in the manufacturing process or because of a decision to change something in the manufacturing process. An example of an intentional variant is a Batman figure with an unmasked Bruce Wayne head. A factory error could be a Batman figure with a Superman head. Both variants can be relatively or extremely rare which can drive the price up.
Custom Customising action figures is hobby in itself, and the reward is the satisfaction it gives the person doing the customising rather than market value. For example, the James Bond franchise is poorly represented in terms of action figures, causing enthusiasts to customise Daniel Craig figures from a GI Joe original.
How Much to Pay
With a continually expanding choice of action figures in different conditions and degrees of rarity, it's easy to get carried away or confused in making a buying decision. Do not go into the action figure market without knowing the ins and outs of buying and selling. But do begin with a budget. No one wants their hobby to eat up their spare cash. Writing down a budget and sticking to it is the best way an enjoyable hobby can be affordable, too.
If an action figure is within budget, is it worth the asking price? You can get a good idea about market prices by looking at "Completed items" in the advanced search on eBay.
Where to Find Action Figures
Having decided what to buy, the next step is to find it. One of the most enjoyable parts of collecting action figures is the thrill of the chase. Somewhere out there is a good deal waiting.
Look on eBay
eBay has a huge selection of action figures to choose from. Simply type in what you are looking for on any auction site, press "search", and check the results. This is a great way to find carded figures, international figures and rare variants. Look out for people who are selling off parts of or even their entire collections. This can save a lot of time and money when starting off on a new series.
Buying Action Figures on eBay
To start shopping, go to the Sports and Leisure category. Click the Toys & Games then the Action Figures portal.
While shopping, don't forget Animals & Dinosaurs, Anime & Manga, Comic Book Heroes, Designer & Urban Vinyl, Fantasy, Historical Figures and Military & Adventure.
Categories
The Categories list on the left side of each page will help narrow down listings by item type. You'll find links for themes such as: Wrestling ,Doctor Who ,Batman, Power Rangers, Action Man and Marvel Legends .
Product Finder
Use the Action Figure Finder to quickly narrow down item listings by brand, model and condition (new or used).
Keyword Search
Search eBay listing titles for specific words. For example, if looking to find New Action Figures, type the keywords "Action Figures New" (without quotation marks) into the Search box. Click, "Search title and description" to expand the results. Visit eBay's Search Tips page for more tips on searching with keywords.
If you can't find exactly what you want, try browsing eBay Stores or tell the eBay Community what you're looking for by creating a post on Want It Now, or save a search on My eBay and eBay will email you when a matching item becomes available.
Buy Action Figures with Confidence
Make sure to know exactly what you're buying and understand how eBay and PayPal protect you.
Know the Item
Read the details in the item listing carefully.
Remember to add delivery costs to final price. If buying a high value item, check that the seller will insure it until it is delivered.
For more information, click the "Ask seller a question" button on the seller's profile or the "Ask a question" link at the bottom of the item listing page.
Always complete a transaction on eBay (with a bid, Buy it Now or Best Offer) otherwise you will not be covered by eBay Buyer Protection.
Never pay for an eBay item using an instant cash wire transfer service like Western Union or MoneyGram. These are not safe ways of paying a stranger.

Know the seller

Research the seller to feel safe and positive about every transaction.

What is the seller's Feedback rating?
How many transactions have they completed?
How many positive responses do they have?
What do buyers say in their Feedback?
Are they positive about the seller?

Most top eBay sellers operate like retail shops and have a returns policy.

Do they offer a money-back guarantee?
What are their terms and conditions?

Buyer Protection

In the very unlikely event that you do not receive your item or it is not as described, eBay Buyer Protection covers your purchase price plus original delivery cost.