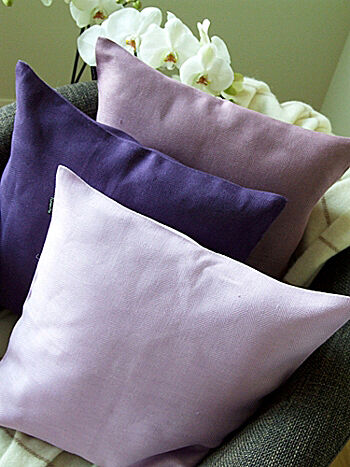 Cushions and cushion covers are an affordable and convenient way to change the look of a house in a jiffy. With these cushion covers, it makes redecorating simple, and the home can be restyled each season to reflect the changes in fashion and nature. It also makes customising old furniture easy as new life can be put into old furniture without necessarily having to spend a bomb. With a simple mix and match, cushion covers can rejuvenate the way a room appears and feels. Cushion covers are easy to maintain, as they can be hand- or machine-washed, depending on the type of fabric they are made from.
Points to Consider When Buying Cushion Covers
When buying cushion covers for home or for an office setup, there are a few aspects or cushion cover traits such as the fabric, usage, pattern, removal, cleaning, and style that need to be given careful thought.
Fabric
Cushion covers are made from a variety of fabrics, such as silk, velvet, polyester, cotton, suede, jute, chenille, and leather. Cushion cover prices depend on the type of fabric used, as some of them, such as silk, velvet, leather, and chenille, are quite expensive. So, if looking for luxury cushion covers, then look for cushion covers made from these expensive materials. On the other hand, covers made from cotton and polyester will be more affordable and they also tend to be increasingly durable and long-lasting. Therefore, such covers are ideal for everyday use and would help add some elegance to a room without much ado.
Usage
There is no set place for cushions in the home, and indeed, they are a fitting addition to most rooms, even outdoors. Indoor cushion covers are meant for bedrooms, living room, dining room, study, and playroom, while outdoor cushion covers are right for furniture used besides the pool or kept on the patio. In fact, cushion covers for outdoor use are not only decorative to look at, they also are waterproof and protect the cushions from any damage if they get wet.
Pattern
When shopping for cushion covers, the wide variety of patterns available may seem somewhat overwhelming. Some covers could be embroidered and handmade, while others could be printed. The former covers are usually expensive and made from materials, such as silk and taffeta; while the latter covers are meant for everyday use and will look simple and yet elegant. It also pays off to look at dyed and batik covers as these also make nice additions. The numerous patterns available can be used to give each room a different appearance and ambience.
Removal
Consider the removal of cushion covers. It is important to be able to remove them for cleaning and maintenance. Some covers have a zipper at the back, while others are envelope type covers.
| | |
| --- | --- |
| Zippers | If buyers are opting for zippers, they should ensure that the zippers are hidden under a rolled piping so that they cannot be seen. Furthermore, the zipper should be of good quality and must be compatible for usage with upholstery and soft furnishings. |
| Envelope | Usually, envelope cushion covers are used for floor and scatter cushions. One edge of the cover folds over the other and, as a result, the opening is discretely hidden. These covers are more convenient, as there is no worry about the zipper getting snapped abruptly and they are also easy to remove. |
Cleaning
Many cushion covers come with cleaning restrictions. Remember to check the tag on the cover to find out how the cushion covers can be cleaned. If the tag has a 'W', it means that the cushion cover can be washed with water. An 'S' tag means that the cover can be cleaned using dry cleaning solvents. And if both letters are present, then both methods of cleaning can be used. Usually, the fabric determines the cleaning method, as silk, velvet, suede, and leather cushion covers cannot be washed with water and will have to be dry-cleaned to prevent damage to the fabric. The same also holds true for covers that have beading, embroidery and other delicate embellishments.
Size
It goes without saying that the size of the cushion covers should be as per the size of the cushion or throw pillows. Make sure that the cushions are measured before embarking on a cushion cover hunt. This is especially important if buying cushion covers online.
Style
Cushion covers are available in a wide variety of styles. Some have embroidery or designs woven into them, while others have floral prints and geometric designs. Furthermore, cushion covers also come with beads, tassels, ruffles, and trimmings. Some of the styles that buyers can choose from include the following:
| Style | Description |
| --- | --- |
| Vintage | A vintage looking cushion cover can give a room a retro appearance. They are eclectic and can be made from non-matching fabrics. Such covers can give the room a cosy and informal appearance. |
| Ruffled | Covers can have ruffles along the edges or on any other part of the cushion cover. The ruffles can run into multiple layers. If buying covers with ruffles, carefully double check that the ruffles are cut and sewn properly so that they blend with the rest of the cover. |
| Modern | Such cushion covers are made from vibrant and bold fabric patterns and have no embellishments. They look chic and very clean, and can make a room appear elegant and streamlined. |
| Bohemian | As the name suggests, these covers come with an array of embellishments, such as patches, beading, and ruffles. They can be made with two or more fabrics and give a room a funky and fun-loving air. They are usually bright in colour and can make a dull room look vivid and colourful. |
Quality
Before purchasing cushion covers, consider the quality of the fabric as well as its stitching. If the quality of the fabric is good, there will not be any problems of shrinkage or bleeding of colours after washing. Also, the quality of the stitching will determine the longevity and durability of the covers.
Price
Price is an important factor that should be considered when shopping for cushion covers. The price of cushion covers is determined by the fabric used, and the amount of embellishment and adornments. A simple, printed cotton cushion will definitely be cheaper than a silk cover with ruffles. It is best to look at different sources and then buy from the place that offers high quality and reasonably priced cushion covers. One of the places to look and find affordably priced cushion covers is eBay.
Buying Cushion Covers On eBay
eBay is a blessing for people looking for affordable and quality cushion covers. One of the biggest advantages of using eBay is that it is easy get in touch with authorised sellers. To find cushion covers, there are a number of ways to go about this. When clicking on Home & Garden and Home & Garden again from the category links on the home page, cushion covers can be searched for by room. By clicking on the Furniture & Living tab, a number of other options are brought up, from which the cushion covers can be found determined by their use. Alternatively, 'cushion covers' can be typed in as a search term into eBay's search function.
Conclusion
Buying cushion covers is a wonderful way to enhance the look and ambience of a room. Using bold and vibrant colours can make a dull room look lively and energetic, while elegant covers can add some sophistication and style to a room. Using eBay as a source to buy cushion covers makes financial sense, as not only can buyers be assured of quality covers and competitive prices, they are protected by the eBay guarantee as well. Furthermore, the wide range of selection ensures the exact type of covers searched for will be found.