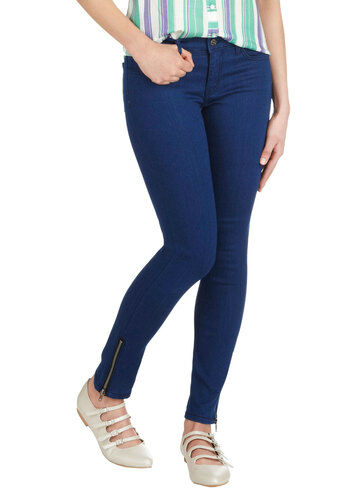 Jeans are a universal item and an article of clothing that almost every woman has in her closet. Jeans can be worn daily as a casual item, or they may be dressed up for a night on the town, making them one of the most useful and dynamic pieces in a woman's wardrobe. Of course, finding jeans that flatter a woman's figure is key and something that can stymie even the most savvy consumer. Plus, with the range of styles and jean types on the market, a woman can easily get overwhelmed by the number of options to choose from. However, the process can be made easier by following some general guidelines that can help a woman find a flattering pair of jeans. It also helps to be aware of the different types of jeans available in the marketplace, from the skinny jeans to the low-rise and the boot cut jeans. Self assessment and taking into consideration the aspects of one's figure can help a woman locate the pair of jeans that accentuates her body. Although jeans are ubiquitous and available in mainstream shops, one may find the ideal pair of jeans by shopping online at eBay.
General Tips for Finding Flattering Jeans
Women can keep in mind some helpful hints when looking for jeans. These tips cover issues such as material, colour, and the decorative accents found in jeans.
Pay Attention to Stretch and Material
The right give in a pair of jeans can make the difference between a good fit and a not-so-good fit. Women with fuller thighs, hips, and bottoms should look for jeans with a bit of stretch. Too much stretch, on the other hand, as in a pair of jeggings, can create an unflattering, "squeezed in" look. Women should look for a pair of jeans with just enough stretch to give room for their curves without creating a jegging effect.
Select the Right Wash
Many jeans nowadays can feature wash accents on certain areas, especially around the thighs. These jeans may have an overall dark wash that fades to a lighter wash right at the widest part of a woman's leg, creating an unflattering optical illusion that makes the leg look even broader than it is. Only women with very straight frames should try this style. In general, dark, solid washes on a pair of jeans are more flattering on women with wider figures.
Be Selective with Detailing
Just as with a wash accent, an ill-placed bit of detailing on jeans can draw attention to certain areas. Women who are self-conscious about their bottoms, for example, might not want a pair of jeans with jewelled accents on the back pockets. Many jeans feature distressed effects or tucks at the hip area or the top of the thigh, and this is yet another way to draw attention to an area a woman might want to minimise. Women should pay special mind to selecting jeans that do not leverage a style accent that may end up turning a flattering pair of jeans into an unattractive option.
Consider Tailoring
No one ever said that off-the-rack clothing needs to fit perfectly every time. Many women still use tailoring as an effective way to turn almost-perfect jeans into a perfect fit. Petite women might use a tailor to shorten a pant leg in jeans that are too long but otherwise ideal, while a woman with full hips and a small waist might buy a size up to accommodate her hips and then have the waist tucked in by a tailor. There are many tailoring options women can consider when it comes to perfecting a fit with jeans, and women should keep this in mind as an option when shopping for jeans that can flatter the figure.
Know the Main Types of Jeans on the Market
There are several types of jeans on the market that define modern jean style and are prevalent in fashion. An awareness of the differences among the types of jeans can translate into a pair of jeans that offers a great fit for a woman.
Skinny Jeans
Skinny jeans are close-fitting jeans with a narrow bottom that fit very much like a pair of leggings. These au courant options are skin-tight and difficult for many body types to wear. When used correctly, however, skinny jeans can create one of the most modern looks.
Boot Cut Jeans
Boot cut jeans are slim cut, straight-leg jeans with a very slight widening at the bottom to accommodate boots. While, of course, not always worn with boots, these jeans are a generally flattering option that can lengthen the leg and create balance.
Trouser Cut Jeans
Trouser cut jeans are denim pants cut to mimic the flow and line of a trouser pant. These types of jeans can feature traditional, heavier denims or lighter constructions that are closer to a trouser material. The wide legs and looser fit of these jeans make them a great option for many women.
Low-Rise Jeans
Low-rise jeans feature a very low waistline that can typically sit just above a woman's lower back. These jeans can be very daring and should be worn with caution. They can reveal a good deal of skin and may fall below the underwear line by accident.
Coloured Jeans
One of the most recent upsurges in jean styles has come from coloured jeans. These brightly hued options come in a number of bold colours and can make a dynamic style piece in an ensemble. Coloured jeans can emphasise a woman's lower half and, as such, should be worn by women who are not afraid to accentuate their legs and bottom.
The Flattering Jean Style for Each Body Type
Different silhouettes and cuts go best with certain body types when it comes to jeans. The following chart elucidates the best options for each body type and also lists the options to be avoided.
| Body Type | Do Wear | Don't Wear |
| --- | --- | --- |
| Petite | Skinny jeans, boot-cut jeans | Bell-bottoms, wide-leg jeans |
| Tall | Skinny jeans, boot-cut jeans with extra-long inseam | High-waisted jeans |
| Flat Bottom | Jeans with detailing on the pocket | High-waisted jeans |
| Full Bottom | Jeans with undetailed pockets that are not too big | Jeans with detailed pockets |
| Thick Waist or Love Handles | Mid-rise jeans | Low-rise jeans |
| Larger Thighs | Trouser cut jeans, straight-cut jeans | Skinny jeans |
| Skinny or Athletic | Coloured jeans, jeans with distressed accents to create curves | High-waisted jeans |
A woman shopping for jeans can easily find a flattering pair by taking her body type into account and then cross-referencing it with the chart above. These subtle techniques can help mask problem areas while also accenting the attractive elements of a woman's figure.
Shopping for Flattering Jeans
Given the ubiquity of jeans, women can find options at many offline, local retailers. However, local shop buyers are often limited in what they put on the rack by seasonal trends. In a season that demands distressed jeans, women may only find distressed choices on the local racks, and this can be an unflattering look for many women. On the other hand, an online auction site such as eBay offers a more extensive catalogue of jeans.
Buying Flattering Jeans on eBay
As a fashion aggregator, eBay offers a number of jean styles with a wide variety of detailing and accents as well. To begin searching for jeans on the website, you can start by entering a search term in the search bar located on any page on the site. To get an overall view of what is available, consider using a general term such as "women's jeans". If you already have a specific style in mind, use a narrower search term, such as "women's dark wash skinny jeans&". The site also offers related search suggestions when you run a search, and the suggestions may help you refine your listings.
When shopping on eBay for an item, it is important to take the time to get to know the sellers you want to purchase from. You can do this by looking through past auctions and also by the feedback the sellers have received from other customers. This adds a layer of confidence to your buying process on eBay.
Conclusion
Finding the pair of jeans that is ideal for a woman's figure does not need to be a complicated process. By taking the time to get to know the style options available, and by using some of the helpful tips in this guide, a woman can begin perusing the marketplace for jeans that are sure to complement her body type and sense of style. While local, offline retailers may have some options that can help in this search, a wide and diverse collection of women's jeans can be found on the online auction site, eBay. On this website, women may browse through a number of listings ranging from wide leg jeans and skinny jeans to dark washes and mixed washes and even classic bell-bottoms, if need be. By leveraging the power of the far-ranging jean catalogue and by taking the time to get to know the sellers on the website, a woman can use eBay to add that pair of flattering jeans to her closet in no time at all.