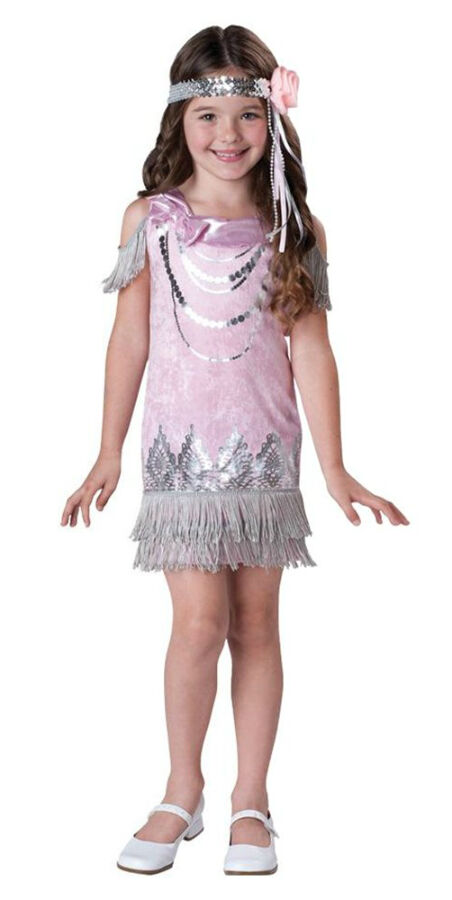 Wearing a fancy dress costume for Halloween or a masquerade event can be a fun and creative experience for parents and girls alike. Even outside of Halloween, fancy dress costumes can be a great way for young girls to role play and engage their imaginations. With the diverse range of options in the market, girls and their parents can explore many different, unique takes on fancy dress costumes and find a choice that exactly reflects a girl's personality.
While offline retailers and fancy dress shops may have varying selections of items, an online retailer such as eBay is among the larger and more comprehensive resources for finding girls' fancy dress costumes. On eBay, individuals can peruse endless scores of fancy dress costumes, accessing everything from classic Halloween looks to the latest trends. In addition to offering information about the various categories of fancy dress costumes available, this guide also provides tips that can make the purchasing process easier when looking for fancy dress costumes on eBay.
Searching for Girls' Fancy Dress Costumes on eBay
One can search for a girls' fancy dress costume on eBay in many ways. A basic method is to run a search via the search bar found at the top of any page on the site. A general search term such as "girls fancy dress costume" can give you an idea of the overall range of options available. This search also pulls up a number of related searches that can help narrow a search for a costume. You can also use a specific term if you have a certain costume in mind.
Of course, to make a decision on a particular costume it can help to have a clear understanding of the range of fancy dress costumes that are available for girls. The following section covers some of the more popular options of girls' fancy dress costumes that can be found on eBay.
Types of Girls' Fancy Dress Costumes
The enormous range of fancy dress items available for girls on eBay can provide a feasible costume solution that can please not only a child but also her parents. With choices from storybook classics to the latest Disney princess, there is an ideal fancy dress costume that is suitable for any girl.
Animated Princess Costumes
Among the more popular and ubiquitous fancy dress costumes for girls are ones that relate to animated characters. Many girls are especially keen to dress up like princess characters from animated movies, and parents can find an enormous number of options in this category. These costumes usually deliver a good deal of coverage, making them ideal for parents who may be concerned about modesty and cold weather. The costumes also often feature accessory items, such as a crown or a wand.
Classic Halloween Characters
Another popular choice are fancy dress costumes that come from the classic, spooky world of Halloween. These types of options can allow a girl to play a witch, for example, or a vampire. This subset of girls' fancy dress costumes does not have to be terrifying or frightening for a child; in fact, many of the options available are cute and accessible. For the child who likes to indulge in a bit more of a spook factor, there are more dramatic options as well.
Storybook Characters
Every girl dreams about being a character from a fairytale or storybook. With the wide range of storybook character costumes out there, any girl can dress up as the character of her choice. Classic characters such as Goldilocks or even Dorothy from the Wizard of Oz are choices that engage a girl's imagination and give her a quaint way to enjoy her Halloween party or masquerade. These classic choices can also satisfy the comfort level of the more conservative mother or father.
Superhero Costumes
Of course, for every girl who wants to be a princess out of a storybook there are plenty of girls who would love to be a superhero. Classic super heroes such as Wonder Woman, Spider Girl, and Bat Girl give young girls a dynamic way to role play and manifest an imaginative world. Some of these costume options can be cut a bit shorter, so parents may wish to pair them with tights if the weather is particularly cold or wet.
Animal Costumes
For the animal lover who loves her pets and visiting the farm, animal costumes are another fun and creative option. Girls can leverage anything from a puppy costume to a duck costume to role play as her favourite animal. These fancy dress costumes also make plenty of parents happy come Halloween, since they can be full-bodied and plush, providing added warmth during trick or treating.
Historical Costumes
Girls who are engaged by history or stories from the past might like to dress up as an historical character or figure with a fancy dress costume. These options can range across millennia and can include such choices as an Ancient Greek or Roman, a Viking, or an Edwardian girl. Parents might like to use this type of fancy dress to engage their child in a fun way to learn about a certain era through role playing and imaginative games.
Getting the Right Size in Girls' Fancy Dress Costumes
When selecting and purchasing a girls' fancy dress costume, it is important to get the size correct. Fancy dress costumes are typically sized in age ranges, much like girls' clothing. However, the age ranges may be wider to accommodate more age groups. For example, while girls' clothing might have two separate size categories for girls aged 8 to 9 and girls aged 9 to 10, fancy dress costumes might place both size ranges together in one size for ages 8 to 10.
When looking for fancy dress costumes on eBay, a parent can verify the sizing with an individual seller. The parent can also use the following general size charts as reference when perusing listings:
| Age Group | 4-6 Years | 6-8 Years | 8 to 10 Years | 10 to 12 Years |
| --- | --- | --- | --- | --- |
| Height (cm) | 110 - 116 | 122-128 | 134-140 | 146-152 |
| Chest (cm) | 58-61 | 63-66 | 69-72 | 75-78 |
| Waist (cm) | 55-56 | 57-58 | 60-62 | 63-64 |
By carefully taking a child's measurements and then cross-referencing them with this chart, a parent can get a general idea of the right fit of fancy dress costume for a girl. It is important to remember, however, that sizes can change from manufacturer to manufacturer, so sizes should be verified with sellers.
Tips for Wearing a Girls' Fancy Dress Costume
Parents who are taking their children trick or treating or to a masquerade or party should keep a few practical suggestions in mind when allowing girls to dress up in their fancy dress costumes. Given how cold October can be, Halloween costumes should be ported with layers underneath. Thermal undergarments can provide added warmth without disturbing the lines of a costume. Parents might also consider convincing their child to wear practical shoes, even if she is wearing the most splendid princess costume. After all, Halloween or a party can involve standing and walking for extensive periods of time, and the child should be comfortable.
The Buying Process on eBay
Once a parent and child have decided on the type of girls' fancy dress costume they are interested in buying, they can run a search for it on eBay and begin perusing individual listings in detail. If a listing catches your eye, click on its title to get to its detailed information page. On the listing's page, you can find crucial information such as a seller's payment methods, shipping costs, and shipping times.
You can also access the seller's page by clicking on the seller's name. Getting to know your seller is yet another crucial element of the eBay buying process, and one that can greatly improve your experience.
Evaluating Sellers on eBay
On a seller's page on eBay, you will find important details about the seller, such as the reviews and feedback received from customers the seller has sold to before. You should look through a seller's past auctions, review all feedback, and ask any questions that you feel need to be answered before choosing to go with a vendor. In this way, you can help ensure the quality of your shopping experience on eBay.
Conclusion
Girls' fancy dress costumes can provide young girls with an imaginative and multifaceted way to explore new worlds and narratives. Worn on Halloween or to a masquerade, these creative costumes also have a place in everyday life as girls begin to delve into their own imaginations through role playing and storytelling. Parents can look in local retail shops for a limited selection of fancy dress costumes or leverage the unprecedented power of the online auction site, eBay. On this website, parents can find almost any fancy dress costume their child can imagine, from the classic to the quaint to the historical. Parents can ensure a quality buying experience on eBay by carefully researching their options, looking for the perfect fit, and then reviewing the sellers from whom they want to purchase fancy dress costumes. With its considerable number of listings, eBay makes it easy for parents to find just the right kind of fancy dress costumes that their little girls have been dreaming about.