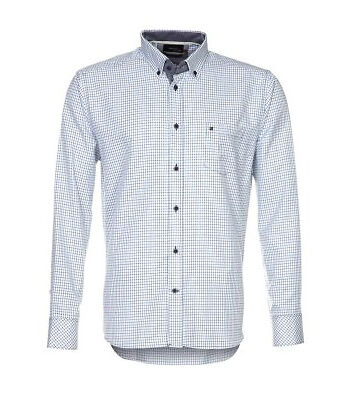 Whether dressing for an evening at the theatre in London's West End or suiting up for business in The City, a man needs to be dressed for the occasion. When that occasion calls for both formality and style, a formal shirt is an important piece of a man's attire. The men's formal shirt buttons up the front and features a collar and long sleeves. The collar should close in a way that looks good with a tie. There are numerous options as far as fashions and fits go, which can make buying men's formal shirts a little complicated.
This guide simplifies the process of buying men's formal shirts by describing the different styles, materials, patterns, colours, cuffs, and fits available for men's dress shirts. It also points out what sorts of occasions these features are most appropriate for and it provides a few fashion pointers. This guide also instructs users on how to buy men's formal shirts on eBay. The site has shirts to suit every fashion sensibility and knowing what to look for will help men make successful purchases.
Fashion
There are many fashion points to consider when buying men's formal shirts. The most salient of these is the style of the shirt as determined by its collar, the material from which the shirt is made, the patterns and colours the shirt features, and the type of cuffs it has.
Style
The collar largely determines the style of men's formal shirts. This section describes the three main types of collars, the point, the spread, and the button-down, and the lesser-known pin and tab collars.
Point
The point collar is perhaps the most widespread type of collar on men's formal shirts. The collar turns down and the points aim towards the man's abdomen. The points are relatively close together and can sometimes partially obscure the knot on a tie. They also vary in length, with longer points making the whole shirt more prominent and shorter points making it more subtle.
Spread
The spread collar is a turn-down collar that points outwards, more towards the shoulders, though not quite that far outwards. This type of collar is ideal for men who favour larger knots on their ties since the spread collar leaves more space around the top button than the point collar does. The amount of spread can vary, with wider spreads generally being better suited to wider bodies.
Button-Down
The button-down collar is named so because the points of the collar button down instead of turning down to the body of the shirt. These collars provide a more casual look and though they can be worn with a tie, they are usually not. Those wearing button-down formal shirts should be sure to fasten the collar points to their designated buttons. Leaving them unbuttoned is not a desirable look.
Pin and Tab
Far fewer men's formal shirts employ pin or tab collars than the other styles described above. Pin and tab collars are both designed to give prominence to a tie's knot. A pin collar has holes in each collar point into which a pin is inserted. A tab collar has a piece of fabric that joins the collar points. The tie's knot rests on either the pin or the tab, pushing it forward to make it more noticeable. Neither pin nor tab collars should be worn without a tie.
Material
This section highlights the different materials used in men's formal shirts and the pros and cons of each. These materials include cotton, polyester, and silk.
Cotton
There are a few choices for men's formal shirt materials, but cotton is by far the most common one. It is soft, breathable, and durable, making it ideal for formal wear. Variations in the weaves of cotton threads affect the quality of the shirt and the Quality Points section below discusses this in greater detail.
Polyester
Polyester is another common material in men's formal shirts. The shirt may use polyester entirely, though most that contain polyester employ a cotton/polyester blend. This material is inexpensive and it can be wrinkle and stain-resistant, which are both popular features for formal shirts worn frequently in the office.
Silk
Some men's formal shirts are made from silk. This material is extraordinarily soft and smooth, and it can also have an attention-grabbing light sheen to it. Silk tends to be very delicate, so men's formal shirts made from silk are not meant to be worn frequently as they generally require special care.
Pattern
Men's formal shirts can come in a wide variety of patterns, but the three that are most common are solid, striped, and checked. This section describes these patterns, including some of the situations in which they are appropriate. Other patterns besides these three are generally reserved for wearing at night at fashionable bars and nightclubs, though herringbone is a subtle pattern also suitable for business wear.
Solid
Solid men's formal shirts do not have a pattern. They are a single colour, with white and blue being the two most popular options. These colours tend to go very well with blacks, greys, and dark blues in business suits. Pink can be a very eye-catching colour for a men's formal shirt, though it is more appropriate for celebratory occasions such as weddings, rather than business situations.
Striped
Striped shirts are usually two, or three-toned, with white being a common base colour and the stripes accenting the shirt. The stripes can be one, or two-toned, with the latter usually featuring borders along each side of the stripe. Striped formal shirts are more casual than solid formal shirts, but they are still appropriate for many business situations.
Checked
A checked pattern features thin, horizontal and vertical stripes that form evenly-sized squares on the shirt. This pattern is the most casual of the three described here and it is well-suited for offices with business-casual dress codes. Checked men's formal dress shirts are out of their element in situations that call for more formal wear.
Colour
Men's formal shirts come in a wide variety of different colours. Blues are very versatile because they cover a broad swath of the formalities spectrum, and almost every man looks good in blue no matter what his features are. White is another common colour, though it can wash out men who have very fair skin and hair. Other colours, such as reds and greens, may not be suitable for very formal occasions, but can make a man more noticeable at celebrations.
Cuffs
There are two main styles of cuffs on men's formal shirts: button cuffs and French cuffs. The former are more common and feature a flap that folds over another flap and buttons down onto it. The latter are double cuffs that are folded back over the sleeves. They do not have buttons; rather, they have cufflinks that join the cuff flaps once the insides of the flaps have been pressed together. French cuffs add a dash of flair to men's formal shirts, making them appropriate for more formal situations.
Fit
The fashion features of a men's formal shirt are one main aspect of how the shirt looks when worn. The other main aspect is the fit. Men's formal shirts come in a variety of shapes and sizes, as do men. Most shirt designers try to make shirts that fit most men, but they do, on occasion, combine different collar, chest, and sleeve sizes. It is therefore important to accurately measure the neck, chest and sleeve/overarm sizes to determine which combination of sizes provides the best fit.
The table below displays neck, chest, and sleeve length measurements that correspond to different men's formal shirt sizes.
| Size | Neck (in centimetres) | Chest (in centimetres) | Sleeve (in centimetres) |
| --- | --- | --- | --- |
| XS | 38 | 86.5-91.5 | 64 |
| S | 39.5 | 91.5-96.5 | 64.5 |
| M | 41 | 95.6-101 | 65 |
| L | 42.5 | 101-106.5 | 65.5 |
| XL | 44 | 106.5-111.5 | 65.5 |
| XXL | 45 | 111.5-116.5 | 66 |
These measurements serve as a general guide and can vary from manufacturer to manufacturer. It is advisable to consult the eBay seller as to whether a particular men's formal shirt fits true to size. There are also many men's formal shirts on eBay that feature slim fits through the chest and/or longer sleeves. These variations help men fit shirts for which they may be in two different size categories, though the neck circumference is the first determinant for size.
Quality Points
There are a few different features of men's formal shirts that can help buyers determine the quality of the shirts. One is the weave of the material. An Oxford weave uses thick and thin cotton threads which give the shirt a pleasing textured look. Two-fold cotton shirts have two cotton threads twisted together to make the material more dense without sacrificing softness. Men's formal shirts with single-needle stitching have a single row of stitching along each seam and each seam is double stitched. This is a superior way of stitching the shirt to using a double-needle stitch.
How to Buy Men's Formal Shirts on eBay
There is a wide range of men's formal shirts for sale on eBay, encompassing the different fashion features and sizes described in this guide. It is easy to search the site to find the right combination of styles, materials, patterns, colours, cuffs, and fit to suit you. To find the perfect men's formal shirt for you, go to the eBay home page and enter the term "men's formal shirts" into the search bar and click Search. This will bring up all the men's formal shirts for sale on eBay. The list will be quite extensive, so you may be better off performing a more targeted search. To do this, simply add feature terms to your search phrase. If you are looking for a medium blue-striped shirt, use the search phrase "men's formal shirts medium blue stripes". This should pull up a more refined list of just the shirts you are looking for. Alternately, you can perform a general search to include all of the men's formal shirts on eBay and then use filters to drill down to shirts by certain brands or with the features and fit you want. i.e. "Ted Baker formal shirt".
Conclusion
The clothes make the man and men's formal shirts play a big part in this process. When a suit jacket or sport coat comes off, the formal shirt takes centre stage, framing a man's figure and helping to determine where attention is drawn. Because men's formal shirts are such prominent pieces of attire, a man should pay attention to the details of a shirt. Variations in collar styles, materials, patterns, colour, cuffs, and fit can make a shirt either just right for the occasion or inappropriate. They also determine how a man looks in the shirt. A man takes these considerations lightly at his own risk, but paying close attention to them helps a man garner respect from his peers. This guide has covered the different fashion features available in men's formal shirts and detailed the process of finding the right fit in order to help men purchase formal shirts in which they will look and feel great. They can find a broad selection of formal shirts on eBay and knowing how to search the site will help them acquire the shirts they are looking for.