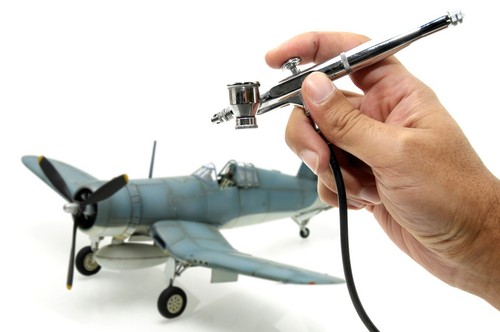 Model kits are considered a creative way for hobbyists and automotive enthusiasts to spend their time. From arranging and assembling basic replicas to constructing models that contain detailed moving parts. Kits produced by official automobile brands partners allow people to construct famous cars, boats, helicopters and planes to scale.
Plastic model kits first gained popularity in the 1930s as they were used as a marketing tool for high-end car dealers. As time progressed models became more sophisticated, incorporating die-cast metal as well as metal frames. Plastic parts still remained the core focus of the kits even through such innovation. eBay provides a different variety of models to customers with everything from cars to tanks available for purchase.
Types of Model Kits
Model kits come in a variety of types with the most popular being as forms of transport.
Cars
Military Vehicles
Boats
Helicopters
Planes
Motorbikes
The above models kits aim to replicate the original item to scale. In doing so they carry all the same details you would usually find on full-scale versions. Some model kits (specifically cars) contain a scale version of the mechanics and motor used to add a sense of realism to the finished product.
Choosing a Model Kit
Kits come in different forms of complexity and style. Selecting the right kit is dependent on the hobbyist's age and skill level. Beginner kits require the construction of models that contain larger and less intricate parts. Advanced kits contain smaller pieces and require a certain degree of patience to navigate. These kits may also require more time and mechanical skill, as they have been known to take several hours to complete.
Skill Levels
Determining skill level will help decide what model kits are suitable for purchase. On the box, each kit has one of the following numbers along with an age range. The use of working parts and materials is limited at level 1. Moving and mechanical parts are commonplace at level 5.
Level 1 – Kits of this level are for ages 8+ and contain parts that snap together thus no adhesive is required. Shapes are basic and kits contain little to no moving parts. They also feature vinyl and paper stickers instead of paint.
Level 2 – Interlocking and snap parts are usually found in kits of this type while small amounts of adhesive may be required. For ages 8 to 10 and constructed of decal central sturdy molded plastic.
Level 3 – Aimed at those twelve years and over and a step up from level 2, requires glue to hold pieces together. Featuring heavy die-cast molded plastic, such models require a moderate amount of painting along with slip decals.
Level 4 – Glue or adhesive is a mandatory requirement along with previous experience in constructing die cast models. These kits feature moving parts for aspects such as engines and steering. Such requires a steady hand and advanced knowledge to construct. Painting will require more attention to detail and models of this level will feature two or more different colours.
Level 5 – Much like level 4 adhesive is mandatory and required in greater abundance. Suitable for experienced model builders who are 12 years old or over. However some children will require adult assistance and supervision. Intricate parts are issued for the construction of engines and interiors. Decals are highly detailed and feature on top of a multi-layer paint scheme.
It is important to understand your skill level before undertaking a model kit project. eBay sellers offer an array of different model kits for a variety of skill levels so you'll be sure to find something that suits your abilities.
Model Kit Materials
Model kits use a variety of materials but two in particular are used more often that others:
Injection Molded Plastic – Such is used in basic models and is considered the least sophisticated base material. Perfect for beginners but not considered durable.
Die-cast Metal – Kits featuring die-cast metal are made from resin molds. They are purposely built to withstand rougher conditions and handling.
Materials may vary but choosing a kit should be based upon what is wanted from the finished product. Take into consideration what its purpose will be once fully constructed, whether that be for display or use as a toy.
Completed Model Size
Size is an important factor when considering how long it will take to construct a model. The higher the skill-level the more intricate and generally larger the model will be. Pay close attention to the outside packaging as it will reveal information on how large the finished model will be (in terms of scale). The packaging will also state the number of pieces that are included.
Model Kit Instructions
It is important not to understate the importance of correctly following the instructions when building a model.
Children aged between 8 and 12 will often require parental help when it comes to reading certain manufacturer guides.
Even though they may be ready to get started straight away remember that the instructions are there for a reason.
Dealing with paints and adhesives can be hazardous to younger children. Ask them to be careful and do not allow them to connect parts together without adult guidance.
Model Kit Accessories
Even though model kits come with standard instructions there are a wide variety of accessories to make the process simpler. Such items are sold separately and require individual care. When purchasing from eBay accessories such as the following may be available from the same seller.
Airbrush – Requires spray paint in order to function and is a more advanced way of painting parts. Offers an even coat and streak free finish that paintbrushes struggle to achieve. Airbrushing parts requires more space, along with a mask and increased ventilation.
Drying Rack – Used as an alternative way of drying parts after paint and adhesive has been used.
Paint – Recommended colours come with the manufacturer instructions but depending on experience it would be possible to choose other paints to add to a model.
Paintbrushes – Ordering a variety of brushes will aid the painting process and allow hobbyists to achieve a greater agree of detail.
Putty – Can be used to fill holes and damage caused during the building process.
Sandpaper – Sandpaper can be used to even out paint coats and achieve smoother results.
Rotating Wheel – Useful for painting and airbrushing. Placing parts on to the wheel and slowly rotating it will create a more even coat.
Accessories can help simplify the building process and make for a better-looking model once complete.
Automotive Model Kits
Automotive models come in a variety of styles. Due to eBay's large array of model kit sellers Hobbyists have a huge variety at their fingertips. They're not limited to domestic based kits as eBay allows buyers to purchase kits from worldwide sellers. The following types of automobile model kits are considered the most popular:
American Muscle Cars
NASCAR
Monster Trucks
Sports Cars
Domestic Cars
Rally Vehicles
It doesn't matter what type of vehicle you have interest in there are an array of options to choose from. It is worth exploring eBay and attempting to build something new, as the only limit in such areas is a hobbyist's imagination.
Model Purpose
Plastic models aren't sturdy enough for play use and should remain as display models only. They are known to fall apart under pressure so are not recommend for use as a children's toy.
Metal models are far more robust and often contain mechanical parts. Models such as this are suitable for both play and display use.
Car enthusiasts are known to be more specific about their models. Even though they have the capability for use they often remain stationary to preserve condition. Many model builders choose to display their completed projects at craft shows and specially organised model competitions.
How to Buy Model Kits on eBay
eBay prides itself on carrying a distinguished variety of model kits to suit all skill levels.
To find something that suits a specific taste, starting from the home screen select the toys and games section.
From there, select model kits from the menu on the left, this will display all types of model kits currently available to buy.
If you are looking for a specific model kit maker or brand use the search option found at the top of the screen.
When you've decided to buy a model kit place a bid on an auction, commit to a best offer or checkout via the buy it now option. Choosing PayPal to submit payment will make sure that their well-established buyer protection program covers your order.
Conclusion
Model kits are a tremendous way to keep adults and children alike entertained. They can serve as both long and short-term projects and are a unique way of investing free time.
With such a wide array of models and brands to choose from hours of fun are sure to be had no matter the age, skill level or interest of the hobbyist.
eBay, via their dedicated categories and search functions have made finding model kits easy while keeping everything including accessories affordable.