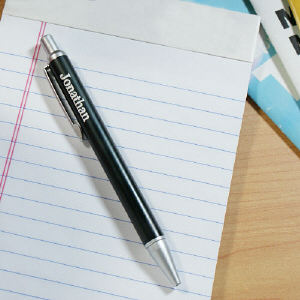 Pens are ubiquitous writing implements that can be found in any home or office. Many types of pen are available, including simple roller ball pens and vintage fountain pens, and all of these are available on eBay.
Types of Pen
There are number of different types which pens can generally be divided into. These are suitable for different situations and users, and a pen can be found to meet any needs.
Ballpoint Pen
The ballpoint pen is one of the most frequently used and commonly available types of pen available in the modern age. These low cost pens make the use of a spherical ball, often made of metals such as brass or steel, to distribute ink onto the paper from an internal reservoir of ink.
Most ballpoint pens utilize gravity to bring ink down to the ballpoint, and therefore cannot be used to write upside down. Special pens using pressurised ink reservoirs and more viscous ink have been produced which can achieve this, but are often more expensive.
Ink from ballpoint pens often dry almost immediately, avoiding smudges and making a good choice for young and left-handed writers.
Ballpoint pens are a good choice for those who need to do a great deal of writing, as they require greater pressure on the paper and can help avoid writer's cramps.
These pens are often more convenient to use than other types of pen.
Ballpoint pens can come in a wide variety of styles. Retractable models are available, which can help prevent accidental marks and damage from the pen when not in use.
Many ballpoints will be sold in packs, with non-replaceable ink reservoirs, meaning that these pens are to be disposed of once used up. These less expensive, convenient pens are often made of plastic, and are a frequently used type of pen. More expensive ballpoints are available, can be made of metal or sometimes wood, and are refillable.
Rollerball pen
Rollerball pens are another type of popular modern pen. These pens feature a similar design to ballpoint pens, making use of a small metal sphere to distribute ink from an internal ink reservoir onto the paper. The key difference is that these pins use liquid or gel based ink, rather than the oil based ink used in ballpoints.
Rollerball pens combine the more convenient design of the ballpoint pen, with the smooth flow of ink of a fountain pen. This makes them a popular choice of pen for those who place emphasis on presentational writing.
The liquid or gel based ink that is generally used in rollerball pens is considerably slower to dry than that in ballpoint pens, making rollerball pens a better choice for those with neat hand writing. Rollerball pens should generally be avoided by left-handed writers, as the ink is easier to smudge.
Many find rollerball pens more comfortable to use, as the pen requires less pressure than ballpoints when writing.
A wider range of colours of ink are often available for rollerball pens, due to the wider availability of water soluble dyes and pigments.
Rollerball pens will dry out if left out, and so often come with a cap. Rollerball pens should be capped when not in use, as the ink is more likely to leak out.
Many different types of rollerball pen are available, from more affordable plastic pens to metal refillable rollerball pens.
Fountain Pen
The fountain pen is a very popular type of pen, favoured both for a high quality writing implement, and their frequently attractive designs. Fountain pens are similar to the now rarely used dip pens, making use of a nib to distribute ink onto the page. The key difference is that fountain pens contain an internal ink reservoir from which the nib draws ink through the use of gravity and a capillary action.
Fountain pens offer the smoothest writing action of the modern types of pen, and are often favoured because of this. Fountain pens are also often considered to encourage good handwriting.
Fountain pens require little or no pressure to be applied to the paper when in use, as the ink flows easily from the nib and onto the paper. Many people consider this to be more comfortable than other methods.
The ink from fountain pens smudges very easily, and it can take practice to write well with a fountain pen. It can be hard for left-handed writers to avoid smudging the ink.
Fountain pens are often refillable, making the use of replaceable cartridges or a piston system that can refill from a bottle of ink. Fountain pens can range greatly in price ranging from affordable fountain pens to more expensive designer pens.
The nib of a pen can be made from a number of different metals. Modern fountain pens use hard metals such as steel, with vintage and more expensive pens sometimes using softer metals, such as gold plated nibs. These softer metals can have an angle worn into them from use, which can suit the pen better to the writing style of the particular writer.
Marker Pens
Marker pens, often called felt-tip pens, are often designed with specific, more specialised purposes in mind, and are not frequently used for general writing. These pens are made with their own internal ink source, and use a tip made of absorbent material such as felt. Marker pens used to make use of solvents as the basis for ink, but modern marker pens use alcohol.
Permanent markers are marker pens that can write various different surfaces including glass, wood and stone. The ink is often resistant to water to rubbing, and depending on the surface, can remain for a long time, even years.
Whiteboard markers, sometimes called non-permanent or wipe off pens, and are often used for temporary writing on whiteboards or for use with overhead projectors. These pens are intended for use on non porous writing surfaces.
Highlighters are another type of marker pen. These pens use highly visible vivid and translucent coloured ink to mark it key passages in documents.
Ergonomic Pens
Many pens are available which include special design features intended to aid with the use of pen, either helping to improve handwriting or to increase the comfort of use.
Accessories for Pens
A wide range of accessories are available for use with pens. Removable soft grips are available, which can be fitted over many different types of pens and can be useful for teaching children how to correctly hold a pen, as well as help with handwriting. A wide variety of pen pots and other storage solutions are available which can help keep desks and workspaces tidy, and avoid the loss of pens. Ink cartridges and ink bottles are also needed in order to refill empty refillable pens.
How to Buy a Pen on eBay
A wide variety of different pens, of different types and offering a range of features, can be found on eBay. The listing of available pens can be found in the Collectables & Antiques category. Pens can be found under the Pens & Writing Equipment section. It is possible to arrange the results by categories such as price, condition, distance to seller and the type of pen. The Auction and Buy it Now buying options are also available, offering flexibility in how a pen can be purchased.
Key information about a pen, such as whether it is refillable or retractable, is often prominently displayed in the item listing, making it easy to quickly see whether a particular item meets any specific requirements. Further information can be seen on the item page, including information about the seller such as item reviews and feedback ratings. This helps to ensure that a purchase can be made with confidence. It is also possible here to ask the seller a question regarding the item.
If a particular pen is required, it may be easier and more effective to make use of the search function available at the top of every page. Searches can be made to return results from within specific categories, or to cover the entire site. Further information on effective use of the search function can be accessed on the Search Tips page.
Conclusion
A wide range of different types of pen are available, including affordable plastic ballpoints to expensive designer fountain pens. A pen can be found to suit a many different writers and requirements, and it's easy to find the right pen on eBay.