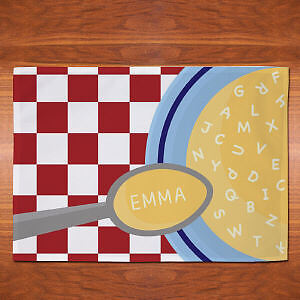 A placemat is a small mat or pad that is put on a dining table to mark out a place setting. Tableware, such as plates and bowls can be put on a placemat during a meal. Tablemats are commonly used in homes and restaurants. They serve a variety of purposes and can be made from many different types of materials. Placemats may also be purchased for use on special occasions. Special placemats for children serve a dual purpose; they protect the surface from spills but also help young children feel more positive about mealtimes and encourage them to stay at the table for the duration of their meal.
Uses for Placemats
Tablemats have a multiplicity of uses in a home or restaurant setting. For example, they help to protect the table from spills caused by food or drink. If the mats are placed on a tablecloth, they will protect the cloth from stains and it will not need washing and replacing after every meal. Another way that placemats protect a table is by preventing heat damage. This is particularly important with wooden tables, as a hot dish placed directly onto the table surface could easily leave a permanent mark. Use of placemats can also minimise noise during a meal. If crockery is placed on a padded mat, rather than a bare table surface, it creates less noise, enabling diners to enjoy their meal without distraction. Placemats can be used to adorn tables at special occasions, such as parties or celebrations. Personalized mats are a good way to organise seating during a party. Photo tablemats also serve a decorative purpose. Many people use placemats as a way to accessorise the current decor in a dining room. They may be chosen to complement the colour scheme on the walls or drapes, or to match the theme or style of a room, which could be either contemporary or traditional. A feature placemat may be used as a talking-point or novelty item. Placemats are also a popular choice for wedding or housewarming gifts, especially if they feature a photograph of the recipient. Children and pets are also popular themes for personalised photographic tablemats.
Materials Used to Make Placemats
Placemats can be made from almost any material, from fabric to glass. Each material has its own distinct advantages and disadvantages and buyers should consider these carefully when making a purchase decision.
Glass
Glass placemats can be both decorative and ornate. They convey a sense of style and quality and match well with all types of decor. Toughened glass placemats provide a hardwearing durable surface, which will protect tables from heat damage. As well as looking beautiful, another advantage of glass placemats is that they are very easy to clean after use and that they will last many years if looked after properly. Glass placemats are also easy to personalise, creating a unique, one off product with special sentimental value. A disadvantage of glass placemats is that they may not be suitable for families with very young children and may break easily. They can also be a lot noisier during meals than padded or fabric placemats.
Leather
Leather placemats are hardwearing and high quality. They provide a good non-slip surface on which to put tableware during a meal. Leather is an excellent material for absorbing sound and heat, which makes it a perfect choice for protecting tables. As leather placemats usually come in neutral colours, such as brown, black, or cream, they match well with most types of decor. They can be wiped clean with a damp cloth and left to dry after use. A disadvantage of leather placemats is that they may rip or tear. They may not be as resistant to food spillage as other materials and cannot be immersed in water for cleaning. Although leather is heat resistant to 90 degrees, items cannot be placed onto leather mats directly from the oven, as this will damage the surface of the mat.
Fabric
Fabric placemats may be made from a range of materials, including cotton, lace, linen, and suede, to mention but a few. Each fabric type has its own advantages and disadvantages. Fabric placemats are highly decorative and can be chosen in a material that complements existing decor. They come in many beautiful patterns and styles, both modern and classic. Fabric mats are good for noise reduction and heat absorption, but may not be particularly effective against liquid spills, depending on the thickness of the cloth. Fabric tablemats are commonly used for seasonal place settings, such as parties, weddings, and Christmas, with delicate lace placemats being a traditional favourite. A disadvantage of fabric placemats is that they will need washing regularly. They need to be washed, dried, and ironed before the next meal, which may not always be a practical choice. Alternatively, buyers may wish to purchase more than one set of mats to avoid this problem.
Cork
Cork mats may be made entirely of cork, or may just have cork backing. Cork-backed mats usually feature a picture or design on the top of the mat, which is usually made from laminate and can be wiped clean easily after use. Cork mats are a good choice for noise and heat absorption, and picture-mats create a focal point and add interest to a table during a meal. Designs can be retro or modern, with something to suit all tastes. Cork-backed mats are affordable and easy to wipe clean. Cork is an environmentally friendly product, as it is sustainable, recyclable, and biodegradable. A disadvantage of cork tablemats is that they do not last as long as mats made from more hardwearing materials. Pure cork mats may stain easily and degrade over time. They can sustain permanent damage if they get too wet.
Wood
Wooden placemats match most types of decor and are hardwearing, designed to last for many years. Wooden mats can be made from hard wood types, or lighter woods such as bamboo, which are popular in oriental restaurants. Mats may consist of a single piece of shaped wood, or several thin strips of wood linked together. Wood is durable and easy to keep clean. The disadvantage of wooden mats is that they do not absorb noise very well and may be damaged permanently by certain types of food and liquid spillages. They may also be warped by very hot dishes direct from the oven.
PVC
PVC placemats are affordable and colourful. They are easy to wipe clean and are a popular choice for young children, as they can feature pictures of popular characters. PVC mats are also a good choice for big family occasions and parties, when there are many guests present. The advantage of PVC tablemats is that they can be stored away easily after use. Mats made from PVC may be prone to tears or damage. They can also become discoloured over time and are not designed to last for a long time. Other types of material popular for placemats are: acrylic, metal, plastic, rattan, paper, and straw.
Placemat Shapes and Styles
The main purpose of a placemat is to go under a plate or bowl, so the size of the mat must be appropriate for the crockery used. Most placemats are circular or rectangular, but may also come in other shapes like hearts and ovals. Fabric mats may come in an assortment of different shapes and designs. Placemats usually come in a matching set of six, although set of four, two, or even single mats are commonly available.
Buying Placemats on eBay
From the main category menu on the upper far left of the home screen, select the "Home, Furniture and DIY" category. This option will bring up a screen featuring images of various rooms in the home. Select "Dining Room" and then click on the "Tableware, Serving and Linen" option in the menu. From the menu on the left of the screen, scroll down to "Placemats" and refine the search using the filters provided. Filters include shape, material, condition, style, and colour. Buyers can purchase an item immediately, using the "Buy it Now" option, or enter a bid in one of the auctions on the site. The most common method of delivery for placemats is home delivery. Customers need to check the postage costs before buying. Some listings may offer free postage, or the option to collect direct from the seller.
Conclusion
Placemats are an ideal way to protect a table or tablecloth from damage caused by spillage or heat. They provide a decorative way to set a place at a table and come in many designs and materials, each with their own distinct qualities. eBay has a wide range of placemats available, and buyers can browse the online selection by using the filter tools to find the product which is perfect for them. Buying from eBay is easy and secure, with a choice of delivery options available.