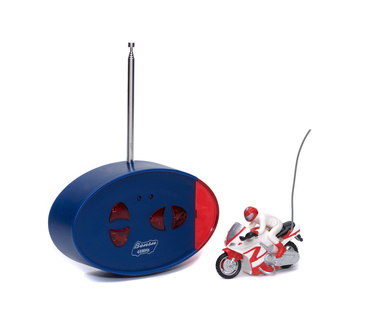 eBay is a great place to buy radio control toys, from simple electric helicopters to advanced high tech nitro-powered cars. Whether the buyer is a novice in the radio control arena looking to purchase their first radio control car or they're a real radio control enthusiast seeking to buy a new specialised airplane, eBay stocks it all.
The purpose of this guide is to inform the reader about radio control toys and discuss the best way in which to purchase one from eBay.
With the aid of 21st century online shopping, buying radio control toys has never been simpler. Across the online shopping arena auction-based websites like eBay sell an abundance of radio control toys, products and accessories.
Radio Control Toys
Radio control toys (or R/C as it is commonly known) are self-powered models that can be controlled from far distances via a remote. Radio control vehicles are essentially toys however in recent times their popularity has paved way for a new hobby; radio control racing. Due to popularity of radio control as a modern hobby, there is a healthy demand for the products and an even healthier supply of radio control vehicles and products thanks to e-commerce websites like eBay.
Radio control toys were first introduced following the availability of remote control technology in the form of remote control cars in the late 1980s. The toys work using radio signals being broadcasted between the receivers in the remote and the toy itself. Each toy possesses an individual frequency that is set to correspond with the remote so that when directions are given the toy carries out these instructions and operates under the controllers orders.
Types of Radio Control Toys
There are many different radio control vehicles currently on the market from R/C performance cars to off-road trucks and 4x4s to helicopters, airplanes and boats. Regardless of the vehicle choice, there are generally two categories that radio control toys fall into; hobby grade and toy grade.
Toy Grade
These radio control vehicles are known as toy grade because their intended audience is predominantly children and young adults. Toy grade R/C vehicles always come pre-assembled and are often un-customisable meaning that they cannot be changed or modified with new components or parts.
Hobby Grade
Hobby grade radio control vehicles are as the name suggests; hobby grade. This means that they are intended to be used as a hobby product and as such they are often more durable and versatile as they are intended to be used more often and in more ways than toy grade R/C vehicles.
Hobby grade radio control vehicles can come either pre-assembled or as a kit to be built. As such these R/C vehicle types can be altered and modified at the discretion of the owner. This is also why they are referred to as hobby grade because their flexibility over their modification means that they can be altered to meet the specifications set out in radio control racing and hobbyist events.
Toy or Hobby Grade
There are significant differences between toy and hobby-grade R/C toys, and it's not just the price; there are the features and expectations that differ depending on the type of radio-controlled toy. Here are some considerations to help you decide which R/C toy will be best-suited:
Toy-Grade

Hobby-Grade

Benefits

Affordable
Simple to use
Very little maintenance
Ideal for indoors
Ideal for young children

Can be modified/customised
Long run time: increase R/C toys run-time with Interchangeable batteries or by adding more fuel
High speeds
High powered
Easily repairable if damaged as components are interchangeable

Concerns

Not appropriate for adults
Cannot be modified/customised
Low speeds
Not suitable for hobby racing
Short-run time: battery cannot be removed so a new battery cannot be put in the toy when out of power
Very difficult to repair if broken as components aren't easy to get to

More difficult to use
Technical
Can cost hundreds of pounds for high-spec models
Some mechanical knowledge may be needed maintaining these R/C types
Radio-Controlled Cars
Toy grade radio control vehicles are generally only electric-powered whereas hobby grade R/C vehicles can either be:
Petrol powered
Nitrous (or Nitro) powered
Electric powered
Each type of radio control vehicle has its own benefits and drawbacks that should be taken into consideration before purchasing one. Here are the pros and cons of each radio control vehicle type:
Electric Powered

Petrol/Nitrous Powered

Pros

Quiet
Cleaner and safer (no exhaust fumes) so can be used inside or outside
Easy to start

High top speeds
Quick acceleration
Can be used on long runs with only a little amount of fuel
Larger size generally means more versatility so can be used on more surfaces than smaller electric R/C cars

Cons

Less visible/recognisable to others
Slower top speeds
Slower acceleration
Limited run time (even with multiple batteries)

Noisy (bad for neighbours but good for alerting people to be careful of the R/C car)
Exhaust fumes prohibit indoor use
More difficult to start (with engine starter)
How Will the Radio Control Toy be Used?
· Another important factor to consider when purchasing a radio control toy from eBay is the manner in which the R/C toy will be used. For example; if the toy will predominantly be used inside then an electric-powered R/C toy is the only option as petrol and nitro-powered R/C toys emit harmful fumes. If the toy will mainly be used outside and on tough terrain then a large-scale off-road petrol or nitro-powered R/C vehicle is best.
· How often the radio control toy will be used is another factor to consider when deciding on your budget as R/C toys can cost hundreds of pounds for high end models. So if the R/C toy will only be used rarely then it might not be worth spending more than a hundred pounds. Whereas if a novice R/C enthusiast who is looking to start racing regularly as a hobby wants to buy a new radio control car then they should have a larger budget and be comfortable spending a couple of hundred pounds.
Which Size Radio Control Toy?
Radio control toys come in a large variety of sizes- especially hobby-grade models. Where hobby-grade R/C toys are concerned, they are scaled down versions of real cars and as such are sized accordingly to their scale. This is a particularly important feature of scale models, as each user has preferences to the size of the model and this must be taken into consideration before purchase. Hobby-grade R/C toys generally come in five sizes:
1/6th (largest)
1/8th
1/10th
1/12th
1/18th (smallest)
Toy-grade R/C vehicles however aren't always sized but they are generally a lot smaller than hobby-grade R/C's where the largest (1/6th) can be around a metre in length. The larger-scaled toys are generally intended to be used off-road on grass or tough terrain whereas the smaller versions are popular in R/C racing clubs.
How to Buy a Radio Control Toy on eBay
With the aid of authoritative e-commerce websites like eBay, buying a radio control toy is simple. Whatever the buyer is looking for, whether it is a new R/C toy part or accessory or a brand new radio control toy, eBay is a fantastic resource for all radio control toys and associated products.
Not known only for their great supply of radio control toys and associated products, eBay is renowned for its flexible buying options. Whether the buyer wishes to purchase the chosen radio control car immediately (through the Buy Now function) or bid in auction-style attempting to get the best price, eBay is great for all types of shoppers.
Finding the sought-after product has never been easier with the help of eBay's search and advanced search toolbars. Just type in the name, model, manufacturer or browse by category to find the desired product and then the results page will be generated.
After browsing through the search results, simply click on the relevant result and the buyer is taken to the products own page. From here the buyer is greeted with a wealth of information relating to the product in question. The information provided usually consists of: a detailed specification, product analysis, comments about the condition of the item as well as photographs for the buyer to browse through.
Buyers are also informed of the seller's location so they can decide whether to pick the item up directly if possible or whether opting to pay the delivery charge is best.
eBay has one of the most flexible options where payment is concerned and also enjoys having the most competitive pricing on the internet. eBay also employs the renowned safe and secure third-party payment body PayPal to give both buyers and sellers much-needed peace of mind.
Conclusion
There are many different factors to consider when purchasing a radio control toy. However with the important information outlined in this guide for a buyer to consider coupled with the ease of using auction-based websites like eBay, buying a radio control toy has never been easier. A good radio control toy will provide many hours of fun for many years to come.