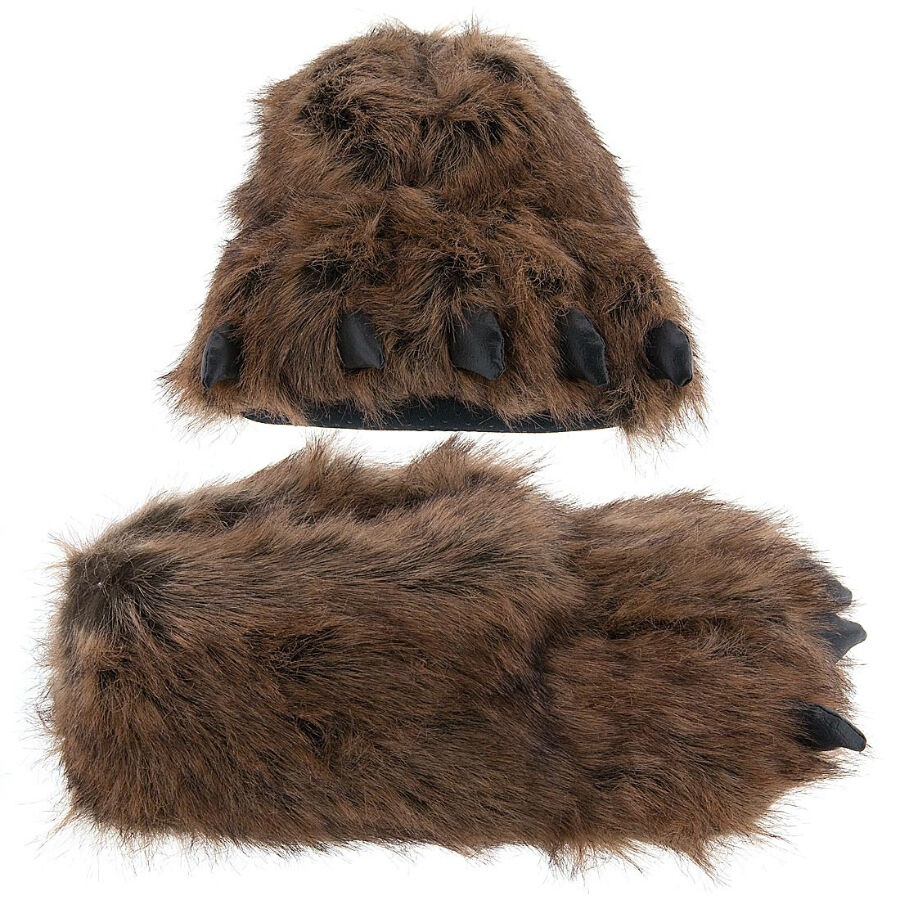 Every woman should have a pair of fluffy monster feet, festive reindeer, or pumpkin slippers to bring a little bit of fun to her day. Whether a woman buys herself a pair of festive Father Christmases or receives them as a gift, novelty slippers bring a smile, not only to the face of the wearer, but to anyone who sees her waddling along in ungainly footwear. Aside from being humorous, novelty slippers should have an appropriate level of support and stability, especially if they are worn frequently. Novelty slippers are available in full back, backless, or slipper boot versions, with soles that include ridged rubber, fabric and compressed cardboard, and fabric with vinyl spot grips.
Considering the styles of women's novelty slippers available, as well as the back and sole types, helps a shopper to select just the right pair. Women's novelty slippers are available at high street shops and department stores, as well as online at eBay.
Styles of Women's Novelty Slippers
Women's novelty slippers are available in a huge range of styles and designs. Women's novelty slippers include giant fluffy monster feet, plain slippers with a small cuddly toy attached to the front, and oversized animals, such as bunnies, sheep, or flamingos, complete with head and legs. Even though women's novelty slippers are designed to be fun and frivolous, they must still fit correctly, and be supportive and comfortable. If they are too small they are very uncomfortable, and if they are too large they put the wearer at risk of tripping and other injuries.
Monster Feet Novelty Slippers
Monster slipper feet, once the preserve of men, can now be purchased for women in bright feminine colours, complete with clawed toes. Monster feet slippers are warm, and also have excellent comedy and novelty value.
Animal Novelty Slippers
Animal slippers are similar to monster feet. These are shaped like a variety of animals, such as sheep, puppies, cats, or bears. The wearer puts her foot inside the body, and the head of the animal faces forward. They can come in sheepskin versions, which keep the feet very warm.
Cuddly Character Novelty Slippers
Cuddly character women's novelty slippers have a cute character embroidered onto the front, or a cuddly toy attached to each slipper. These are more subtle than monster feet, and can even be regarded as stylish.
Festive Novelty Slippers
Women's novelty slippers can have a festive theme, such as Christmas or Halloween. The slippers can be shaped or decorated to represent Father Christmas, reindeer, bats, or pumpkins. These novelty slippers are more than likely the result of a thoughtful, but somewhat unwanted gift.
Novelty Slipper Back Types
Slipper back types vary and offer different levels of support. The choice of a back depends on the preference of the buyer and which back best suits the design of the novelty slippers.
Fully Enclosed Women's Novelty Slippers
Slippers with a fully enclosed back are worn like slip on shoes. They have fabric around the heel, as well as surrounding the rest of the foot. Some have stiff backs with a plastic or card insert underneath the lining at the back of the heel. This offers extra support and stability. Fully enclosed women's novelty slippers are available without additional support inserts in the heels, such as animal and monster feet slippers. These are very easy to put on, but the minimal heel support makes it possible for the feet to slip out of them, especially if the slippers are slightly too big.
Backless Women's Novelty Slippers
Backless women's novelty slippers have no fabric around the heel. Backless slippers are easy to slip on and off, and are favoured by many women because of their convenience and ease of use. Backless women's novelty slippers are available in all of the different styles, from festive themes to cute, cuddly characters. As they are backless, they lack support around the heel and so can be cumbersome and make walking awkward if they do not fit correctly.
Boot Style Women's Novelty Slippers
Boot style women's novelty slippers cover the foot and a portion of the leg, either up to the ankle or to the mid calf. The boots are not as easy to slip on as some other slipper types, but they do offer extra warmth and comfort. Novelty slipper boots are available as animal and monster feet, but also as more conventional boots with pictures printed on the body of the boot, from cartoon characters to reproductions of Andy Warhol prints. Novelty slipper boots are reasonably supportive. Not all designs have stiff inserts at the heel, but they are more supportive than backless slippers.
Novelty Slipper Sole Types
Aside from the heel of the slipper, the sole is also very important. The sole type of women's novelty slippers impacts the support and grip and help to avoid slips, trips, and falls. The type of sole also determines whether the slippers can be worn only inside the house, or whether they can be worn outside.
Hard Rubber Sole
Hard rubber soled slippers provide the best grip, and the highest level of support. The ridged rubber surface of the sole provides a non-slip walking surface. Rubber is also waterproof, enabling women to wear the slippers outside of the house, perhaps in the garden. So, they are an excellent choice for women who need a versatile novelty slipper that they do not need to change when going indoors and outdoors. Rubber soles are the best choice for those at risk of falling, such as some older people.
Fabric Sole With Vinyl Grip Spots
Many novelty slippers, such as monster feet or animal slippers, have fabric soles with vinyl grip spots. These are great house slippers, but the fabric is not waterproof so they cannot be worn outside. These soles are usually padded, but while they are very warm, they do not offer very much support. The vinyl spots do not provide very much grip either, and so are not great on slippery surfaces.
Fabric and Cardboard Sole
Slippers with fabric and cardboard soles offer more support than fabric soles, but not as much as rubber soles. They are also less expensive than rubber soles. While the compressed cardboard inserts offer more support, they absorb water straight through the fabric, so should not be worn outside when it is damp.
Buying Women's Novelty Slippers on eBay
eBay has a wide range of women's novelty slippers. Buyers can search for a pair from the eBay homepage by using general keywords, like "women's novelty slippers". This results in hundreds of slippers to browse through. Buyers are able to narrow down the results by choosing to filter by size, price range, or condition. A general search is useful if you do not know exactly what you want and it can provide some much needed inspiration. If you know what you are looking for, then more specific keywords, like "pink novelty slippers size 5" will result in a reduced set of listings.
Read the item listing carefully. It should contain details about the sizing, colour, materials, and condition of the item. Many women's novelty slippers are received as gifts and may find their way into a listing without being worn, so it may be possible to find a like new pair at less than the retail price. If buying a used pair of slippers, examine the photos closely for signs of wear and tear. If further information or more photos are needed then contact the seller using the "Ask a question" link.
Feedback
Feedback is a feature on eBay that enables the buyer to assess whether the seller has provided quality products and excellent customer service to previous buyers. Feedback is left at the completion of the transaction, and it is based on the accuracy of the item description, speed of service, the reasonableness of the postage and packaging costs, and the communication with the seller. Sellers who have consistent positive feedback are likely to offer a high level of service.
Conclusion
Every woman should own at least one pair of novelty slippers. They bring a little fun and frivolity to an otherwise practical item of clothing. Novelty slippers range from brightly coloured comedy monster feet to backless slip ons with a little teddy bear embroidered on the front. When purchasing novelty slippers women must still consider the fit, as it is important that they are not too big, as they could cause trips and falls. If they are too small, they could be uncomfortable. Another important factor is the type of back, which influences the level of support required. Hard rubber soles are needed if the wearer wants to be able to wear the slippers outside when it is damp. These soles also provide the most stability and support. Choosing the right style, sizing, back, and sole type is the first step on a path towards footwear entertainment. eBay offers novelty slippers in a range of styles, designs, and colours to amuse all women.