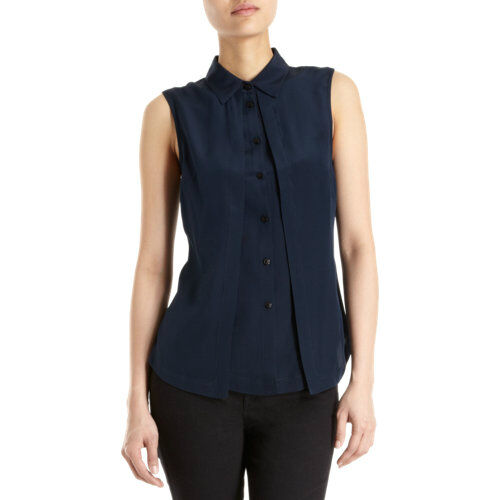 eBay sellers offer women's tops for every occasion, from tight-fitting body tops to roomier kaftans, and plain vest tops to business wear blouses. Tops are available in a variety of designs, colours, and sizes, making it easy to find exactly what you are looking for. The huge range available keeps pricing competitive and bargains are plentiful.
Learn how to search for the perfect women's top and find bargain prices on eBay by using the search function, key words, and categories. An understanding of the different top styles on offer will make your buying decision easier, taking into account factors such as material type, fit, and function. In addition, learn how to shop on eBay and evaluate products and sellers to ensure that your buying experience is a pleasant one. Shopping on eBay is easy when you know how to find what you are looking for and how to choose a seller.
Types of Women's Top
Women's tops come in a variety of styles and designs. The style refers to how the top is cut or made and how it fits, with some having a closer fit than others.
Shirt
A shirt refers to a front buttoning women's top that usually features sleeves and a collar. Sleeve lengths and the number of buttons vary. Shirts are generally plainer than blouses, but can be worn with casual or smart-casual outfits.
Blouse
A blouse is a loose fitting version of a women's shirt. The term usually refers to more decorative, feminine tops. Although some are worn on casual occasions, they are more often worn with a smart-casual outfit or to work. If you are looking for something slightly different Zara lace blouses look effortlessly stylish.
Polo Shirt
A polo shirt is a casual cotton shirt with a collar and a number of buttons at the neck. These shirts are also known as tennis or golf shirts. Although they are associated with sports that require a certain level of formality when it comes to clothing, these shirts are also worn with more casual outfits.
Tunic and Kaftan
Tunics and kaftans are generously cut, flowing tops. A tunic is commonly sleeveless with a bottom hem that reaches the thighs. A kaftan resembles a long, flowing robe and can be belted or features buttons. Both of these top styles are often worn over jeans, leggings, or tights for a casual look.
Vest, Strappy, and Camisole Tops
Vest, strappy, and camisole tops are often sleeveless or come with spaghetti straps. They can be worn on their own or as a foundation layer with other garments. These tops are great for hot summer days, but are usually too casual for work wear unless paired with a blazer or jacket.
Body Top
Body tops include bodysuits and bodycon tops. Bodysuits are tight fitting garments that look like a normal, fitted top, but are shaped like a single piece swimming costume with snap fasteners at the crotch. Bodycon tops are tight fitting, but stop at the waist. Body tops can be worn with other garments to create a layered look, or on their own. They are not considered appropriate work wear, but can be worn with casual or smart-casual outfits.
Corset Top
Corset tops look like decorative corsets. Some feature ribbons or ties at the back, and some include boning in the waist. Corsets are one of the oldest types of shapewear available and were worn by both men and women in the 1800s. The garment tightens around the ribcage and waist to shape and support. Corset tops are available in a range of colours, fabrics, and designs, and can be worn to parties or more formal functions, but are not appropriate for business wear.
Wrap Top
Wrap tops wrap around and across the torso and are fastened with ties, usually at the side. They can be sleeveless, or have short, three quarter length, or long sleeves. Some wrap-style tops are designed to resemble wrap tops, but are sewn in place and do not require fastening. Wrap tops are versatile and can be worn in a range of settings, depending on their colour, pattern, and design.
Gym and Yoga Tops
Gym and yoga tops are comfortable, absorbent, and breathable tops designed to allow the wearer freedom of movement while exercising. Some offer additional support or built-in sports bras. Although mostly functional in nature, gym and yoga tops are available in stylish designs and a range of colours.
Factors to Consider When Buying Women's Tops on eBay
In addition to the top's style, consider factors such as the fabric used to create the top, the occasion, and the top's fit. Some fabrics have properties that make them more appropriate for certain activities.
Fabrics Used in Women's Tops
Women's tops are available in a range of fabrics. Cotton tops are practical, durable, breathable, and economical, and can be worn for a range of activities and events. Synthetics or synthetic blends are often used in more decorative clothing, and polyester and viscose are popular fabrics for party tops. Silk tops are more luxurious and can be found in a variety of styles, but are usually worn to work or with formal outfits. Choose a fabric that is durable enough to meet your needs, looks good and drapes well, and is appropriate to the occasion, taking into account the amount of care needed to keep it looking its best.
Choosing a Top with the Right Fit
Tops are available in four basic fits:
classic
semi-fitted
fitted
stretch
The top's fit should flatter the wearer's body shape and be appropriate to its function. Fitted and stretch tops may not be appropriate for conservative workplaces, but are great for casual or party wear.
Choosing the Right Top for the Occasion
Clothing is categorised as fit for casual, party, formal, or business wear. Versatile tops can be worn on more than one type of occasion, while embellished or revealing tops are limited to more specific event types and uses.
Shopping for Women's Tops on eBay
To search for women's tops on eBay, enter a keyword or keywords related to the item you want into the search box that can be found on every page. For example, to find a party top, type keywords such as 'party top' or 'corset party top' to display the listings tagged with these keywords.
Choose the most appropriate category to narrow the search results displayed. This is usually the category with most items available, but this may not be the case if you are looking for something unusual, such as a vintage top from a particular era. Keywords and category choices should be used together to find exactly what you want. More search options are available through the advanced search function.
Understanding what to look for is as important as understanding how to search for it. Know what top styles are available and use this information to choose the most appropriate category while searching.
Once you have found the perfect top, learn all you can about the product and seller. The information that you need to do this can be found on the item listing page. Click on an individual listing to see information about the item, including its condition, size, and description, bidding and buying options, the seller's accepted payment methods, postage and packaging costs, the terms of the seller's returns policy, and the seller's feedback and contact information. When buying clothing look for sellers with returns policies. Many of eBay's sellers accept returns and are willing to exchange items that do not fit or are unsuitable, but this should be confirmed before completing the purchase.
How to Evaluate the Seller
eBay's seller feedback system allows you to see what other buyers have to say about a particular seller's products and customer service. Detailed seller ratings show additional information about the seller's communication, whether the postage and packaging costs were deemed reasonable by previous buyers, the amount of time that elapsed before the seller sent the item, and the accuracy of the seller's item description in the listing. To access this information, click on the number next to the seller's username. If you have any questions about a listing, contact the seller by clicking on the 'Ask a question' link.
eBay Shops
If you find sellers with excellent products and customer service, visit their eBay Shops to see more great offers. Some sellers specialise in particular items and have similar products for sale. There are many great sellers on eBay such as French Connection, Ted Baker, Tommy Hilfiger, Urban Outfitters and Ralph Lauren.
Conclusion
A huge selection of women's tops are available on eBay, making it easy to shop for the perfect top in one place, finding bargains in the process. Check out Massimo Dutti and Balmain for H&M for a wide range of women's tops. Searching for tops on eBay is simple: keywords or key phrases and categories work together to help you to pinpoint exactly what you are looking for. Knowing what styles are available and understanding the difference between styles helps you to choose the right category while shopping and might even give you a few ideas about new styles to try.
Searches can be further refined by choosing categories related to the top's fabric, fit, and function, and these three factors play an important role in choosing the right women's top. The top chosen should be made of a fabric that meets the performance and aesthetic expectations of the wearer, fits to flatter her body shape, and suit the occasion. Before committing to a purchase, read the information about the product, seller, and buying process on the individual item listing page and take a moment to meet the seller. Many eBay sellers offer returns policies, so you can shop for the perfect women's tops with confidence.