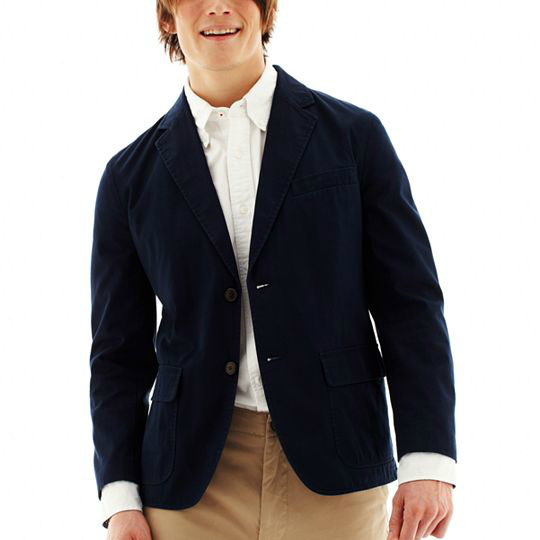 A blazer is a formal or semi-formal jacket either designed to be worn as part of a uniform, or else paired with neutral trousers for a smart look on social occasions. Normally the cloth is slightly heavier than a suit coat, although there are lightweight blazers. A classic men's blazer is navy blue with brass buttons, but blazers can be any solid colour, or even striped, as long as the stripes are colourful and bold. The image of a true blazer will be clear when one thinks of Henley Regatta, full of straw boaters and bright, colourful blazers.
For a consumer planning on buying a blazer, it is helpful to know a little about the design features, materials and variations available. Equipped with this background knowledge, it is then possible to start searching for the ideal men's blazer. eBay has a good selection of men's blazers, making it the ideal place to begin that search.
Types of Blazer
There are two main types of blazer, single breasted and double breasted. Both normally sport metal buttons, are cut from a reasonably substantial cloth, and have a formal style, which generally involves two side vents rather than a single central vent. Both types of blazers should also have four buttons on the cuff of the sleeve. A feature of blazers, unlike a suit, is that it is acceptable to display college, school, or regimental crests, on the buttons. This perhaps reflects the blazer's heritage as an essentially military coat, probably descended from the naval jackets worn by sailors.
For blazers worn on sporting occasions it is also acceptable to display such a crest or emblem on the breast pocket, although for ordinary social occasions this would be unusual.
Single Breasted Blazers
A single breasted men's blazer is a little less formal than the double breasted, but remains smart as opposed to casual. It should have two metal buttons down the front, one of which closes, step lapels, a breast pocket, and two side pockets. Sporting blazers are usually single breasted. As well as bright colours, stripes and crests, they sometimes have piping around the lapels, for a very distinctive look.
Double Breasted Blazers
A double breasted blazer has two flaps of cloth at the front, one of which folds over the other and is held closed by an invisible 'jigger' button. A double breasted blazer should have six metal buttons down the front, half on each side, one or two of which will be worn closed. It should also have four metal buttons on each cuff, and an upward pointing 'peaked' lapel. The classic double breasted blazer is navy blue, and it is rarely seen in other colours. That said, a navy blue double breasted blazer is extremely versatile, can be worn anywhere, and every man ought to have one in his wardrobe.
Blazer Colours
Henley Regatta, the Boat Race, or the member's enclosure at Lords Cricket ground would not be the same without men in brightly coloured or striped blazers sporting college or club crests, enjoying the summer weather and the social buzz. But few people would wear a colourful sporting blazer to visit the theatre or a concert. For these more sober occasions, a plain navy blue blazer is ideal.
These two examples illustrate the true nature of the blazer; smart and formal. But blazers are not confined to formal occasions. They are actually much more common than most people realise. As well as sports teams, everyone from tour guides to security guards to airline pilots to naval officers can be seen wearing blazers. Any situation which calls for a formal or semi-formal uniform, is suitable for a blazer.
Although blazers can be worn open necked, they are at heart formal clothing, and come into their own when matched with a shirt and tie, cufflinks, plain trousers and smart shoes. For the sophisticated man who wants to cut a dash without being ostentatious, the blazer is ideal.
Materials for Cutting a Blazer
A blazer is at heart an outdoor jacket, not a glorified suit coat. For this reason it tends to be made from a slightly heavier cloth than a suit. The most common materials used for cutting balzers include flannel, serge, gabardine, cotton, and synthetic fibres like polyester.
Woollen Blazers
Wool is certainly the favoured yarn for cutting blazers. Wool breathes well, letting perspiration escape to ensure dry, comfortable skin. It looks good too, with the crisp, luxurious finish that no synthetic yarn can quite match. Press frequently, dry clean occasionally, and let the blazer rest between wearings, and a good quality wool cloth should last for years.
Flannel
A soft, woven woollen yarn, flannel is a traditional textile that makes a slightly more relaxed looking blazer. Nevertheless flannel is exceptionally smart, presses beautifully, and has real class.
Serge
Serge is another traditional woollen textile, which tends to be heavier and harder wearing than flannel. Used in military uniforms, winter weight blazers and overcoats, serge is a durable and fairly robust twill cloth. Cut properly, it should hold a crease well and last for years.
Gabardine
Another woollen twill, gabardine is a very smart, crisp and reasonably hard wearing cloth. It comes in a range of weights, ranging from winter to summer, and is a good candidate for a tropical weight blazer for those heading off to sunny climes.
Cotton Blazers
Cotton blazers are rare, but can be found. Cotton is a more casual cloth than the woollen textiles listed above. To look good as a blazer, cotton needs to be crisply pressed. The advantage of cotton is its light weight, and a range of superfine cotton cloths which are great in summer.
Synthetic Blazers
Polyester blazers can be found, and generally have the advantage over all the others in this list in that they are machine washable. They are also lightweight, and make a good option for the budget buyer. Polyester is hardwearing, but does not breathe as well as natural fibres. It is also more difficult to get polyester to match the sophisticated, classy look of a crisp woollen cloth.
The following chart compares the advantages and limitations of the most common materials used for cutting a blazer.
Flannel
A soft, classic woollen cloth, flannel has a more relaxed look than woollen twills, but is very sophisticated.
Serge
A hardwearing and generally fairly heavy woollen twill, serge is a good cloth for a winter blazer.
Gabardine
Another woollen twill, gabardine is crisper looking than serge, for a smart cloth that comes in a range of weights.
Cotton
Not a common blazer cloth, but it can be ideal for summer weight blazers. Cotton needs to be well pressed for a blazer, to keep the smart, sharp appearance a blazer demands.
Synthetic
Lightweight and washable, polyester blazers are convenient and often reasonably priced.
It is possible to find summer weight blazers, and given the sporting heritage of the blazer there is certainly no rule that the blazer must be heavy.
Finding a Blazer on eBay
If you are thinking of buying a blazer, the question arises as to where you will find a decent selection. The high street these days is full of the latest fashions, but sometimes neglects the basics. For traditional, well-loved and enduring styles such as the blazer, the high street is not always fertile ground. Even if you do track down one or more examples, it is unlikely that you will have much choice as to cloth, style, colour or quality.
With the popularity of Internet shopping, rather than trailing around the high street, it is now possible to find a very wide selection of blazers at online retailers such as eBay. This includes both new and used blazers, as well as many well known brand name blazers. You can find single or double breasted blazers, striped sporting blazers, and many different colours and qualities. To start your search at eBay, simply type a simple search term such as 'men's blazers' into the search bar on the home page and press 'Send'. If you wish, you can further refine your search by adding your size, or the type of blazer you are looking for. For example, 'men's double breasted blazer'. By browsing and searching at eBay, you can easily find the ideal men's blazer.
Conclusion
A blazer is a formal or semi-formal coat which can be distinguished from a suit coat by several features. It should have metal buttons, twin side vents, two buttons at the front for a single breasted blazer, or six for a double breasted blazer. The classic blazer cloth is a substantial woollen serge or gabardine, or a woollen flannel. The colour should be either navy blue, or, if it is a sporting blazer, it can be any bold, bright, combination of stripes or a bold solid colour.
Blazers are smart, classic looking coats, best paired with plain trousers and smart shoes. Because blazers are traditional, they never go out of fashion. At the same time they are often overlooked by high street shops, and to find a good selection it is helpful to look at online retailers such as eBay. eBay carries a wide selection of men's blazers, in many different sizes, styles, colours and cloths.