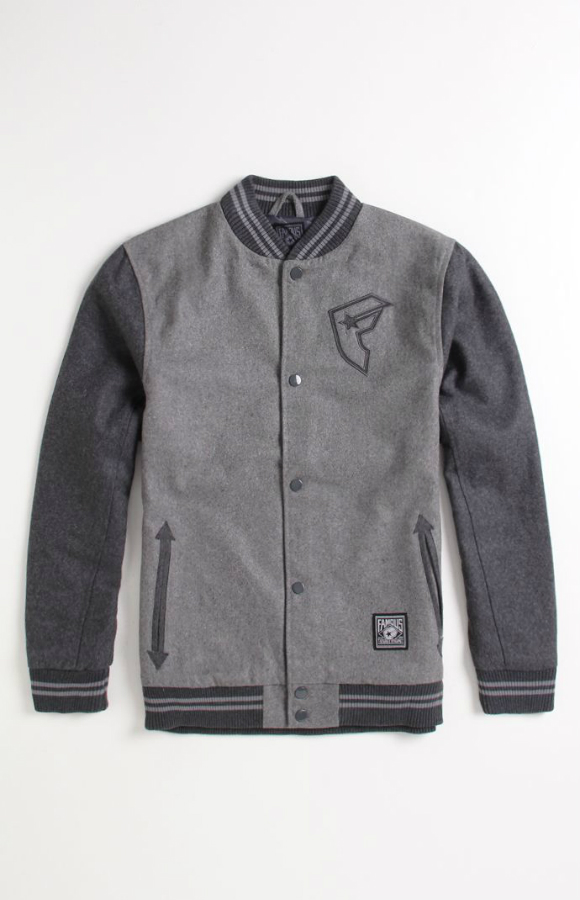 Whether it's a hip leather jacket for hitting London's best clubs or a warm parka for a winter adventure in the chilly Scottish Highlands, there is a jacket to suit every man's taste for style or need for function. The array of looks and technologies that men's jackets offer can be dizzying, though. Jackets can be waterproof, windproof, or insulated. They can vary in length, feature a hood or a collar. Jackets can also be cut in various ways to sit differently on a man's body and express different aesthetics. Some jackets are more appropriate for business wear, while others are designed for specific sports or looking good on the street.
This guide helps men sort through the many options available to them by detailing the most important elements of a men's jacket. This includes jacket attributes such as style, material, length, weight, neckline, and colour. It also provides guidance on properly sizing a jacket for a good fit. Lastly, it advises readers on how to go about finding men's jackets on eBay. The site is a good resource for all types of men's jackets and using the information in this guide, readers will be able to find their perfect men's jackets there.
Jacket Attributes
Men's jackets have various attributes that set them apart from one another. This section details the most salient of these attributes, including the jacket's style, material, length, weight, neckline, and colour. Choosing a jacket with the right blend of these attributes will ensure that a man is satisfied with his purchase.
Style
There are a range of different styles of men's jackets and this attribute is the first consideration that many men make when deciding which kind of jacket they would like to purchase. This section describes the different style choices that are available for men's jackets on eBay.
Biker
The biker jacket (or motorcycle jacket) is highly specialised for riding motorcycles. It is usually made of rugged leather to keep the rider warm as he rides and to protect him in case of a slide out. Many biker jackets include vents to let the rider's body breathe on warmer days and they may also have extra padding or armour in strategic locations. Reflective material is also useful for men that ride at night.
Blazer
A blazer is a highly versatile jacket that most men should own. It occupies a place on the style spectrum squarely between casual and formal, making it the perfect choice for looking sharp without overdressing. There are a few different blazer styles, but a good English blazer gives prominence to the shoulders and chest and features a slimmer waist than American blazers do. English blazers can be single-breasted or double-breasted. Balmain for H&M offers a wide range of stylish blazers for men.
Bomber
The bomber jacket, otherwise known as the flight jacket, traces its roots back to World War I fighter pilots. Now worn casually, this jacket features a narrow, ribbed waist for a secure fit at the bottom, and a roomy fit around the torso. The collar may be short or tall, and some collars fold over like lapels. Bomber jackets usually zip up and they are often made of leather, sheepskin, suede, or nylon.
Military
Unlike bomber jackets, military jackets do not have a direct connection to a specific wartime design. Their utilitarian looks and features do borrow from jackets worn in official, military situations though. Many military jackets feature numerous pockets, including one on each side of the chest. The jackets are usually a medium weight with a mock neck and a epaulet tabs that button to the shoulders. Military jackets generally have a slim profile and either zip or button up.
Parka
A parka is a heavy, hooded jacket usually worn in colder temperatures. Parkas are often insulated with down feathers or a synthetic down to keep men warm in freezing weather. Some parkas may also be coated or lined with a membrane to make them waterproof. A fur lining around the hood is a popular feature for both style and warmth.
Raincoat
Raincoats come in various forms, but the most important feature of these jackets is that they are waterproof. These jackets usually feature a waterproof coating or an ultra-thin membrane with holes are too small to admit rain droplets, but large enough to pass vapour from sweat. Coatings are generally less expensive to apply to a rain jacket than a laminated membrane, but raincoats with membranes usually remain waterproof for a longer time and are more breathable. Raincoats can be long or short, styled for the outdoors or the office, zip up or button up, and feature hood or collars. A trench coat is a specific style of knee-length raincoat with buttons and long, wide lapels.
Material
The material from which a jacket is made has a tremendous impact on its look and functionality. This section looks at the different materials from which men's jackets are commonly constructed, pointing out the pros and cons of each material.
Leather
Leather is an excellent material for men's jackets. Made from the tanned hides of different kinds of animals, it is soft, supple, and durable. Leather is sensitive though; wearing it in the rain damages the material and periodic treatment is recommended to keep it maintain its condition. Leather is usually dyed black or brown when used in a jacket. It is also possible to buy faux leather jackets that look and feel similar to real leather, but are made from synthetic fabrics.
Wool
Wool is the hair from an animal, most commonly sheep. Some very soft types of wool come from other animals, including cashmere from goats and alpaca from alpacas. It is a warm material, even when wet. Softer wools itch less than sheep's wool, though many jackets are made from sheep's wool because it tends to be more durable. Wool jackets often feature a lining so the wearer does not experience any itch.
Fleece
Fleece is a synthetic alternative to wool. It insulates like wool does, but weighs significantly less than the lightest wool fabrics. Fleece is also soft and does not itch. It is not water resistant, but it dries very quickly. It is generally not wind-resistant, but certain weaves may be more wind-resistant than others and it can be laminated with a membrane that is wind-resistant, though fleece sacrifices some of its softness in this case. High-quality fleece tends to pill, or form mini balls of fabric, less easily than low-quality fleece.
Suede
Suede is a form of leather usually made from the skin of a lamb, though other animal skins may be used. Instead of using the tough exterior of the animal skin that leather jackets feature, suede jacket manufacturers use the softer underside of the skin. This makes suede extraordinarily soft, but also less durable than leather. It responds poorly to water, so it is important to keep suede dry. Faux suede, a synthetic fibre meant to mimic the look and feel of suede without the sensitiveness, is also available for jackets.
Length
One important feature of a men's jacket is its length. The style of a particular jacket often determines its length, with a bomber jacket being an example of a jacket that is always waist-length. However, one way to organize a search on eBay is by the length of a jacket. This allows a man to see all of the available choices in that particular length, be it waist-length, hip-length, or long (down to the knee area). The shorter the jacket, the sportier it is. Longer jackets, such as pea coats and trench coats are good choices for business outerwear.
Weight
The weight of the jacket is important to determining the types of climates that it can be worn in. Heavyweight jackets are best for winter since they provide the best insulation. Midweight jackets are ideal for fall and spring and they can be worn over a warm layer in the winter to provide adequate protection against the cold. Midweight jackets are therefore usually the most versatile. Lightweight jackets are ideal for the warmest weather conditions that still require a jacket, such as a cool summer evening. Many raincoats are lightweight, meant only to keep a man dry.
Neckline
The choices for the neckline of a men's jacket are hooded, zip-neck, collared, and funnel-neck. A hooded jacket has a hood around the collar that goes over the man's head to either prevent heat from escaping, keep the man's head dry, or both. Hoods with a synthetic fabric on the outside may be lined with a natural fabric on the inside. A zip-neck jacket has a zipper that runs up the collar of the jacket, zipping the collar closed for extra warmth around the neck. A collared jacket has a separate collar, possibly from a different material than the jacket is made from, that either lays flat on the shoulders or can turned up. The collar usually does not close around the neck. A funnel-neck jacket features a neck that is part of the same fabric as the body of the jacket, rather than a collar that is sewn on separately.
Colour
The final, but by no means the least important, attribute of a men's jacket to consider is colour. Men's jackets come in a range of different colours, with black being a safe choice for style, whether it is for matching with other clothes or achieving a subtle or sleek look. The choice of colour mostly comes down to personal preference, with no colour necessarily being better than another, though blacks, browns, and greys are generally more appropriate for business attire.
Sizing a Jacket
A jacket is most effective as keeping a man warm and looking good when it fits properly. Men's jackets are usually sized according to chest circumference and the table below provides measurements that correspond to international size standards.
Size

UK Size

Measurement (centimetres)

Measurement

(inches)

Extra-Small (XS)

34-36

79-89

31-35

Small (S)

38-40

89-99

35-39

Medium (M)

42-44

99-109

39-43

Large (L)

46-48

109-119

43-47

Extra-Large (XL)

50-52

119-129

47-51

Extra-Extra-Large (XXL)

54-56

129-139

51-55
This table provides general guidelines. Jacket sizes can vary from manufacturer to manufacturer, so it is best to consult the eBay seller as to whether a jacket fits according to these standards or different ones.
How to Buy a Men's Jacket on eBay
eBay is a good source to buy a men's jacket from because there is a very large selection of all kinds of men's jackets there. It is also easy to search the site for the jacket with the attributes that you are looking for. To search eBay for all of the men's jackets for sale there, go to the site's home page and enter the term "men's jacket" into the search bar, select an appropriate category from the drop-down menu, and click Search. This results will include all of the men's jackets for sale on eBay. You can then filter for the jacket attributes you are looking for in order to narrow the results to the jackets that will most interest you.
Alternatively, you can add descriptive words to your search term in order to get a more targeted list of results. For example, if you are looking for a black hooded parka to keep you warm in the cold winter months, enter the term "men's black hooded parka" into the search bar. You can then filter for your size to make sure the listing only includes parkas that will fit you. Using descriptive search terms should enable you to find the jackets you are looking for on eBay.
Conclusion
The men's jacket is much more than a simple layer that a man wears in cooler temperatures. Men's jackets offer a wide range of features designed to keep men warm, dry, comfortable, and fashionable in a variety of different conditions. Because jackets vary so much, men should give careful consideration to the conditions in which they plan to wear jackets. They should ask themselves what the purpose of the jacket is, whether it is meant to be worn in very cold temperatures, to keep them dry in a driving rain, or to draw attention during a night on the town.
This guide has explained the different styles, materials, lengths, weights, necklines, and colours available for men's jackets and how this information is relevant towards matching a jacket with the situations in which it is to be worn. It has also presented a sizing table to help men ensure that the jackets they buy will fit them properly. Lastly, this guide has given advice for how to search eBay for the perfect men's jacket. The site has an extensive selection of men's jackets for sale, covering every jacket attribute imaginable. Using this information, readers can find a jacket on eBay that will ensure they are properly attired no matter the occasion.