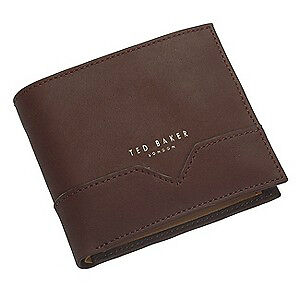 Buying a men's wallet requires careful consideration of two main issues. Whichever way the purchase is considered the solution will always boil down to a choice of function and one of style. For many men a wallet is purely a matter of somewhere to store things whilst on the go. It's somewhere to keep the things you use and collect as part of daily life in one tidy place and for others it is an expression of personal style. Unsurprisingly, for the majority of men it will be a combination of both although some men would not readily admit to the style component.
It is a rare thing to find a shop that is a specialist wallet supplier. Wallets are more likely to be found as part of the menswear department of high street fashion shops, specialist designer outlets and sports clothing stores. Online, eBay has a wide range of wallets from the everyday to the designer and beyond that includes wallets made by the world's most exclusive labels. This guide gives information about what a wallet will do, the style choices that are available and the types of wallet that are widely available.
What Does Your Wallet Contain?
A wallet is a simple but essential part of a man's daily life as for most men it is the one consistent thing they carry with them wherever they go. Whatever style their wallet displays there are some key things it needs to capable of carrying.
Cash
Cash is quickly becoming the old school method of making payments these days. However, even with cards for this, cards for that and cards for the other cash will never be replaced completely. A wallet should have a store for all your paper money and a good wallet will have one that is easily accessible because there is nothing worse than struggling to open your wallet when you have arms full of shopping. Some wallets will also contain compartments for coins but they can sometimes make a wallet very bulky if they are full of 50p pieces.
Plastic
Debit, credit or even store; our lives are increasingly ruled by the pieces of plastic we carry and a good wallet will store a number of cards, its simply a matter of finding a wallet with enough slots for plastic. It's also worth considering how those cards are stored. They should be easily retrieved, remember those bags of shopping? Each card should also be easily distinguishable. Make sure that when they are stored in the wallet you can still tell which card is which.
ID
It is a necessary part of modern life that we need to consider carrying forms of identification these days and for most people in the UK that will mean a driving license or a works ID card. Cleverly designed to be the same size as a payment card they will both normally fit into a slot in most wallets but you may wish to look for a see through window where the ID card can be stored and seen at the same time.
Business Cards
Every serious professional should carry business cards all the time - you never know when an opportunity is likely to present itself. For most career minded types a credit card slot will probably make a perfect home for three or four cards. If you need more you might want to think about a dedicated business card case because more than four will bulk up your wallet and there's nothing worse than an ungainly wallet - most ungentlemanly!
Family Photos
Many men seem to want to keep photos of their loved ones. The issue is should they be on show or kept warm and snug, hidden in an out of the way slot? Most wallets provide an out of the way slot and some will even have a transparent window to keep them on display every time the cash is flashed.
What Does Your Wallet Say About You?
When you come to think about style there is a surprising number of variations on an old theme here. Most of those variations are in the form of the materials that the wallet is made from. Few men would argue that to be of any real use a wallet needs to be made from leather. It is one of the few materials that will wear sufficiently to withstand the treatment it gets in normal use. A carefully chosen wallet will also be made from a top quality leather that will improve in look and texture as it gets used.
For the man looking to make a particular statement the wallet is a good place to start. Wallets are widely available made from high quality leather such as calfskin as well as cow hide. More exotic leathers such as crocodile and snakeskin are also turned into wallets which have exotically patterned surfaces.
Modern chemical dyeing means that leathers of all types can now be coloured with the brightest of colours. Rather like the sharp suit jacket of old, with it's colourful silk lining, a manly black or brown leather wallet can now have the most brilliantly coloured leather inside. Alongside dyeing, modern printing techniques mean that a durable, colourful print can be placed on either surface of the wallet. Indeed some designers such as Paul Smith have made colourful printing a signature aspect of their wallet collections.
Whatever your chosen material or colour preferences nothing says more about a mans style than the presence of a small understated designer logo, discretely presented inside or on a corner.
Types of Wallet
Despite the wide variety of uses there are surprisingly few basic wallet styles however careful attention to the internal features of each wallet will show that there is a very wide choice of wallets available.
Billfold
Most wallets are designed to fit in the back pocket of a pair of trousers or jeans are billfold wallets. They are so called because they are designed to hold US dollar bills, the bill in billfold, which fit particularly snug because they are all the same size whatever their value. Luckily, British notes, even with their varied sizes still fit inside a traditional billfold wallet and are actually easily separated into their various denominations. These wallets are designed to fold in half, and will fit snuggly into a front or back pocket in either jeans or trousers. A billfold wallet will also have space for a number of credit cards, store cards and may also have a window for displaying a photograph or ID card.
Trifold
Similar to a billfold wallet, a trifold wallet consists of three sections that fold into the same size as the more traditional billfold wallet. There is a section at the back for storing notes, receipts and other pieces of paper in an organised way and each of the three folding sections can be used for cards, photographs and ID passes. A trifold wallet will frequently have more capacity than the more compact billfold designs but may be a more bulky addition to a trouser pocket.
Sports
For those with a more on-the-go lifestyle a sports wallet is worth looking at in more detail. With the advent of modern materials such as polyesters and nylons that are waterproof and very tough, designers have focused on creating wallets for those with more physically demanding needs. Skateboarders, mountain bikers and athletes in general need wallets where cash, cards and paper details can all be stored safely. Modern fastening mechanisms such as velcro, along with conventional zips made from modern plastics, create wallets that are both secure as well as weatherproof. With the myriad of colours now available, modern fabrics make these wallets perfect for sports fans and young people alike.
Pocket
Someone with a more traditional sense of dress, who wears a suit or trousers and jackets, may choose a traditional pocket wallet. Designed to fit discreetly in the breast pocket of a men's jacket these wallets are slightly larger than a billfold or tri fold wallet. Considering their larger size they will store only slightly more than their smaller counterparts because the essence of a pocket wallet is discretion. A gentleman's wallet should never spoil the cut of a tailored jacket so even with the largest wallet, keep the contents to the absolute minimum.
How to Buy a Wallet on eBay
eBay has a large number of wallets listed available in a wide range of colours across a number of key styles. Starting on the eBay homepage, search for wallets and if you are looking for something in particular, perhaps a billfold wallet or a wallet made from snakeskin, you can add additional keywords into the search bar. Searches for a specific designer's brand, perhaps Prada or Paul Smith can be entered as "Paul Smith men's wallet".
If you are looking to buy a designer wallet then you need to ensure that the product you are buying is an authentic piece and the best way of doing this is to look for pieces that have tags and scuff bags included with the purchase. It is also worth looking at the buyers returns or refund policy because buying from a seller who has a clear and favourable returns policy can make things much easier if you prove to be disappointed with your choice.
Conclusion
Someone looking to buy a men's wallet has a wealth of style options to consider. The simple choices lie in the material a wallet is made from and the style of the wallet itself. Modern synthetic fabrics are very tough and have a look and feel that makes them particularly suitable to younger men. For the majority of wallets however, there can really only be one choice, leather. With modern dyeing and printing techniques a mans wallet can be as individual as he is.Whether made of cowhide or premium leathers such as snakeskin and crocodile skin, wallets are made to have a multitude of functions. They hold cards, notes and coins as well as ID storage and eBay has the largest selection of men's wallets all in one place.