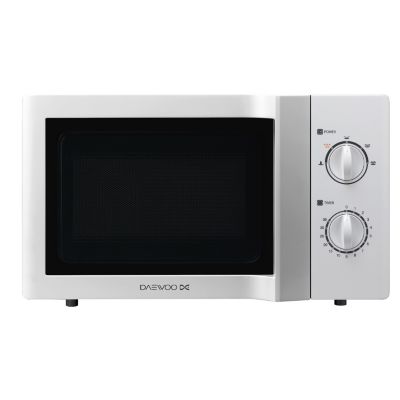 Microwave ovens use micro waves, a type of radio wave, to heat food. Upon contact with the food, the waves are absorbed and heat it through. This is in contrast to a conventional oven which heats food from the outside and makes microwave ovens extremely efficient. The first microwave came to market in 1947, but the first model to achieve success in the home was not introduced until 1967. Further advancements in technology brought the prices down and increased availability. Today, microwaves are found in most homes in the UK and are used mostly for cooking, reheating, and defrosting food. Some microwaves also operate as conventional ovens and many have grills.
Type of Microwave
One of the first considerations is which type of microwave oven in required. This will depend upon what functions are needed. If the microwave is going to be used solely for reheating and defrosting food, then no other functions are needed. On the other hand, some families might find the flexibility of an additional convection oven or grill useful. Most microwaves are freestanding or countertop units that can be placed on any worktop surface, but others are built in to free up worktop space and provide a streamlined solution for contemporary kitchens.
| Type | Description |
| --- | --- |
| Microwave | Used for cooking, reheating, and defrosting food by microwaving. |
| Microwave with grill | Used for the same purposes as a microwave as well as for grilling or browning food. Can be used independently or at the same time. |
| Microwave, grill and convection oven (combination or combi) | Used for microwaving, grilling, and conventional cooking. Functions can be used independently or at the same time for fast and efficient cooking. |
| Built in microwave | Either microwaves, microwave with grills or combi ovens which are built in units. |
Size and Power
Microwaves come in varying sizes, from about 15 L to over 32 L. Larger households may require larger microwaves, with around 28 L, a standard family size. Bigger models have more height and larger turntables, so that more food can be cooked. They may also have two shelves, one above the other, which can be useful for preparing two meals at the same time. Combi ovens can have the largest capacities, with 40 L models available, and these can even be used as the main oven. Consider the external dimensions as well as the internal capacity. Measure the external space available and take into account other appliances as well as power sockets. The way the door opens is also a consideration, with pull down doors a useful alternative to those that open to the side. There are even microwaves designed specifically to fit into corners. More powerful microwaves will be able to cook food faster. Power is measured in watts (W) and ranges from about 700W to 1200W. Microwaves have various options to select lower and higher powers for cooking different kinds of food. A microwave with a higher number of power settings has the capability to be more versatile.
Special Features and Accessories
Microwaves have various cooking functions to look out for that make cooking and reheating food easier. Buying a microwave and later finding out that it does not have the appropriate range of settings required is something to be avoided, therefore it is important to look closely at what each microwave can or cannot do.
| Special Features | Description |
| --- | --- |
| Auto cooking and auto defrosting | Simply enter the weight and type of food and the microwave selects the cooking or defrosting time required. |
| Chaos defrost | This feature makes defrosting more efficient as it uses random micro wave pulses. |
| Multiple sequence cooking | Some microwaves can be programmed with consecutive cooking sequences, for example, to first defrost and then cook food. |
| Pre-set programmes | Pre-set programmes for defrosting, reheating, and cooking various types of food. |
| Sensor cooking | Power levels and cooking time are automatically adjusted by the microwave in response to sensing moisture levels in food. |
| Turbo reheat | A function that uses extra power, for example, to reheat food quickly. |
| Steam cooking | Some microwaves also have steam cook functions. |
| Inverter technology | This ensures food is heated evenly. It enables food to be heated without being turned. It also makes microwaves lighter in weight. |
In addition to cooking functions, microwaves have various other features to enable easier and safer operation.
| Additional Features | Description |
| --- | --- |
| | This prevents children starting or changing a cooking programme. |
| Drop down door | A handy feature for kitchens limited on space where the traditional side opening door would be impractical. |
| Linings | Enamel linings are hardwearing and easy to clean. More expensive microwaves might have self-cleaning catalytic or pyrolitic linings. |
There are many microwave accessories on the market to give microwave cooking added flexibility. These include microwave-safe trays and dishes, as well as vegetable steamers, pizza pans, and egg poachers. With the right accessories, cooking can be even easier when combined with a microwave.
Style
There are various designs of microwave available, from more retro style microwaves with coloured finishes to ultra contemporary models with streamlined surfaces and brushed steel finishes. Most microwaves are stainless steel, but there are various other finishes and colours including black and white. Features to consider include the door and whether there is a handle or button release. Simpler microwaves have knobs to turn to indicate cooking power and time, while more complex models have a number of buttons and programmes.
Other Considerations
When purchasing a microwave, look at the heating category. This varies from A to E, with E taking the least time to heat food. Also, check factors such as returns and warranty. A microwave can be an expensive purchase, and it pays to have confidence in a purchase. Check the seller's reputation and feedback and make sure returns policies and warranty issues are explained in the product listing. Being informed about all this will reduce the risk of any problems occurring during or after delivery.
Find Microwaves on eBay
Microwaves can be easily found on eBay. To navigate, using the tabs to the left of the screen hover over Home & Garden and select the Home & Garden link. Hover over Furniture & Living tab and select the Cookware, Dining & Bar link. Select Small Appliances followed by Microwaves. This brings up a large number of microwave listings that can be browsed. The listings can also be refined by criteria including type, brand, condition, price, finish, colour, features, and capacity. Another way to find microwaves on eBay is to use the search field to the top of the screen. Type in "microwave", "microwave oven" or more specific terms, such as "stainless steel microwave" or "steam microwave".
Conclusion
Microwaves come in a variety of models, from inexpensive basic models capable of simple defrosting, reheating, and cooking to top end models with numerous additional functions. The basic types of microwave are microwave only, microwave with grill and combination oven, which combines microwave, grill and convectional oven cooking. Microwaves may be freestanding or built in, with built in microwaves designed to save space and complement streamlined contemporary spaces. They come in a variety of capacities and sizes, from smaller models for standard size portions or ready meals to larger models capable of cooking the Sunday roast. Look at the various cooking programmes and special features and compare models to determine which fulfils the required functions at the available budget. Check seller feedback and shop around to find the best deals. The right microwave can make a significant difference to the way meals are cooked and is an essential component of the modern kitchen.