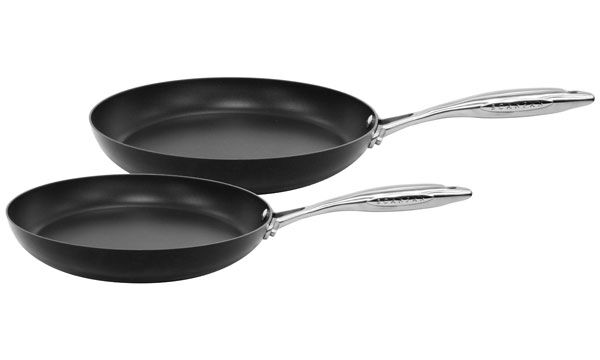 People often stock their kitchens with a hotchpotch collection of pots and pans gathered from diverse sources, such as second-hand shops and friends and family. As time goes on, most individuals decide they would prefer to have a matching set of pots and pans. For shoppers looking for a new pan set that's aesthetically pleasing and suitable for the preparation of a wide range of dishes, eBay's listings are the answer.
Cooking with a Pan Set
Many people think of pots and pans as items used exclusively on a hob, but many types can actually be popped into the oven as well. Pots and pans made completely of metal can generally withstand the full temperature range produced by a typical home oven; they can even be used under a grill. A good set of pots and pans can therefore be somewhat dual-purpose, thereby reducing the need to buy other types of cooking containers. Some pan sets feature non-stick coatings. While these surfaces are excellent for simplifying both cooking and cleaning tasks after use, they can begin to decompose when exposed to really high heat levels. Shoppers who purchase pan sets with non-stick coatings should be sure to read the usage instructions that come with their new pans. These instructions will detail the maximum oven temperatures that are considered ideal for use with the cookware. Pan sets that feature plastic or polycarbonate parts, for example handles and lids, should generally not be used in the oven, though very low temperatures may be safe. Again, the instructions that come with a particular pan set should make clear any limitations on oven use.
Common Configurations
Pan sets are not standardised items. Fortunately, eBay lists a great range of pan sets meaning shoppers can usually get what they want by conducting a search using the powerful onsite search tools.
The Five-Piece Pan Set
Many pan sets consist of five main pieces. These sets often include three lids instead of five because some lids will fit two different pans. Such sets will commonly include a single frying pan and four saucepans in various sizes. Another common configuration is for a five-piece set to contain three saucepans, one frying pan, and one large pot that can be termed a soup pot or a Dutch oven.
The Seven-Piece Pan Set
Five-piece pan sets are ideal for young couples just starting out, singles, or small families. Individuals who do a great deal of cooking, as well as larger families, may find that a seven-piece pan set better suits their needs. A seven-piece pan set may contain two sizes of frying pan as well as a larger frying pan that features vertical instead of sloped sides. Because it will have four or more deep pans, it may include a speciality item such as a stockpot. Shoppers should be aware that not all manufacturers describe their pan sets using the same terms; this is also true of individual eBay sellers marketing new and used goods. In practice, this means that a seven-piece pan set might not contain seven pans at all. This can happen because some manufacturers and sellers count each lid as one of the pieces. Some seven-piece pan sets therefore have four pans and three lids, offering families less cooking versatility than a five-piece pan set in which only pots and pans are being counted. This is not much of a problem while shopping online because eBay features at least one photograph for each item being offered for sale. Shoppers can rapidly glance through the photographs accompanying a bank of listings to scan for ones that have the number of pans they desire.
Common Materials Used in Pan Sets
Shoppers who know how many pans they prefer to purchase will still need to make another major decision. Just as individually marketed pots and pans come in a wide variety of materials, so too do coordinated sets of pots and pans. The choice of material is important because it influences the durability and usefulness of the pans in a set.
Copper Pan Sets
Copper is an expensive metal most commonly seen in a pan set as a secondary material that is used to improve the heat conduction in other metals such as stainless steel. Still, there are some pan sets that feature copper as a primary material. Copper pots and pans may be lined with tin so that they can be safely used with acidic foods. Copper in undoubtedly beautiful, but it does require regular polishing to retain its brilliant rosy gold gleam.
Aluminium Pan Sets
Aluminium pan sets may feature excellent heat conduction, but they have limitations similar to copper when it comes to acidic foods. To overcome this, many aluminium pans are coated with a non-stick surface; others are anodised, which creates a stable, safe cooking surface. Not all aluminium pan sets feature the bright silver appearance characteristic of this metal; many are covered with porcelain enamel in a vibrant shade such as blue, green, or even crimson.
Stainless Steel Pan Sets
Stainless steel is one of the most common materials used in pan sets. The metal is beautiful, durable, and relatively inexpensive. Its main drawback is poor heat conduction, but this is solved with copper cladding – a layer of copper along the entire bottom surface of a pot or pan – or the use of a copper core. Copper cladding can also add to the beauty of a stainless steel pan set. A copper core, in contrast, is sandwiched between layers of stainless steel and is therefore not visible. Both improve heat conduction dramatically, so the choice of one or the other in a stainless steel pan set is largely an aesthetic consideration.
Buying Pan Sets on eBay
Step one is to visit the homepage and sign up for an eBay account. The process will only take a few moments – just click the "Register" link at the top of the page and fill in the online form.
Researching Pan Sets on eBay
Before bidding or buying it's advisable to do some product research on eBay. There is such a diverse range of different types of pan sets that they warrant a little browsing in order to work out which one is best for each particular customer and each particular kitchen. The search tools on eBay take all the effort out of this "spade work" and it can actually be very enlightening. To simplify things, on the left of the product results page visitors can select desirable features from a list of characteristics as well as their preferred brand, "Morphy Richards stainless steel pan set".
Once the most suitable pan sets have been located, check the asking price against the going market rates. eBay sellers tend to be pretty savvy about these things – they know that asking unrealistic prices will rarely lead to successful transactions.
Ask the Seller Questions
Because of the millions of items on sale at eBay every day, product descriptions can be very brief. If customers need more information about a product, they can put their queries directly to the seller via the Ask a Question link on the product page. Newcomers should not be reticent about this – eBay sellers are generally very happy to answer questions, largely because it's in their interests to acquire happy, satisfied customers. They most certainly don't want disgruntled purchasers returning an item, asking for a refund and posting negative feedback comments.
Read A Seller's Customer Evaluation
Beside the seller's ID in the listing page is a number in brackets, which refers to the total number of feedback comments from previous customers. Click on the number, and the comments themselves come up, giving prospective purchasers an instant snapshot of the seller's reliability and reputation before parting with any money.
Go For Top-Rated Sellers
eBay sellers who have inspired the most confidence in customers by making the high numbers of successful transactions and resolving customer issues efficiently and rapidly are easy to identify on eBay. They get awarded the eBay equivalent of the quality kite mark – a gold rosette denoting that they have achieved "Top-rated seller" status. Visitors can be sure when they see this icon that they are dealing with a tried, tested and very reliable seller.
Find Pan Sets on eBay
eBay maintains a category page specifically for pan sets. This page can be found by beginning in the Home & Garden section and choosing Furniture & Living and then Cookware, Dining & Bar. This should be followed by clicking on Pots & Pans and then Pan Sets, both of which will appear as links in the left-hand pane. Once exactly the right kind of the product has been established, then using eBay's search functions is the next step. Getting the most appropriate results can be achieved by using the search box to enter specific terms or searching by Category. Once the listings have been generated, there are numerous options to filter by size, price and other important considerations.
Conclusion
Pan sets are one of the most popular ways to purchase pots and pans. In part this is because many shoppers prefer their cookware to have a uniform appearance and similar cooking characteristics. Pan sets are also popular because buying items in bulk is usually a more economical way to proceed than separately purchasing each pan needed. The online site eBay usually offers hundreds, if not thousands, of different listings for pan sets, making it one of the best places for consumers to shop for cookware.