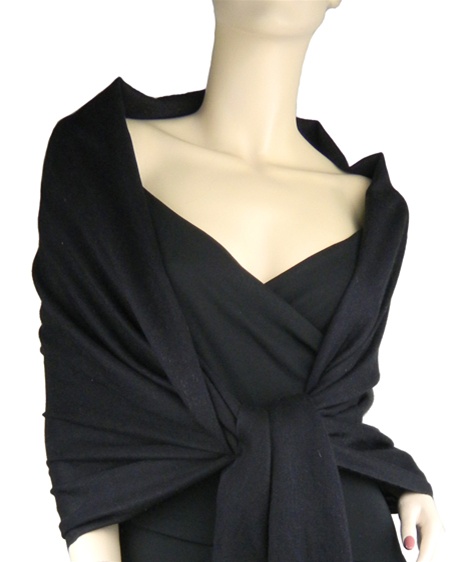 One of the most popular luxury accessories for women since the mid-1990s, pashmina is a ubiquitous item that brings style, comfort, and unique flair to a woman's style.The pashmina can be leveraged to dress up a casual ensemble or used as a chic shawl and shoulder warmer in the brisker months. With a wide range of colours available, the pashmina is truly a multifaceted accessory that can find a place in any woman's wardrobe.
This guide takes a brief look at the history of the pashmina, the manufacturing process involved in its creation, and the different types of pashmina and its blends available in the marketplace. The guide also covers some popular ways of wearing a pashmina in tandem with other articles of clothing to create unique looks. Additionally, it looks at the channels through which one can purchase a pashmina, including online retailers such as the auction site eBay.
What is a Pashmina?
The word pashmina actually specifically refers to a cashmere wool that comes from a special breed of goat, known as the changthangi goat. This animal is found exclusively in the mountains of the Himalayas, in Pakistan, and in the northern regions of India.
The textiles created from this pashmina wool are also known as pashminas colloquially. Pashminas are usually shawls, but this quality cashmere can also be used in a variety of other accessory textile cuts and shapes.
The History of Pashmina
The weaving of pashminas began in areas of Nepal and Kashmir thousands of years ago. The wool of the changthangi goat was coveted for its light weight and decisive warmth. Local weavers quickly discovered that textiles created from pashmina were lightweight, extra soft, and still extremely warm. Artisans across the high mountain regions of this area began leveraging the fabric to create everything from scarves to shawls.
The Manufacturing of Pashmina
Because of its incredibly thin and lightweight structure, true pashmina wool can not be machine woven, but must be woven by hand, increasing its rarity and value. Production begins in the spring when the changthangi goats begin to moult and shed the inner wool of their coats. Each goat can provide anywhere from 80 to 170 grams of this delicate fibre.
With the rising demand of pashmina from around the globe, commercial manufacturers have begun raising pashmina goats in other high elevation settings, including the Gobi Desert of Mongolia. It is believed that the goats need high elevations with thin, cold climates to produce the best quality of pashmina wool.
Types of Pashmina Products
Pashmina products are varied, spanning from full wraps to scarves to silk blends. The following items are among the prominent pashmina products available in the market.
Pashmina Shawls
By far the most popular subset of Pashmina products is the pashmina shawl. This large wrap can measure as large as 0.91 metres by 2.0 metres. With its gauzy and lightweight weave, a pashmina shawl is an excellent way for a woman to warm herself without creating the bulky outline of a knitted shawl.
Hooded Pashminas
Hooded pashminas are oversized scarves that feature a cowl design. This allows the wearer to either wear it as a classic scarf or pull it up over the back of the head. When worn as a hood, this type of pashmina can be wrapped around the shoulders or still worn as a wrapped scarf.
Pashmina Scarves
Pashmina scarves are thin, long weaves of pashmina that usually measure 0.31 metres in width and can be as long as 1.5 metres. These warm yet flowing scarves are typically worn wrapped several times around the neck with a drape left at the front or on the shoulder. Like the pashmina shawl, a pashmina scarf provides distinct warmth without creating a heavy look that lacks elegance.
Different Blends of Pashmina
While a true pashmina is 100 percent cashmere, the term pashmina has come to refer to any one of several blends that mimic the look and feel of a true pashmina.
Silk blends are particularly popular with varieties selling on the market that are 50 percent silk and 50 percent pashmina cashmere, or 30 percent silk and 70 percent cashmere. These pashmina blends are still very close in weight and texture to a true pashmina and cannot be recognized as a variant by the average person.
The colloquial use of the term pashmina can also be seen used sometimes for any product that is a large, loose-flowing shawl. A shawl that is made from cotton or 100 percent silk and is called a pashmina is not, in fact, a pashmina.
The Dynamic Colour Range of Pashminas
Pashminas are famous for the availability in a very rich and diverse range of colours. A row of pashminas can display several shades that inch up the colour spectrum, with teals transitioning into sea greens and roses transitioning into pale pinks from one scarf to the next.
Manufacturers of pashminas also keep an eye out for trending colours from the world of fashion and adjust their colour offerings from season to season. When selecting a colour of pashmina, women should keep an eye out for shades that flatter their complexions. Just because a colour is on trend does not mean a woman has to wear it.
How to Wear a Pashmina
Several options are available to a woman when wearing a pashmina. The following are some of the more prevalent trends.
The European Scarf
A pashmina scarf can be worn in what is known as the European knot. The pashmina should be folded in half and wrapped behind the back of the neck. The loose ends from one side of the pashmina should be pulled through the loop end on the other side. This tie-off can be tight or loose, according to the wearer's comfort level.
The Classic Shawl Wrap
By far the most common way to leverage a pashmina wrap, the shawl is wrapped loosely around the shoulders with the ends draped toward the back. This classic look can be worn over an evening dress to warm up a night out on the town or with a pair of jeans to create a dressier take on a casual jean look.
The Coat Shawl
A pashmina can be worn as a shawl wrap around the outside of a coat. This adds an extra layer of warmth and can also dress up a plain overcoat or trench.
The Hair Wrap
Another unique idea is for a woman to utilise a pashmina scarf as a head wrap. She can wear it as a headband with the long ends running down her back or wrap it completely around her head, covering her head and creating a truly dramatic look.
The Sarong
A pashmina wrap can also be worn as a sarong wrap over the hips. The pashmina should be wrapped around the hip and thigh area and tied off above one hip.This sarong-style look can be worn with a pair of slim-cut pants or jeans or a skirt underneath.
Shopping for a Pashmina
Given the popularity of pashminas, many local clothing retailers in a locality may have a range of pashminas available for purchase. These pashminas may well be defined by the colour trends of the season and may not feature a full range of shades from which to select. Also, these pashminas might not necessarily be true pashminas, and may feature a silk or even rayon blend. More diverse catalogue of pashminas can usually be found via online auction sites such as eBay.
Buying a Pashmina on eBay
To begin a search for a pashmina on eBay, you can start by entering a search term in the search bar, typically found at the top any page on the site. To get an overview of the types of pashminas available, you can enter a general search term such as "genuine pashmina". If you have a particular style or colour in mind, use that information to create a more detailed search.
eBay also provides helpful related search suggestions when you run a search that can help winnow down your options. For example, if you run a search for "pashmina wrap", the site might suggest that you look at a hooded pashmina as well. These helpful hints can open up new possibilities and streamline your purchasing process on the site.
Getting to Know the Sellers on eBay
When shopping on eBay for any item, it is important to get to know the vendors you are considering purchasing from. You can do this by reviewing the sellers' past auctions. You can also look through the feedback they have received from previous customers to get a perspective on their customer service.
Conclusion
A fabric with a rich history that dates back centuries, pashmina is a lovely staple that can bring warmth, comfort, and style to a woman while enhancing her appearance. These quality cashmere textiles come in a range of styles, from the classic scarf to the hooded wrap, and can be worn in any number of ways to create a desirable look. Pashminas also come in a diverse range of colours that can match the trendy colours of the season or just compliment a woman's complexion.
Pashminas in any colour or style can be found via the online auction site and fashion aggregator, eBay. With its wide-ranging catalogue of items, eBay can give a woman access to a much larger collection of pashminas than a traditional, offline retailer. By leveraging the power of eBay, a woman can find the right pashmina for her and make the exact, elegant fashion statement she wants with this classic, cashmere wool accessory.