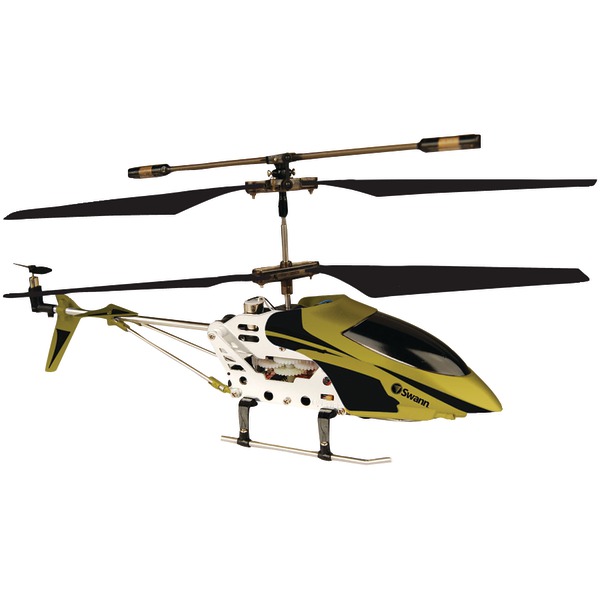 The Radio Control (RC) Helicopter is a form of model aircraft that mimics the functions of an ordinary helicopter but on a much smaller scale. This type of model aircraft is popular with all ages due to the varying level of skill needed in assembly and piloting of the different models.
Because of the number models available, searching for an RC Helicopter can seem like a daunting task. This guide will explain the different classes, and how to successfully find a suitable RC Helicopter on eBay.
The History of the RC Helicopter
Dieter Schlüter is credited with introducing the world to the RC Helicopter. In April 1970, Schlüter entered the history books and completed the first recorded flight of an RC Helicopter.
The model was the Bell Huey Cobra, and had been designed by Schlüter himself. A few years later a man by the name of David Grey developed the first RC Helicopter intended for mass production, the Du-Bro Whirlybird.
Early Helicopters such as the Cobra and Whirlybird were difficult to steer but constant innovations in the creation process resulted in new designs with better control and stronger engines. The introduction of the Wallis Autogyro allowed for far superior piloting in RC Helicopters.
Although RC Helicopters were originally developed to function as model aircraft, they have proven increasingly popular with children and teenagers. RC Helicopter's are no longer sold as model sets, but also as toys. Toy RC Helicopters are a lot smaller and have a much shorter range then their model counterparts.
Types of RC Helicopter
There are three ways to distinguish RC Helicopters, and this is by the engine, size, and skill required in operating the model. It is important to take all three into consideration when choosing a model, as the Helicopter needs to be adequate model for the intended user.
Types of Engine
There are four different types of engines used in RC Helicopters. Electric and Glow Fuel engines are the most common. Gas powered and Turbine engines also exist but are considerably more expensive.
Glow Fuel
Also known as Nitro Fuel Helicopters.
Distinguished by size of engine, referred to as Class.
Includes 1/2A Class, 15 Class, 30 Class, 50 Class, 60 Class, 90 Class.
If a Glow Fuel RC Helicopter is 60 Class, then its engine is .60 cubic inches big.
A bigger engine results in bigger rotor blades and a bigger aircraft.
Typical flight time is between seven and fifteen minutes, depending on the size of the aircraft.
Electric
Originated in the mid 1990's.
Most common type of RC Helicopter available today.
Powered by Lithium Polymer (LiPo) batteries, allowing for enhanced aerobatics while keeping the aircraft light.
Originally developed for indoor use but now a large number of outdoor models exist.
Very popular due to quietness and lack of fumes.
Typical flight time is between four and twelve minutes, depending on battery and range of control device.
Gas Powered
Uses a 2-cycle gasoline engine.
Generates less noise than a Glow Fuel model.
Engines are quite large.
Usually only found on the larger sized models.
Typical flight time is around ten minutes, depending on the size of the gas tank.
Turbine
Able to generate strong lift.
Engine accurately based on those found in full sized helicopters.
Very expensive due to cost of engine components.
Controls require a large battery power source.
Typical flight time is around ten minutes.
Size of the Helicopter
RC Helicopters have a large range of sizes to choose from. Small models can be less than 8 inches long, while the biggest are over 5ft. There are 5 groups used when classifying a Helicopter by size.
Micro
6-12 inches in length.
Typical toy RC.
Battery Powered.
Mini
12-24 inches in length.
Found in hobby and toy stores.
Majority are battery powered although it is possible to find Glow powered.
Midsize
24-48 inches in length.
Require more sophisticated control to fly.
Most popular size with model enthusiasts.
Majority use Glow Fuel engine.
Full Size
48-60 inches in length.
Should only be flown outdoors due to large size and exhaust fumes.
Size and weight makes them stable even in windy weather.
Large Size
60+ inches in length.
Can reach speeds of over 100MPH
Powered by Gas, Glow or Turbine engines.
User Skill Level
The number of channels on the transmitter of an RC determines the amount of things on the Helicopter that can be controlled e.g. one channel for throttle, one channel for up/down and so on. Models with a higher number of channels are considered more sophisticated, and require a greater level of skill to pilot. The size of the model is directly related to the amount of channels available to control, with models gaining more channels as they grow in size.
The sophistication of a model is divided into three classes. These are Toys, Amateur Flight and Pro Flight.
Toys
Come in three types. 2-channel, 3-channel and 3.5-channel.
Usually ready-to-fly (RTF) out of the box.
No assembly required.
Battery powered.
Easy to handle.
Very affordable prices.
Suitable for indoor use.
Limited flight capabilities.
Amateur Flight
Generally have 4 channels.
Greater manoeuvrability than Toy models.
Lots of spare parts readily available.
Requires practice to master.
More expensive than Toy models.
Pro Flight
6-channel control, allowing for aerobatic manoeuvres.
Mainly uses Glow, Gas and Turbine engines rather than Electric.
Emulates real Helicopter's rotor mechanisms.
Requires extensive practice to master.
Very expensive (£500 upwards).
Buying RC Helicopters on eBay
eBay offers a large selection of RC Helicopters, covering all types and difficulty levels. When choosing a purchase, consider the following before making the final decision.
The size and purpose of the RC.
The age of the RC's intended recipient.
The power source.
If the RC will be flown indoors or outdoors.
Level of difficulty in piloting.
If the RC is used or new.
If the Helicopter requires all or part assembly.
To begin a search, have an idea of what Helicopter is wanted and then go to eBay.co.uk.
First, click on the Search By Categories tab located beside the search bar. Once done, click on See All Categories.
This will bring up the Categories page.
Scroll down to the Toys and Games heading and click More.
Click Radio Controlled to be brought to the relevant page.
Enter RC Helicopter into the search bar and press enter.
The more information about the desired RC, the easier it will be to find it. Add extra details e.g. power source, size of engine, make and model. If having trouble finding a specific RC Helicopter, try using eBay's search tips. Additionally there is a Wish List option that lets eBay's online community know about RC Helicopters not currently listed on the site.
eBay also hosts a large number of parts and components for RC Helicopter. If looking for a specific part rather than a complete set make sure to enter as much information on the part into the search as possible.
The Listings Page
The page containing the products for sale is known as the Listings page. Some information about the listings page,
The number of listings allowed per page are 25, 50, 100 and 200. To change the number of listings click on the Items Per Page box found at the bottom of the page.
Listings appear as Bid Now, Buy It Now or Best Offer. These are the three different options available to buying products.
Some of the filters include the Condition, Brand, Model, Power Source and if some assembly is required with the Helicopter.
The Sort By drop down menu used to modify the listings page. Helicopters can be listed by price, distance and how long is left in the auction
Searches can be edited to show Lowest Price first or Highest Price. This is done by clicking the Sort box found at the top of the page.
The table on the left controls search filters such as Item Condition and Item Location.
The Product Page
The product page is found by clicking on the title of a listing. This page is the individual page made for that item. On this page buyers will find
Pictures of the Helicopter, Transmitter and any additional components.
If the Helicopter is listed for Buy It Now or if it is for auction. If it is listed for auction then the current bid and the time left in the auction will be shown.
The description box contains information on the Helicopter and any messages intended for buyers.
Postage information is also found on this page. This includes estimated delivery time and the cost for postage.
Confident Buying
Some people may feel slightly apprehensive about buying items online, but eBay uses a rating system that allows buyers to review the transactions.
Read over the seller's feedback. If they have mainly negative comments then it is advised to try another seller.
Use the Ask A Question function on the product page with any enquires intended for the seller.
eBay's Resolution Centre can help with any problems that may be encountered. Click on the link found in the Customer Support drop down menu on the top of the page to be brought to the relevant page.
Conclusion
The RC Helicopter is a relatively new product in the world of toys and model making, but its success continues to grow throughout the world. Helicopters make great gifts but it's important to make sure that the model or toy being purchased will be in line with the user's age and skill ability.
There are many factors to consider and some time should be spent researching into the market and what suits the prospective user's needs. eBay is an excellent place to search for RC Helicopters allowing access to models that might not be found in your local area.
Make sure to ask the seller any questions about the model and find out if it's suitable. With a little time and effort, eBay will prove to be a treasure chest for all RC Helicopter needs.