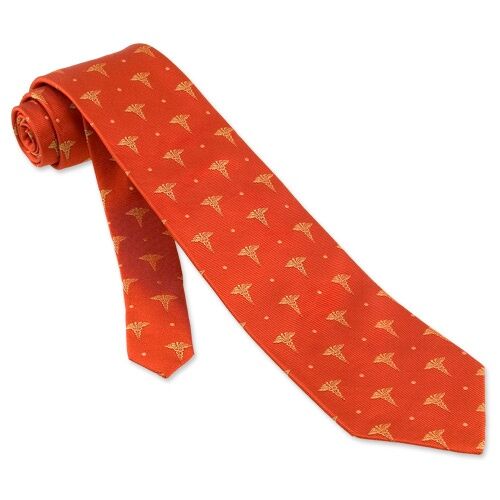 Ties derive from a Croatian article of clothing called a cravat. In 17th century Croatia, the cravat was a band or scarf that residents of the country wore around the neck. Western Europeans began to adopt the cravat style, albeit with some alterations, at the turn of the 18th century. Eventually, the cravat transformed into a necktie, and shortly thereafter, the bow tie. For years, ties were worn exclusively at formal social events, until men began to incorporate ties into their professional dress codes.
Men have many options for buying ties, but no option provides a wider selection of ties at reasonable prices than eBay. eBay brings sellers and buyers of ties together in one online marketplace. Buyers search for ties that meet their purchasing criteria and when they find a seller that offers such ties, they have numerous resources to review before making a purchasing decision. Before shopping for the right tie on eBay, men should review the types of ties, consider one of the many materials used to produce ties, and weigh the tie buying factors.
Types of Ties
The cravat was the forerunner to the contemporary tailored classic necktie, which in turn, has led to additional tie variations. Consumers should learn about the growing number of tie variations as the first step to buying a tie on eBay.
Classic Necktie
Most consumers are familiar with the classic necktie, which consists of a knot at the throat and a tie that hangs around the neck. Classic neckties are typically worn with button-down long-sleeve shirts and the tie ends somewhere close to the waistline. There are more length, size, and pattern variations for the classic necktie than for any other type of tie. Materials used to make classic neckties run from inexpensive rayon to stylish silk.
Clip-on
Manufacturers pre-knot clip-on ties and then attach a clip which fastens the tie to the front of a shirt collar. Clip-ons became popular in the 1960s and 1970s, but not even the retro fashion movement was able to revive the clip-on. Most tie manufacturers have stopped carrying clip-on ties in their inventories. The manufacturers that produce clip-on ties mostly use polyester, or a polyester blend, to construct their ties. Clip-ons work best for children, and professionals should eschew wearing them.
Ascot
The ascot tie most resembles the original cravat. This tie has a band that wraps around the neck and has wide, pointed ends that users fold over to resemble a thick scarf. Men wear this tie tucked into a shirt or vest, where the ascot is fastened with a pin. The ascot's popularity faded in the early part of the 20th century, although members of European high society wear the tie for state functions and formal private affairs.
Bow
As the most formal type of tie, bow ties comprise of a band that wraps around the neck and is tucked under the collar of a formalwear shirt. The band is usually thin and it wraps fairly tight around the neck to ensure the pre-knotted portion of the tie remains upright. Most users wear bow ties with button-down tuxedo shirts at weddings and other highly formal social events.
Bolo
Country and western fashion fans wear the bolo tie, which is a shoestring necktie that is constructed with cord or braided leather. Bolo ties have two metal tips that meet at the neck, where they are secured with some type of ornamental clasp. This type of tie is often worn by people who live in the southwest part of the United States and by members of Native American tribes.
Novelty
Novelty ties are simply classic neckties that present a theme pattern. The themes encompass illustrations from sports, science, and music. Perhaps the most popular novelty tie theme comes from cartoon characters, especially the cartoon characters created by Warner Brothers.
The Common Materials Used to Make Ties
Some consumers try to save a few quid by purchasing ties made of linen or rayon. Linen ties wrinkle and the wrinkles are nearly impossible to remove. Rayon neckties lose their shape after being worn just a few times. Men should consider the following materials for their tie purchases.
Silk
As the strongest natural fibre, silk is by far the most preferred material used to make ties, especially classic neckties. Their lightweight density and extended durability make silk ties worth their higher prices. Manufacturers utilise silk to make a luxury statement, as well as provide resistance against wrinkles and stains. Silk can be used to produce ties in a number of colour combinations.
Polyester
Manufacturers produce polyester ties to mimic the look of silk ties. Unless users buy a name brand polyester tie, they most likely wear a cheap tie with few redeeming qualities. Polyester ties typically feel stiff, which can become a problem when someone sits down and the tie does not give. However, because of the stiffness, polyester ties retain their original shape. Polyester ties do not possess breathing properties and this factor hinders the material's popularity during warmer months.
Wool
Consumers can buy wool knit or wool woven ties. Wool knit ties stretch out of shape quickly and knitted garments in general have poor stress-resistant qualities. Consumers should purchase wool ties that provide a tightly constructed neck band that has a piece of woven fabric wrapping around the inside of the neck band. The woven fabric absorbs pressure, making woven wool ties the preferred wool tie variant.
Cotton
The cotton used to produce cotton ties must be heavy enough to prevent wrinkles and to maintain the tie's original shape. Moreover, improperly constructed inside portions of cotton neckties lead to inner facing becoming twisted and pulling apart from the necktie. Cotton neckties offer limited colour patterns, mostly lighter patterns that do not bleed during wash cycles.
How to Select a Tie
Buying a tie requires forethought, since ties convey a man's personality. Think about the perception of people who wear bow ties in less formal settings, such as academic settings. Consider the following factors before selecting a tie.
Size and Shape
Ties that fasten around the neck, such as bow ties, require users to get an accurate measurement of neck size. Most neckties and bolo ties run about 140 cm long. The standard length can be a problem to users who are short or tall. Users want neckties to rest just above the belt buckle. Skinny ties convey a Rat Pack type of coolness, while ties that are much wider than the standard 7.6 cm width can look odd.
Fabric
The type of fabric chosen influences the tie's price, ease of cleaning, durability, and visual appeal. The best ties are constructed with silk and cashmere. However, there are different types of silk and some varieties do not produce the same level of quality. Heavier and tighter constructed silk ties are considered higher in quality. When in doubt, consult with a men's clothing store sales representative.
Construction
Users can discern durability by holding a tie by the narrow end and seeing if the tie twists or turns. Incorrectly cut materials cause ties to twist and turn from the neck. Users can also check for symmetry by placing a tie flat on an even surface, such as a dinner table.
Design
Men have many tie design options, but the options can be categorised into print and woven ties. Print ties consist of coloured patterns that are printed directly onto the tie fabric. Woven ties integrate different coloured threads into the tie fabric. The type of design that a man chooses hinges on many factors, none more important than matching tie design with the design of the men's shirt and pants. Tie design often boils down to personal taste, which is why ties represent an article of clothing that defines a man's personality.
Necktie Designs
Necktie designs can be as fleeting as other types of clothing styles. However, men can count on six tie designs that have withstood the test of time.
Design

Description

Paisley

Droplet shaped

Referred to as 'Persian Pickles'

Goes in and out of fashion favour

Polka Dots

Started as part of women's fashion

Works well with striped suit pants

Versatile use with disparate outfit styles

Bright colours make bold fashion statements

Sporting

Sport-theme designed, mostly for hunting, polo, and golf

Design originated in Britain

Perfect for a dressed down look

Solid Colour

Versatile, yet bold

Important to blend solid tie colour with outfit colour combinations

Plaid

Contains different lines that have varied widths

Adds dimension

Works well with solid coloured shirts

Striped

Available in two or more colours

Bright colours work well with darker coloured shirts

Popular silk tie design
Buying a Tie on eBay
Men can find a wide variety of ties on eBay, including the most popular neckties. They also have a few ways to shop for ties. The easiest way to find men's ties on eBay is to simply type a few words into eBay's search engine and then navigate to the search results pages that list sellers who have ties for sale. Scroll through the search results until you find a seller that meets your tie buying needs. Click the seller's product page to review the enlarged product photo, delivery terms, and return policies. The best strategy for buying ties on eBay is to type specific keywords into the search engine. For instance, typing 'red silk neckties' or 'polka dot ties' returns more refined search results.
eBay also lists products under various categories and subcategories. Buyers can find men's ties under several categories, including categories that break down men's clothing by formal and casual wear. Buyers can find categories by using eBay's search engine to type generic terms, such as 'men's ties'. A list of categories pops up and by clicking individual categories, buyers can then navigate to subcategories of men's ties. The best search strategy is to combine keywords and categories to find specific types and brands of men's ties. Using eBay's search tools requires buyers to understand the fundamentals of buying men's ties.
The eBay Buying Process
Once a buyer decides on the type and style of men's tie that he wants, he should then review the seller's tie listings and research every facet of a seller's product page. Click the name of a product to review its full listing and product description. You can find an enlarged version of the product photograph, product condition information, seller payment methods, delivery terms, and return policies.
Top-Rated Sellers
Men should consider tie sellers who have earned eBay's Top-Rated Seller designation. These sellers have established reputations for selling superior products at reasonable prices. Top-rated sellers also tend to offer more generous return policies, which is an important factor to consider when buying men's clothing. Buyers can also review the seller customer feedback that appears on seller product pages. Look for sellers who have received positive customer feedback over the course of the past year and preferably for selling men's clothing. Leave seller feedback after receiving the men's ties that are purchased to inform eBay buyers about the experience.
eBay Stores
Once a seller is found who provides consistent high-quality products and supportive customer service, visit the user's eBay Store to buy directly from that seller. In many cases, sellers specialise in certain types of items, such as men's ties. By shopping in a seller's eBay store, it is possible to purchase multiple types and styles of men's ties by choosing ties from the seller's store listings. Many sellers offer reduced shipping charges for multiple items and they bundle products that sell at discounts.
Conclusion
Ties provide men with a unique way of presenting themselves at formal social gatherings or during professional engagements. Men can wear neckties to the office, bolo ties while riding a horse, bow ties for their daughter's wedding, and novelty ties that promote their favourite rock band or movie actor. Ties offer men more versatility than any other article of clothing. Men can buy upscale silk ties or fashionable wool ties that can withstand constant use. They can wear ties that contain myriad polka dots, colours, or plain coloured ties that contrast nicely with a shirt design.
Whatever style of tie a man chooses, he can find that tie readily available on eBay. The leading online auction site brings tie buyers and sellers together in an open market that often leads to lower tie prices. eBay's search engine allows men to type specific keywords that help them to find the tie that meets all of their purchasing criteria. Enlarged product photographs give eBay buyers a vivid depiction of a tie's colour and pattern design. The best thing about eBay is that tie buyers do not have to leave the comfort of their homes to buy a tie.