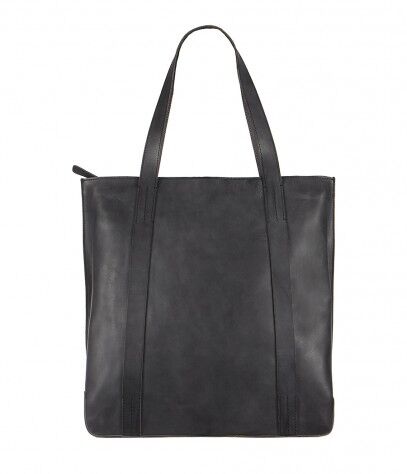 For women who, throughout their day, need to carry a lot of personal items, a tote bag works well in keeping things organised while leaving their hands free. A tote is a particular style in the category of handbags. Spacious and generally larger than an average purse, it can be used to carry a plethora of items from books to swimwear or baby toys. In practical terms, there is no one use for a tote bag. They can be used for anything that is supportable by the bag.
Tote bags are available in a wide variety of materials, colours, and sizes to suit the owner's specific need. Considered a heavy-duty item, totes are most often made from canvas, nylon, leather, and other durable materials. They can be purchased from department stores, book shops, and specialty retailers. Options only expand when buyers turn to the online marketplace. Auction sites like eBay are especially popular for finding the right tote. Before shoppers begin their search, however, gathering some knowledge about totes will ensure a satisfactory shopping experience.
History of the Tote
Long before purses were invented, animal skin tote bags were used by mankind, though it is unlikely that the actual term was used centuries ago. In 1944, the first tote appeared on the shopping scene when a company released a large canvas bag that was designed for use on boats. It was simple yet hardy, and its portability made it especially convenient. Featuring large handles that could be slung over the shoulder, it quickly gained popularity amongst women.
In the early 1950s, women started looking for more practical replacements for their ornate, exquisite purses and began to use tote bags. As demand for the durable totes grew, companies increased their production. Their popularity continued until the 1960s, when a female designer began to add her own flourishes to the practical bag. Another designer in the 1990s transformed the tote from a basic tool into a fashion accessory.
Since that time, women's tote bags have continued to evolve throughout the marketplace as one of the most popular bags for carrying large loads comfortably and, when desired, stylishly.
How to Use A Tote
A tote can be used in any which way. Some women choose to turn it into a giant purse while others find it convenient as a shopping bag. Others, still, prefer to carry it to the library or bookstore. An ideal size for travelling, most totes are large enough to carry a change of clothing and necessary toiletries for an overnight stay. Both street-smart and fashionable, totes can be used for a multitude of reasons. A planned day trip, weekend away, shopping excursion or spontaneous walk around the block. For added comfort and convenience, some totes also come with wheels or padded shoulder straps.
Types of Totes
Modern totes have the advantage of being both practical and stylish, depending on what the buyer is looking for. With the wide variety of materials and designs available, totes have become popular items for everything from day trips to the beach to conference must-haves. There are as many types of tote bags as there are women who use them. Most follow a basic design, yet some are in more demand than others. The following table lists the most popular totes along with a brief description of their usefulness.
Tote Type

Description

Most popular among buyers because they come in nearly every shape, size, or colour

Made from cotton, rectangular in shape with a flattened bottom, and machine washable

Made from straw, plastic, nylon, or canvas with an open top and handles

Ideal for day trips to the beach or picnics

Designed to make travelling easier

Styles include pockets, interior compartments, rolling wheels, squared suitcases, duffle bags, and laptop protectors

Created for greater elegance and style

Combination of purse and tote

Made from a variety of materials with varying sizes of handles

Chic, elegant, high-end fashion bag

Varieties include suede, corrected grain leather, or full-grain leather

Used as promotional tool for businesses and personal interests

Fully customisable material, size, and appearance
As can be seen, there are several choices within the range of most popular tote bags, and still many more available on the market for buyers to choose from.
Canvas Tote Bags
Canvas tote bags follow the tradition of the first boat bags available, and today are still one of the most popular in type. Made from cotton, they are not the most stylish of choices but are durable and sturdy. Women with children often choose canvas bags because of their long-lasting features and the ability to throw them in the wash whenever needed. Canvas totes are often rectangular in shape and offer greater stability and storage space because of their flat-bottomed design. Available in a variety of sizes, they can be large enough to use as an overnight bag or small enough to safely hold a small laptop. The shoulder straps can be short, long, or adjustable. Canvas totes are obtainable in nearly every imaginable colour but, because of the rough texture of the fabric, cannot be made to look glossy or shiny. Above all, because of its versatility, the canvas tote remains in high demand.
Beach Totes
Beach totes shoppers will recognise as the straw or plastic accessories most often accompanying families on vacation. They can be made from straw, canvas, plastic, or nylon but the most useful for sandy strands will be the straw or plastic varieties since they are heat and water resistant. While many buyers purchase them for this reason, others prefer canvas or nylon beach bags so that wallets, hairpins, and other small items will not fall through tiny holes. Beach totes usually do not have zippers, buttons, or other fasteners but are instead designed to stay open. This can be especially convenient for carrying towels, sand pails, or snacks that may not fit otherwise.
Travel Totes
While the widely popular canvas bag is often used for travelling, the travel tote is a more recent addition to the variety of tote choices available on the market. This particular tote is designed specifically for travellers. They are often made with both interior and exterior pockets and have dividing compartments to make packing easier. Made from a wide variety of materials, they are slightly larger that the average tote. Along with standard travel bags, designers have also createdluxury travel totes that have a sleeker and more high-end appearance for those who like to travel in style. They are made in a variety of styles, including duffles, rollers, suitcase-like squares, laptop protectors, and more.
Mini Totes
Mini totes have becomes popular in recent years as an elegant alternative to their larger and more traditional counterparts. Spacious and stylish, mini totes also come in a mix of materials, styles, sizes, and more. From canvas to leather to nylon, this blend between a purse and a tote allows women to carry smaller items while still having access to the maximum amount of space. Unlike the large totes, mini totes may have handles or not, depending on the style the buyer chooses. Some handles are small while others allow the bag to be hung from the shoulder, though these are less popular since some women find it awkward to have a long strap.
Leather Totes
Among all the varieties, sizes, and shapes of totes, the leather tote remains the bag of choice for women desiring something chic and hip. Three popular varieties of material are available, including suede, corrected grain leather, and full-grain leather. While suede looks good and requires more care, full-grain leather can take a harsher treatment and still look good. All three types of leather tote are considered to be fashion bags. Women who own this type of tote generally reserve it for conferences, business events, and high-end locales.
Personalised Totes
Personalised tote bags show off a woman's interests, hobbies, favourite quotes, and more. They can also be used as promotional tools for businesses or trade shows. From the material to the size, these totes are made to order and can be emblazoned with the buyer's emblem of choice. If a quote is chosen, most manufacturers allow buyers to choose the font, colour, and also its placement.
Where to Buy a Tote
Women's tote bags can be found in a variety of different places. While fashion bags will generally be purchased at high-end shops, canvas and beach bags can be located at department stores, specialty shops, and more. The Internet offers even more options for shoppers. Buyers looking for totes online can look at a wider variety of tote styles, colours, and sizes in online marketplaces and on auction sites such as eBay.
Buying a Tote on eBay
Buyers can easily find the ideal tote on eBay by entering the word into the search box located on any page on the site. You will likely find hundreds of listings. To make the search easier, you can select one of the filters on the sidebar to narrow your choices. Once you have chosen a smaller search parameter, use the sorting tools to bring your top choices to the top of the list for easy comparison.
Be sure to include the seller in your decision-making process. Check his or her seller profile to see their overall rating and peruse feedback from their previous customers to find out if you will be receiving quality service.
Conclusion
From boat bags to shopping tools to luxury items, women's tote bags are available in a wide variety of materials, colours, sizes, and uses. More convenient than a purse, modern totes can still be used as purses but are also popular for travelling and as fashion accessories. While there are many prescribed uses for the many types of tote bags, the versatility of their design allows buyers to use them however they would like.
Though their invention is relatively recent, tote bags have come a long way in terms of style and diversity as women's accessories. Meant for heavy-duty applications, totes are easy to maintain whether they are canvas, leather, or plastic. The decision-making process might prove difficult for some buyers with so many options but purchasing a tote is very simple. They can be found at department stores and specialty shops, as well as online marketplaces like eBay. Whether looking for a luxurious overnight bag or a durable do-it-all for the kids, women will find totes useful, comfortable, and even stylish.