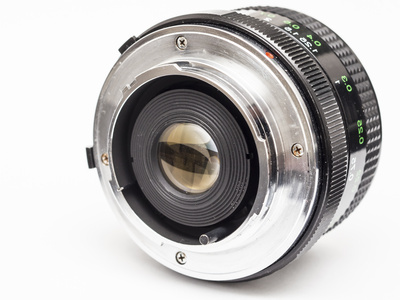 Old, classic vintage camera lenses< are an instant hit with collectors, hobbyists, and professional photographers looking to add value to their legacy of lenses. Given the various factors that influence the selection of a vintage camera lens, buyers often prefer to shop online. This is primarily due to the fact that they get to browse through a wide range of products from sellers across geographies and check out several expert opinions on the web before investing in a classic piece of glass. eBay is a useful place to start searching.
What to look for in a Vintage Camera Lens?
Before hunting down a preferred vintage camera lens at eBay, buyers should, of course, do the background research on adaptability of lenses and camera bodies to decide on the brand or model of the lens. Start by looking for lenses that support infinity focus and widest aperture, as the lower f-stops allow more light.

Shopping for a classic camera lens, even at a reputed online retailer such as eBay, is based mainly on the details of the product showcased at the website. Buyers will have to go by the pictures, specifications, descriptions, age, and other information put up by the seller. They should, in fact, contact the seller for clarification in case the details are not clearly available. It is also important to discuss any refund options if the product does not meet the standards indicated on the site.
| | |
| --- | --- |
| Picture or Image | Steer clear of products with blurry or long shot images. Even perfect pictures may simply focus on the best side of the item. |
| Description | Genuine sellers always indicate any minor flaws or functional issues in the product description. Beware of an impeccable product description, as vintage lenses are used products with definite signs of prolonged use. |
Despite making the best efforts to ensure that the money is well-invested, buyers should, in fact, be prepared to deal with other challenges commonly associated with buying second-hand items. Here are few tips to check the quality of the vintage lens once it has been delivered.
| Component | What to Check for | What to Expect |
| --- | --- | --- |
| Glass | Scratches and Cleaning Marks | Common and acceptable as long they do not interfere with the view |
| | Fungus or moulds | Fungus and mould formation often affect the quality of the lens. Wet lenses stored without being adequately cleaned or lenses stored in a humid environment are ideal sources for fungus formation. Acidic secretion from fungus renders the lens unusable, even after careful cleaning. Mild fungal blooms, however, can be cleaned after disassembling the lens system. Cooking the lens is known to rid the fungus but at the buyer's risk. |
| | Blemishes | These smudges on the optical coating on the vintage lenses may either be a manufacturing defect or cause by an accidental hit to the lens. Small smudges can, however, be ignored. |
| | Dust | Small flecks of dust are common in used lenses and have no visible effect on the image. |
| | Contacts | Mount should be in perfect shape |
| Focus | Zoom and Focus Rings | Expect a slight loss in dampening but should work smoothly. Turning the focus ring throughout its range will help detect any friction or looseness in the unit. |
| | Blades and response time | Aperture blades are expected to bear traces of oil. Viscosity and the amount of oil interfere with aperture response slowing the blades. Dry blades offer the best performance. Apertures are also often stuck but can be got back into action. |
| | Available with the lens | Expensive lenses are best purchased with their caps and hoods, as branded hoods may get pricier when purchased separately |
Here are a few vintage camera lens models that make a valuable addition to an existing collection of photographic equipment.
| Lens | Type |
| --- | --- |
| Pentax SMC Takumar f1.4 50mm | Standard |
| Olympus Zuiko f1.8 50mm | Standard |
| Zenitar f2.8 16mm | Wide-angle |
| Olympus Zuiko 24mm f2.8 | Wide-angle |
| Olympus Zuiko 28mm f3.5 | Wide-angle |
| Zeiss 85mm | Telephoto |
| Zeiss 135mm | Telephoto |
Collectors and ardent photographers may do well to invest in classic pieces from Contax, Carl Zeiss, Leitz / Leica, and other pricey lenses from Angenieux and Astro Berlin that are valued by professionals.
Shopping for Vintage Camera Lens on eBay
There are several benefits of shopping for a classic camera lens on eBay; the highlight being the wide choice available from sellers across geographies. The items showcased on eBay are from authorised sellers who conform to the guidelines of the retailer.

Seller ratings are frequently updated and buyers can, in fact, ascertain the credibility of the seller based on the ratings and reviews from other customers before going ahead with their purchases.

User reviews have indicated that the prices of vintage lenses on eBay are competitive. There are several non-branded and low-priced lenses up for sale from across the world; quality of course needs close attention.

Combo deals that cover multiple core products, bundle offers that include select accessories with the main product, and free shipping are few other benefits enjoyed by regular shoppers at eBay. It is also quite easy for buyers to look for local sellers to speed up the delivery process.

Buyers on eBay can rest assured their payment is secure. eBay payments are usually done using Paypal, though other payment systems can be used at the disgression of the seller. Prompt dispute resolutions is another factor that makes the online marketplace work in favour of the buyer.
Dispute Resolution
It is important for buyers to quickly check the vintage camera lens on delivery and contact the seller in case the condition of the item is not satisfactory or does not meet the product description posted on eBay. If unable to mutually settle the problem, buyers can either lodge a complaint with eBay or even with PayPal within a couple of months of the purchase. A dispute recorded with Paypal offers a better chance to claim back the money invested in the deal.
Conclusion
Vintage camera lenses offer immense optical value even in modern times, only when put to correct use. Based entirely on human reflexes and the ability to capture any moment with perfect clarity classic lenses that mostly demand manual control is a challenge to modern day photographers, who rely on automated equipment to get their job done. Capable of rendering exceptional optical effects that are hardly any different from modern lenses, vintage lenses are a cost-effective alternative to branded lenses, especially when used for non-critical purposes.