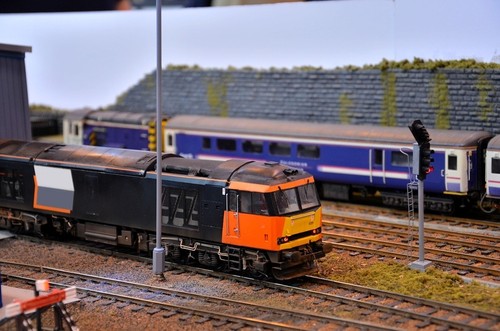 Collecting model trains is a hugely popular, endlessly customisable and immensely rewarding hobby, partly due to the huge variety of products available over the Internet.
eBay is home to a large number of sellers offering a wide array of models, making it an ideal medium for purchasing rail transport modelling equipment.
However, to a new collector, the enormous amount of possibilities and options can seem daunting. This guide is intended to assist anyone hoping to begin a collection in making those tough choices.
Model Train Types
Choosing a locomotive is obviously a very subjective process. The choice should be based on personal preference. Some model railway enthusiasts will set out with a specific locomotive in mind, in which case the decision making process involves finding out which manufacturers produce replications of that particular train, and then tailoring any other purchases (scenery, tracks, accessories etc.) to suit that model.
Alternatively, the choice can be made by brand based on reputation, by selecting a convenient scale, or purely based on aesthetic preference. Ultimately, it has to be the buyer's decision. Some eBay sellers will offer bundles or packages, which can include multiple locomotives or carriages, tracking, scenery and much more. Further, there are catalogues available to help with the choice.
Model Train Scales
When beginning a collection, the first decision to make should be the scale used. Scale is the ratio between the size of the real world train and the size of the model.
This is important, as model trains will only appear to be the correct size when placed next to each other if they are of the same ratio. Some scales are popular worldwide, whilst others are relatively obscure, the latter tending to be used only by specific collector's circles.
Whilst scale may be expressed by the numeric ratio indicating the size of the model compared to the actual size of the train, the different categories can also be referred to by the more easily identifiable system of letters, to which the vast majority of manufacturers conform. Below is a table of reference that should help illustrate the potential benefits of each of the widely available scales that can be found on eBay.
Model Train Tracks and Gauge
This table also includes the gauge applicable to the scale. Gauge is a term often confused with scale, but which actually defines the distance between the two running rails of the track on which the train runs. It is measured in millimetres. The choice of tracks should be influenced by your choice of Scale. For instance, if the buyer wishes to collect OO or HO scale trains, they should purchase 16.5mm gauge tracks.
| Name | Scale | Gauge (mm) | Information |
| --- | --- | --- | --- |
| OO | 1:76.2 | 16.5 | This is the single most commonly found scale and gauge of train in the United Kingdom. There is a huge range of models with these specifications, making it an excellent choice for new collectors in the UK. |
| HO | 1:87 | 16.5 | The most commonly found scale worldwide; there is a very wide selection of HO trains available, ranging from toys to more detailed models. |
| N | 1:160 | 9 | Almost as popular worldwide as the HO scale, N scale is considerably smaller, providing increased practicality and economy of space without any significant payoff in the range ofproducts available. |
| O | 1:43.5 | 32 | O scale can be used for running toy trains, which is in its own right a legitimate area of model train collecting, or scale models. There is some division in the model train world as to which is the proper usage. |
| Z | 1:220 | 6.5 | Also known as micro trains, the Z scale is one of the smallest available scales. It is fairly specialist, but is becoming more widespread. |
| G | - | 45 | This is one of the largest available sizes. Normally used for garden tracks, the scales range from 1:19 to 1:29, and should only be considered by hobbyists with plenty of space to operate! |
| TT | 1:120 | 12 | TT stands for Table Top, and is a mid-range scale, popular in Germany and across Europe. |
| OO9 | 1:76.2 | 9 | Supported by a dedicated fan base in the UK, this narrow gauge is becoming increasingly popular. |
If unsure of whether or not an advertised product will fit with any other equipment already owned, the best course of action is to contact the eBay seller and ask them the question directly. This ability to communicate with the seller is another of the advantages of using eBay to shop for model trains.
There are many different elements that constitute the collecting of model trains. Below is a selection of important aspects to consider
Assemble the Model Train
Depending on what the hobbyist is hoping to get out of the model train experience, they may wish to consider whether their purchase requires assembly or not. For some hobbyists, the process of assembling and painting the model is an integral part of the hobby. If this is the case, the correct course of action would be to look for unpainted or unassembled kits, which allow the satisfaction of seeing the finished product of hard work rolling on the track.
Alternatively, some collectors are not interested in the construction aspect, and just want to get their trains running as quickly and painlessly as possible. This preference is also catered for, with many pre-assembled or already-built kits available from sellers.
Model Train Power
There are multiple kinds of power that model trains can run off. These are split roughly into four major categories:
Clockwork- Clockwork is advantageous in the sense that it requires no electricity, but disadvantageous due to the need to be wound, and the lack of speed and power it is possible to generate.
Electric- Electric trains are generally the preferred choice. Most will use AC (alternative current), though some opt for more power, using DC (direct current). DCC stands for digital command control, a feature present on many modern day model trains which is essentially a computerised method of controlling the trains. DCC runs on AC.
Live Steam- Live Steam and Internal Combustion powered models are very difficult to produce and maintain, making them quite rare and unsuitable for beginners. Most trains available on eBay will be either Clockwork or Electric.
nternal Combustion
Model Train Track Scenery
An essential part of the hobby for many collectors is the scenery. A landscape for the model train to travel through can greatly enhance and enrich the experience, providing the model with depth and realism. In fact, it is almost as important as the track or the train itself. Commonly available landscape features include:
Trees
Lampposts
Signs/billboards
Figures (people)
Tunnels
Fences
Buildings (including stations, houses, shops etc.)
The hobbyist may wish to attempt to re-create a real life landscape for their train to pass through, though this can be a very difficult and exacting task. It is possible to recreate the feel of a place without imitating its exact form.
Alternatively, it may just be an exercise in creativity, in which case the hobbyist would make a world for their train to inhabit from scratch. Either way, a selection of features will be needed to make the landscape believable.
Modern Train Tracks
Some tracks will come pre-assembled by the seller, already affixed to a layout. This is a good option for anyone looking for a quick-start, having the advantage of requiring minimal preparation. However, this is also quite rare.
Usually, the track will come in an unassembled state, so the ideal situation for a beginner to look for would be one in which the unassembled track is part of a kit. This way, the pieces will fit together in a pre-determined arrangement, allowing for a simpler setup process.
However, more advanced hobbyists might also wish to construct their own track. This allows greater creative freedom, but also requires planning, and plenty of equipment. If deciding to take this route, one should bear in mind that the track must be a consistent gauge all the way around, and must be compatible with the locomotive.
How to Buy Model Trains on eBay
A wide variety of trains, parts and accessories are available on eBay. The full listings can be found in the Collectables section, under the Trains/Railway Models heading. Items can be categorised by Product Type, Scale, Condition, Price, Brand and Seller. It is also possible to sort between the Auction and Buy It Now options, giving the buyer increased flexibility.
If searching for something specific, it is a good idea to use the search function, located near the top of the page. If struggling with this, the Search Tips page offers helpful advice.
Key information about the product is displayed in the item listings, with more detailed information available on the item's own page. It is also possible to ask the seller a question if there is a question that is not answered on the site itself.
Conclusion
There are many potential joys of collecting model trains. To maximise that potential, remember the main elements:
Scale & Gauge
Assembly
Power
Scenery
Tracks
There are many local brick & mortar stores from which you can seek advice and expertise when entering the world of model railways, and these should be sought in conjunction with online shopping.
Using eBay allows for a versatile shopping experience, with such benefits as a massive selection of product, free shipping, bundles, communication with the sellers and the possibility of local sellers allowing for collection.