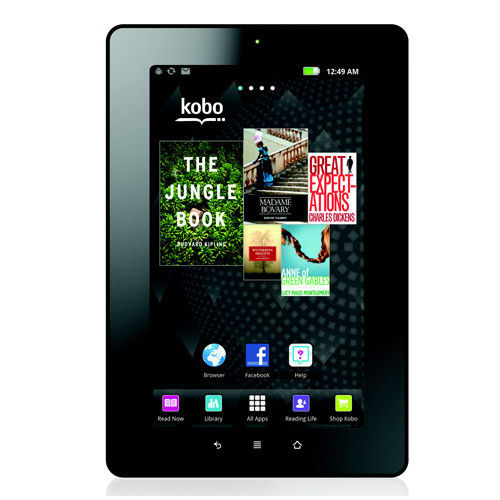 It is hard to leave the house without seeing someone with an iPad, a tablet , or an ebook reader . Once rare, these devices have become ubiquitous. The only problem with them is that for many households, once one person has one, everyone wants one. Suddenly, the gadget that looked reasonably priced for a person who was only buying one, becomes rather more expensive when a buyer has to consider buying a minimum of two, or even three or more. Luckily, there are ways that a person can maximise their purchasing power, so as to ensure they get the most value for their iPad, tablet, or ebook reader expenditures. The key is to look for discounts, and avoid paying full price for the latest models. For the buyer who can take the time to do a little research, there are a great many opportunities to get the devices they want at a price that fits their budget.
Difference Between an iPad, Tablet, and eBook Reader
Although they are often considered a separate category, an iPad is basically just a specific tablet. However, the combination of the fact that there are no other tablet brands using the same operating system, and the reputation of the maker puts the iPad in a league of its own for many buyers. Nothing else can use the same apps (applications) as an iPad, so setting it apart from the majority of tablets makes sense. Most tablets use the Android operating system, as opposed to iOS, but for the most part they all provide the same functionality: a large touch screen and the ability to run a variety of apps to meet the user's requirements.
eBook Readers
Unlike tablets and iPads, which are multi-purpose devices, an ebook reader is designed specifically for a single function: reading ebooks. This simplicity allows them to use more basic hardware, and be less expensive than their flashier cousins. They often have monochrome screens, and can last days or weeks on a single battery charge. The main issue with an ebook reader is its greatest strength. It does one thing and does it very well, which is only helpful for those who want something to do solely that one thing. Its niche is overlapped by that of tablets, but the differences are enough that someone looking for one may not be satisfied with the other.
Determining What Device to Get
The first question that needs to be answered before buying a discount anything, whether tablet, iPad, ebook reader, or something else; is what are the intended user's needs. Knowing why the user wants the device, and how they plan to use it, is vital. Once the prospective purchaser knows this, the rest of the process becomes much easier. Some users may want an easily portable device they can take with them everywhere they go. For these users, an ebook reader or a small tablet may be better than an iPad. Others may be more concerned with battery life, while yet a third group may focus on screen resolution.
What are the User's "Killer Apps"?
People often want an ebook reader or tablet not so much for itself, but so they can access a particular app, or take advantage of some feature the device provides. For example, one person may want to use a tablet or iPad to read comic books, while another may prefer to watch videos. Still a third may only really be interested in reading novels. Whatever reason a person may have for wanting to buy a particular device, accounting for that "killer app" is the one thing that ensures the money saved by buying a discounted device is not wasted on the wrong device.
What About Digital Investments?
Many people buy digital content, whether by subscribing to content services or by actually purchasing digital media and downloads. Unfortunately, not all content works on all devices. Media bought for the iPad is not generally accessible on other tablets, and vice versa. The situation is even worse with ebook readers, most of which are chained to a single vendor's online storefront. This makes it imperative that a prospective buyer take this into account before buying anything.
Discount Buying Options
The first thing anyone looking for a discount tablet, iPad, or ebook reader should remember is that it is almost impossible to find significant discounts on the latest, most-hyped, and most desirable models of anything. If enough people want something really badly, no seller is wanting to throw away money by dropping the price when they do not have to. This does not mean that there are no good devices available for discount prices, only that the current models of the most popular devices are rarely discounted.
Last Year's Model
One way to take advantage of discount pricing is to follow the same practice as many motorcar buyers: look for the previous model. In many cases, the introduction of a newer model with a few more bells and whistles is enough to put a significant discount on the price of the very iPad or tablet a buyer may have drooled over when they saw it in an advert six months earlier. Staying just behind the curve can provide substantial discounts for many buyers.
Looking at Used iPads, Tablets, and eBook Readers
Another option that can be beneficial for many buyers is to look for used devices. Most manufacturers have regular refresh cycles, and there are always those customers who have to upgrade to the latest model as soon as it comes out. Many of these customers often try to recoup part of their costs by selling their existing devices. This can be a great way to find discounts, but as always, when buying used it is important to remember that each used item is unique, and so a little more research is in order as opposed to buying new.
Looking at Discontinued Devices
Some companies go out of business all the time. Other companies change their focus and drop product lines. Regardless of the specifics, the end result is the same: discounted devices in brand-new condition. The only concern here is that most of these devices are no longer supported by the manufacturer or by anyone else. The price may be excellent, but those buyers looking at these devices should be aware that they may not have access to new apps as they become available. The following table provides a quick refresher on what to consider before buying a discount iPad, tablet, or ebook reader:
| | |
| --- | --- |
| Consideration | Notes |
| "Killer App" | Device should support user's "must-have" apps. |
| Previous Investment | Device should allow access to previous digital purchases |
| Older Models | Buying still-new old stock can save significant amounts |
| Used Devices | Less expensive, but need to be judged on individual merits |
| Discontinued Devices | No support but often can be extremely budget-friendly |
Whatever consideration may drive a particular buyer, the most important aspect is understanding both the needs of the user, and the types of discount options that are available. This knowledge makes it easy to balance the two and find the perfect device for the user's needs and budget.
Finding Discount iPads, Tablets, and eBook Readers on eBay
One of the best places to find a discount tablet , iPad, or ebook reader is eBay. The site offers a huge variety of devices to fit every budget, and provides a host of tools to ensure that finding exactly what you want is a matter of moments. All you have to do is put your requirements in the search box, you can find one on every eBay page, and watch the results come up. The next step is just as easy, you can use the filters on the sidebar to narrow your results down to just the ones that meet your specific needs. You can filter by size, operating system, even whether the item is new or used. After eliminating the ones that do not meet your requirements, you can use eBay's sort function to make sure that those which are the best fit appear at the top of the screen.
Once you know which discount iPads, tablets, or ebook readers have your attention, the next step is to determine which eBay seller you wish to do business with. The best way to do that is to check out their profile page where you can see everything from their feedback rating, to their location. Some sellers may even offer bundles, which can be helpful for those looking for several devices. Others may allow buyers to save on shipping by picking up their articles in person.
Conclusion
The key to finding discount iPads, tablets, and ebook readers is simple, and entirely based on understanding; understanding the user's needs, and the available options. The latest devices are rarely available at a discount, but that does not mean there are not a great many good options that can be found at excellent prices. The first things to consider are the intended use and any digital investment the buyer may have already made. There is no point saving money on a device that does not meet the intended user's needs. There are three main options for discounted devices, any of which can meet many users' needs. Buyers can look for discontinued products, used devices, or even unsold earlier models of current devices. With such a wide variety of options, finding just the right iPad, tablet, or ebook reader at a discounted price is simple; it just takes a little time, and a bit of knowledge.